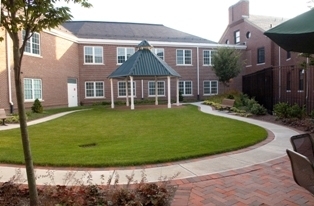 EAST PROVIDENCE – Bradley Hospital's new inpatient building, a 44,000-square-foot facility that is the centerpiece of a $31.1 million campus-wide modernization project, has won a Building of America award as one of New England's most innovative design projects of the year.
The two-story building, which includes 60 all-private rooms arranged in "pods" with their own activity rooms, opened in April 2009. It was designed by S/L/A/M Collaborative and Architecture+ and built under management of Gilbane Building Co.
Being added to the Building of America collection will make the Bradley addition a model for people planning major construction or renovation projects. The Building of America network includes 15 years' worth of what it calls "the nation's most important and unique new construction and renovation projects"; tens of thousands of projects have been nominated.
Editors, publishers and consultants evaluate each nomination and choose those that show "innovation, unique solutions to challenges and the ability to reach new heights in their respective market sectors," according to the network's website.
The network's article on the Bradley addition notes that the "pods," which also connect to a shared great room and sun room, "create a sense of community and provide much more space for children to interact with one another, participate in therapeutic games and social skills groups, and engage in library and art time."
The building itself is designed "to be welcoming and inviting for children and adolescents," the feature notes, with walls painted in "comforting shades of yellows, blues and greens."
The article also spotlights a safety feature: Each patient room has not only a door, but an 18-inch "leaf" that swings out into the corridor in the event that a child barricades the door or otherwise blocks entry, allowing the staff to access the room without breaking the door.
"We're extremely proud of our modern new facility, which we feel reflects the expertise of our staff and allows us to better meet the rising demand for child and adolescent mental health services," said Daniel J. Wall, Bradley's president and CEO. "We were fortunate to work with such a talented and committed design and construction team who listened to our staff and helped make our vision a reality. We're delighted that this project was recognized with such a prestigious award."
The building houses Bradley's child and adolescent inpatient programs for children 2 to 18 years old, along with the Center for Autism and Developmental Disabilities, an inpatient service for children with serious behavioral disorders and a developmental disability.