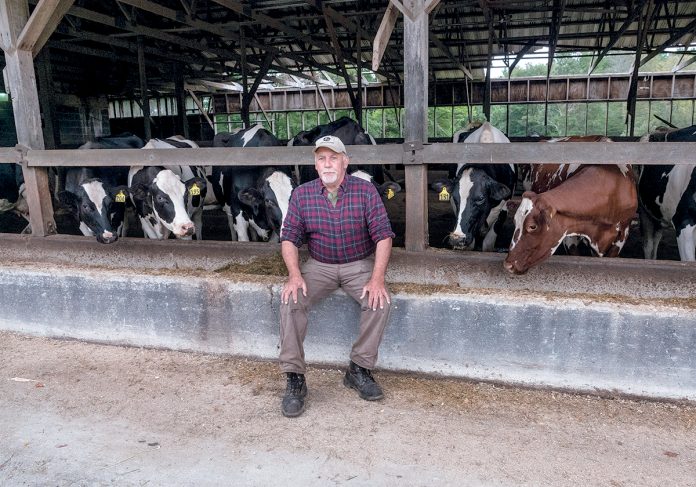 Since he bought his first calf at the age of 7, Kevin Breene knew he wanted to be a dairy farmer.
Now 62, Breene is celebrating 41 years owning and operating Breene Hollow Farm and winning the Rhode Island 2018 Outstanding Dairy Farm award from the Rhode Island Green Pastures Committee.
He founded the farm in 1977 with 20 cows and, as he could afford, added to his property and livestock.
Today, the roughly 350-acre farm straddling the West Greenwich-Coventry line supports between 45 and 55 milking cows. There are 100-head total, of varying ages.
"It's a way of life," said Breene of the routine of dairy farming – milking happens once in the morning and again in the evening. He especially appreciates the time he gets to spend with his daughter and son-in-law who help him.
He admits there have been "ups and downs" with the price of milk, but he tries to stay optimistic.
Breene Hollow Farm, per the R.I. Department of Environmental Management, is one of 10 active Rhode Island dairy farms.
The biggest "challenge" to dairy farming, "especially in the Northeast," said Breene, "is that the land is worth so much more for other purposes, [such as] subdivisions."
Farmers with sizeable acreage, he added, "can sell the land for a lot more" than they can make farming it and "low [milk] prices have forced a lot of farms to do that."
Breene counts two factors as significant forces keeping his family farm sustainable.
The first is a wind turbine on a rented part of his property. The added rent money from the property, he said, "helps a lot" and allowed him to make "long-needed improvements and upgrades."
In addition, Breene Hollow Farm is a contributor to the local Rhody Fresh brand. Launched in 2004, Rhody Fresh is processed by Guida's Dairy in New Britain, Conn., and distributed regionally.
In the "Buy Local, Grow Local" movement, Breene said Rhody Fresh includes stories about each farm involved on every half-gallon, so the consumer knows the source.
Breene knows many farmers who, to make ends meet, work second jobs. He also supplements his income as the part-time West Greenwich town administrator.
In early August, Breene Hollow Farm was awarded the statewide recognition. While the award has done little to increase sales, Breene hopes it will drum up awareness of local dairy farming.
In 1990, he recounted, when there were nearly five times the number of active dairy farms in the state, "corn-feed salesmen and people selling supplies would stop at the farm all the time.
"They're not coming a lot anymore," he said. "Anything that sheds light on the fact that we still have dairy farms in Rhode Island and an opportunity to buy local" is greatly appreciated.
While Breene relies on the help of his daughter and son-in-law, he knows other farmers aren't as lucky. Forty-plus years in, Breene said dairy farming "to some degree, has always been a labor of love … you know you're not going to get rich."
OWNER: Kevin Breene
TYPE OF BUSINESS: Dairy and corn farm
LOCATION: 21D Victory Highway, West Greenwich
EMPLOYEES: Two part time
YEAR ESTABLISHED: 1977
ANNUAL SALES: Approximately $200,000
Emily Gowdey-Backus is a staff writer for PBN. You can follow her on Twitter @FlashGowdey or contact her via email, Gowdey-backus@PBN.com.