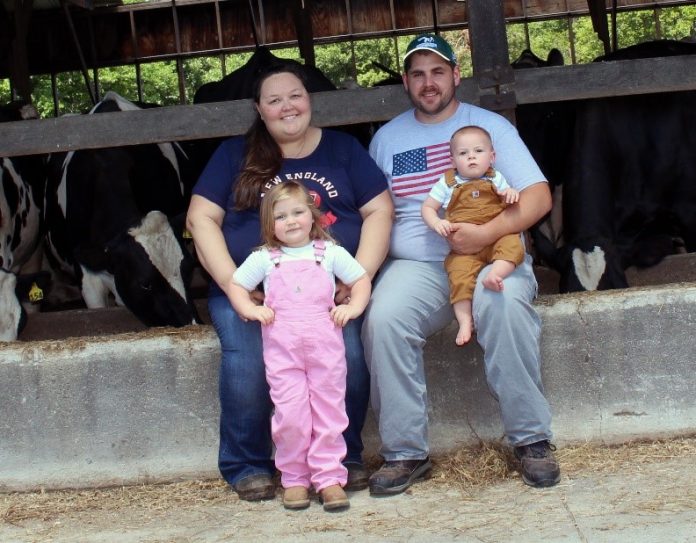 WEST GREENWICH – Breene Hollow Farm has been named Rhode Island's 2018 Outstanding Dairy Farm by the Rhode Island Green Pastures Committee, the R.I. Department of Environmental Management announced Thursday.
The farm was established in 1977 with 20 cows by Kevin Breene at his parent's home. The farm currently milks 50 cows and has 90 head in total. It totals 360 acres, including 20 acres of corn and 45 acres of hay land and pasture.
Breene has served as the West Greenwich town administrator for the past 16 years and previously served as a state senator for 12 years.
The farm is operated by Breene and his daughter Melissa Breene Jordan and her husband Matt Jordan, who run the milking operation for the farm.
"Breene Hollow Farm is one of our state's finest dairy farms and is most deserving of this special recognition," said DEM Chief of Agriculture Ken Ayars. "Rhode Island has become a destination for agriculture and food tourism and food-related business incubation. Dairy farming, however, has experienced a decline in recent years in Rhode Island – as elsewhere nationally.  This award program shines an important light on the value of dairy farming to our state."
The DEM said the farm was chosen due to the Breene family's long-term commitment to both dairy-farming and community ties.
Breene Hollow Farm is a member of the Agri-Mark Cooperative and Rhody Fresh Milk.
Winning dairy farmers from each New England state will be featured on Sept. 14 at the Big E Eastern States Exposition in Springfield, Mass.
Rhode Island Green Pastures Committee consists of government and industry members, coordinated by the Rhode Island Agricultural Council and the DEM Division of Agriculture.
There are currently 10 dairy farms in Rhode Island.
Chris Bergenheim is the PBN web editor.