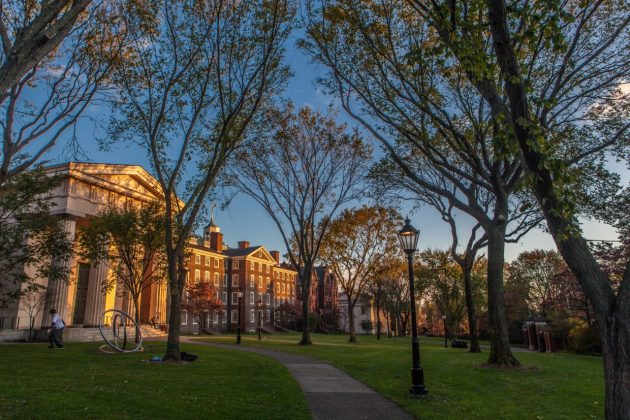 PROVIDENCE – Brown University is looking to make it even easier for low-income students to afford a college education.
While the Providence-based Ivy League school no longer requires tuition contributions from families who make less than $60,000 per year – per the school, in the decade that has been its policy, the number of such students has jumped 200 percent – many still struggle to meet the cost of meal plans, fees, travel and textbooks.
A recent University of Wisconsin report stated that 36 percent of four-year college students across the nation experience periods of "food insecurity" at any time.
In a May 4 statement, Brown, which has found some low-income students "opt out of meals to devote funds to these other uses," announced it will initiate two measures to address the cost of textbooks as well as other educational costs for some students.
Going into effect in the 2018-2019 school year, students who qualify for $0 parent contributions will receive additional financial aid to cover the full cost of tuition, fees, housing and a 20-meal-per-week plan. And, so that students do not obtain a refund on their meal plan to use toward other costs, all first-year students will be required to have a 20-meal-per-week plan.
In addition, per the Brown financial aid department, textbooks can cost as much as $1,300 per year. Therefore, it has chosen to establish a one-year pilot program to pay for the textbook costs of $0 parent contribution freshmen. If successful, per the release, the school will consider extending the program to all students with "high financial need" starting in Fiscal Year 2020.
A working group was convened by Brown Provost Richard M. Locke to investigate the issue – on which Vernicia Elie, an assistant dean who supports undergraduates from low-income backgrounds with financial matters, sat.
She noted, during the discussion of the affordability of non-tuition costs, that it was often assumed students reliant on financial aid were able to afford these expenses through wages earned by on-campus jobs, work study and summer employment.
In addition, she said, some students cherry pick their classes in order to avoid the ones with higher-cost required textbooks.
In prepared remarks, she said: "Our goal is to ensure that no student feels compelled to make educational choices based on finances and that every Brown undergraduate can take full advantage of the opportunities that the open curriculum offers."
Emily Gowdey-Backus is a staff writer for PBN. You can follow her on Twitter @FlashGowdey or contact her via email, gowdey-backus@pbn.com.