PROVIDENCE – Incentivizing local entrepreneurs, translating medical innovations into products and companies, increasing the school's engagement with private industry and building new innovation infrastructure are among some of the goals in Brown University's "Brown and the Innovation Economy" strategic plan announced Monday.
Partnerships with IBM, MassChallenge and Slater Technology Fund are included in the nine-page document which cites the Rhode Island Foundation's Make It Happen Rhode Island series, the Knowledge Economy report by the Greater Providence Chamber of Commerce and MedMates as inspiration and jumping-off points for the study.
Explaining that the plan "bolsters Brown's connections with public, private and nonprofit partners," said Brown Provost Richard M. Locke in prepared remarks, the opportunity allows the school to "focus our resources toward economic growth and job creation."
"As we make additional investments that strengthen academic excellence at Brown and address pressing real-world issues through teaching, research and public engagement, we seek to do so in ways that have wide-ranging benefits to our city and state," he added in his statement.
Five action plans with "high potential for making an immediate and lasting impact on the Rhode Island economy," per the release, will commence the implementation of the plan.
The first initiative outlined in the release is the creation of Brown Biomedical Innovations Inc. With the goal of translating life sciences research into industry assets, the venture will be led by Brown's Dean of Medicine Dr. Jack Elias and Daniel Behr, executive director of the school's office of industry engagement and commercial venturing.
Funded by $8 million in gifts from this past winter, the venture expects to hire a managing director this summer and begin operations by the fall. BBII is scheduled to begin grant-making and incubation for research by next spring.
Another initiative is an effort to identify and strengthen university-industry networks and partnership opportunities. It will be led by Behr along with the OIECV's Tracey Dodenhoff, a business development consultant at the school. By this summer, the school wants to have planning underway for its impact convergence events – iCon programs – focused on mutual interests and by the fall have established office hours with a network of regional industry experts.
Behr will also head up the Rhode Island Innovation Hub, the subject of Brown's Innovation Campus proposal to the R.I. Commerce Corp., and another of the five initiatives named in Monday's release. With a goal to gain deeper engagement with industries in terms of research, recruitment and mentorship, the program will partner with the University of Rhode Island, IBM and MassChallenge. The facility will be a 5,000-square-foot Jewelry District "hub … focused on fostering partnerships between industry and university research teams."
Per Matt Sheaff, an R.I. Commerce Corp. spokesperson, the organization has yet to announce the winners of the Innovation Campus request for proposal. Sixteen applications were submitted earlier this year.
Brown Venture Founders, another initiative outlined in the plan, will encourage and enable the school's "most talented entrepreneurs" to found and develop their businesses and ideas in Rhode Island. Led by Danny Warshay, executive director of the Nelson Center for Entrepreneurship, and partnered with the Slater Technology Fund, $50,000 grants will be awarded to Brown Venture Founders to support Rhode Island-based growth in addition to office space, mentorship, and ID-based access to Brown University resources.
By 2020, the first two years of the pilot, the school will have committed $25,000 in grants to support such entrepreneurship while Slater Technology Fund will provide matching grants of $25,000 within the same period.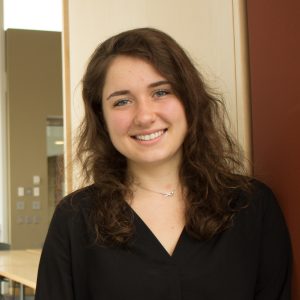 Michelle Peterson, CEO of TextUP and the winner of the 2018 R.I. Business Plan Competition, will be the first recipient of Brown Venture Founders funding.
The fifth and final action plan centers on commercialization-friendly policies and training. Also led by Behr, as well as Vice President of Research, Jill Pipher, its aim is for the school to have a better understanding of the commercial and social impact of ongoing research and discoveries accomplished by Brown faculty and students.
Brown expects to be implementing new commercialization training for faculty members by winter 2018.
Brown and the Innovation Economy is the culmination of a year's worth of meetings, focus groups and planning sessions on how the Providence-based Ivy League school can better engage and impact Rhode Island's economy by leveraging its academic strengths among other assets.
Arranged by topic, the plan hosted discussion on a wide array of subjects including entrepreneurship, life sciences, data science, engineering and design and some featured presentations by Brown faculty and local industry experts.
R.I. Commerce Secretary Stefan Pryor applauded the university's efforts to convene the community and the future of impact of such work.
"The elements of this plan align well with the innovation-related initiatives that are underway in Rhode Island and they have the potential to help us advance even more rapidly. We thank Provost Locke and the team at Brown for their report and for the positive contribution it makes to the dialogue regarding innovation and entrepreneurship in our state," said Pryor in a statement.
Emily Gowdey-Backus is a staff writer for PBN. You can follow her on Twitter @FlashGowdey or contact her via email, gowdey-backus@pbn.com.