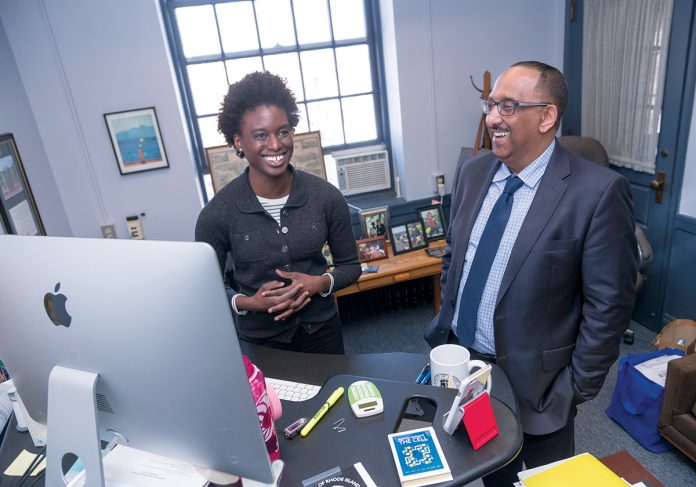 When the administration of President Donald Trump placed Iran on a list of countries that would be subject to increased traveler scrutiny, including a temporary ban on visas, university officials in Rhode Island worried.
Iran is a top source for engineers seeking advanced degrees in the United States, and among the top home countries for international students studying that field in Rhode Island.
A year after the temporary travel ban was enacted, then suspended through court actions, university officials in Rhode Island report stable to growing enrollments in their programs, which bucks the national trend.
"We have overall growth in total enrollment that's modest, 2-3 percent," said Nasser Zawia, University of Rhode Island Graduate School dean. "That could be part of overall growth. But we were all very worried that we were going to take a hit in international students."
According to a Council of Graduate Schools survey, international enrollment in American graduate schools fell by 1 percent this academic year, one of the few drops since the council has kept records. First-time enrollment in U.S. graduate programs from Iran, one of the countries targeted for travel restrictions, fell by 16 percent this year.
When broken into disciplines, the data showed engineering programs attracted 10 percent fewer international students this year.
In Rhode Island, two universities offer graduate-level education in engineering: Brown University and URI. Both reported a slight increase in international enrollments.
Brown reported a steady number of enrollees overall in its graduate school programs, with a low double-digit increase in international students.
Overall, its graduate enrollment in engineering rose by 5 percent, to 172 graduate students this year, according to a university spokesman. Brown does not provide breakdowns by student demographics for academic programs.
Its international population for all graduate programs rose more substantially, by 10 percent in 2017-18, to 921 students.
The university has also seen an increase, overall, in international applications for the graduate programs, according to spokesman Brian Clark.
URI, the state's largest university for advanced-engineering degrees, similarly reported an increase in international interest.
According to Zawia, graduate enrollment in engineering programs at URI rose this year by 8.5 percent, to 215 students. International enrollment grew to 13 percent in the graduate engineering programs. In 2016-17, 10 percent of the students were international.
'Canada … waived their application fee. They got our students.'
NASSER ZAWIA, URI Graduate School dean
Overall, the university's multiple graduate programs attracted about 3,000 applicants. Of those, 24 percent were international. Among enrollments, 15 percent of the university graduate students this year are international.
URI, like Brown, is constructing new state-of-the-art research facilities for the engineering programs. But Zawia doesn't think that was what attracted the commitment from international students, because they might not be aware of the construction activity.
Instead, he attributed it to aggressive marketing to students who had applied or inquired about applying to the university, particularly students from Iran.
Zawia said he and other administrators sent messages to students designed to be welcoming, and he and the dean of undergraduate admissions encouraged the admissions staff and admissions committees to not make a decision on a student based on their country of origin.
"We were very proactive when the Trump administration was sending out all these kinds of messages that were unwelcoming to international applicants," Zawia said."We knew the biggest impact would be the Iranian students."
All the other countries identified in the initial Trump travel restrictions were not sending large numbers of graduate students to the campus, Zawia said.
The direct contact, including emails, was meant to counter the messages that the prospective students might have been getting from international news coverage.
"Both myself and the dean of the undergraduate admissions sent messages to applicants that they were welcome here," Zawia said. "We made efforts to let them know we were processing their applications. We did send them messages, to allay their fears."
Nationally, the 16 percent decline in Iranian enrollment at U.S. graduate schools indicates the travel ban had an impact, he said.
Nothing happening in Iran would have explained that.
"It's the message that you're not welcome. And also, our competitors took advantage of this. Canada … waived their application fee. They got our students," Zawia said.
Students who are educated in the U.S. tend to remain here and work once they graduate. The U.S. university system for graduate education is still the top destination among international students, he said.
Because URI had increased applications, it did not have to change its admission rate. So why does an increase in international enrollment matter?
"We have to continue our growth," Zawia said. "We value the international students, especially those that go into the STEM [science, technology, engineering and math] disciplines. Many of them end up becoming part of the skilled workforce that we have here."