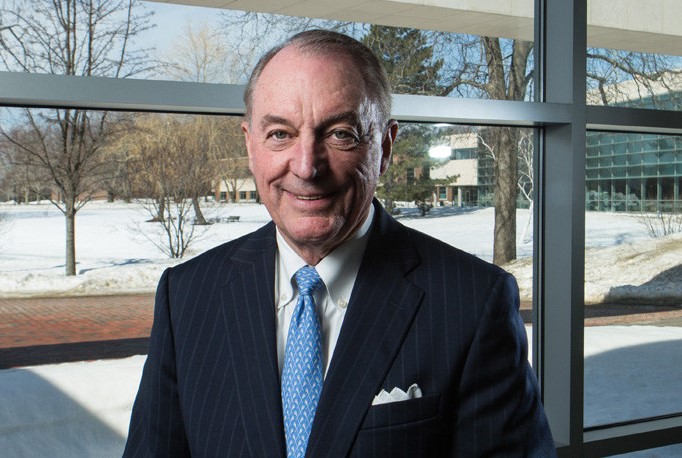 SMITHFIELD – Bryant University is acknowledging that it paid President Ronald Machtley $6.2 million in 2017 – by far, more than any other school chief executive in the region – as the result of a long-term deferred compensation plan designed to keep Machtley at Bryant.
That large sum was so unusual that Bryant's board of trustees this week issued a memo to university faculty and staff, explaining why Machtley's pay ballooned in 2017.
Machtley, who has led the Bryant for 23 years, announced earlier this month that he will retire after commencement in May 2020. He has been praised widely for leading the institution through a transformation from a struggling college to a thriving university.
While Machtley was paid $5.4 million under the deferred plan in 2017, according to the trustees – on top of his $695,000 base salary – compensation for other top university and college administrators in the area was far lower, according to tax filings and government data.
By comparison, the two highest-paid were Brown University President Christina Paxson, who earned $1.5 million in the fiscal year that ended June 2017, and Johnson & Wales University Chancellor John Bowen, who earned $1 million in the same period. (Bowen has since retired.)
According to the trustees' memo, the deferred compensation plan dated back to 2003, after Machtley had finished his seventh year as Bryant president. "The plan was designed as an incentive to retain President Machtley and to provide him with supplemental retirement compensation if he remained," the memo explained.
The plan included an initial $2.7 million investment by Bryant, the value of which fluctuated with the financial markets over the years, rising dramatically following the market volatility during the Great Recession of 2008. Under the terms of the plan, Machtley would have forfeited the payoff if he voluntarily decided to leave Bryant before 2017 or was fired.
"It is common for boards to determine that a long-term compensation plan is appropriate when the continuity of leadership is in the best interests of the institution," William Conaty, chairman of the trustees board, said in the memo. "In retrospect, the 2003 Bryant board made a very important and strategic investment to incentivize President Machtley to remain at Bryant. Looking back over the past 15 years, this initial investment by the university has proven to be one of the best decisions Bryant ever made."
The trustees said in the memo that Machtley was paid $5.4 million in deferred compensation in 2017 – Bryant said it withheld $2.5 million in federal and state taxes. A second payment of about $242,000 was made to Machtley the following year and the agreement ended, the trustees said.
Machtley's base salary was $695,000 in 2017 and $709,000 in 2018, the university said. His total compensation in 2018 was $995,000.
The trustees said Machtley's compensation for his final year does not include any long-term payments, other than standard employer contributions to the Bryant retirement plan.
Also, David Weinstein, chair of the trustee's compensation committee, noted that Machtley and his wife, Kati Machtley, pledged $1 million to the university's capital campaign.
Aside from Brown's Paxson and JWU's Bowen, the total compensation in fiscal 2017 for other top college and university administrators in the region were as follows, according to IRS Form 990 filings and Rhode Island and Massachusetts state databases:
Richard Gouse, New England Institute of Technology president, $915,725.
Rosanne Somerson, Rhode Island School of Design president, $554,888.
Donald Farish (now deceased), Roger Williams University president, $532,719.
Robert Johnson, University of Massachusetts Dartmouth chancellor, $466,731 (compensation for fiscal 2018, his first year in the position).
Dennis Hanno, Wheaton College president, $538,242.
David Dooley, University of Rhode Island president, $349,846.
Meghan Hughes, Community College of Rhode Island president, $250,770.
Frank Sanchez, Rhode Island College president, $236,308.
Laura Douglas, Bristol Community College president, $196,875 (compensation for fiscal 2018, her first year in the position).
The Rev. Brian Shanley, Providence College president, $61,302.
The Rev. John Denning, Stonehill College president, $30,430.
William Hamilton is PBN staff writer and special projects editor. You can follow him on Twitter @waham or email him at hamilton@pbn.com. James Bessette is the PBN researcher. He may be reached at Research@PBN.com.