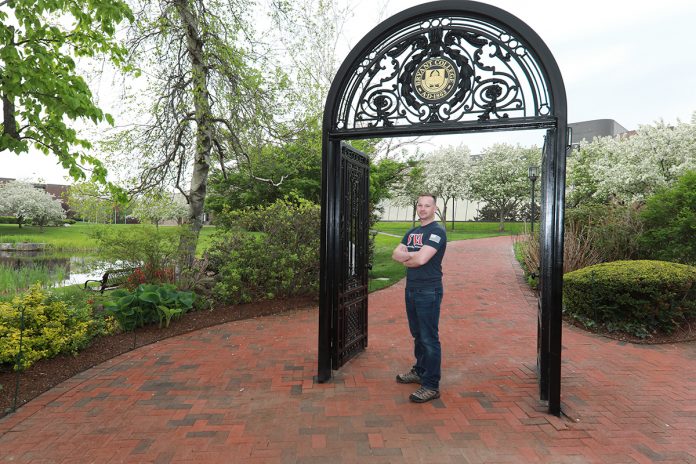 The transition from a military to civilian workplace can be rocky, and sometimes the legitimate experience of veterans is lost in translation in interviews and cover letters.
When students with military experience come through his offices, Kevin Gaw, executive director of the Amica Center for Career Education at Bryant University, takes a critical look at their resumes.
Experience that translates well to civilian occupations may need a rewrite.
The commander of a tank division may be encouraged to use the business-friendly "team leader." Someone with experience in tanks and other military machinery becomes versed in "heavy-equipment operations."
Such practical efforts at career counseling and support services are among the reasons why Bryant recently was named on two ranked lists as one of the most military-friendly schools in the U.S.
In 2018, U.S. News & World Report ranked the university as third best in the North for student veterans.
This year, Bryant was named second best in the U.S. by Military Friendly Schools, a veteran-owned business that ranked schools based on campus climate, post-graduate placement and other statistics.
Bryant has a small student-veteran community, according to its administration, but one that is supported through a variety of efforts.
Twenty veterans are now enrolled in undergraduate or graduate programs who are using Veterans Administration benefits, according to Gaw.
Military experience is a positive for employers, he said, because the veterans understand hierarchy and organizational structures, they're problem-solvers and disciplined.
"They have developed skill sets," Gaw said. "Where current students will develop a lot of these skill sets after college, within a year or two, veterans have developed and lived these constructs in the military service. Military-friendly employers, they get it. These veterans [adapt] very quickly."
The student culture for veterans at Bryant has also improved in recent years, with the addition of a dedicated organization for student veterans. The Bryant Veterans Professional Network was founded after Denny Cosmo, now a graduating senior at Bryant, arrived on campus from the Community College of Rhode Island.
He wanted an organization on campus that would allow students to meet and talk about issues concerning veterans, and got the charter approved by the student senate.
It's important because the military can be a unique experience and having an organization will help students in their transitions, he said.
"The transition from military life to civilian life is already pretty fraught and frantic," Cosmo said. "The transition from military to student life is even more challenging. A lot of veterans are accustomed to training, and not so much education. So, they go to these military schools and they get a skill, and they practice a skill set. Whereas an education, you really need to have an open mind and absorb the material … and have a dialogue and a conversation. [You are] learning a subject, not a skill."
Cosmo, a U.S. Army veteran of Afghanistan, graduated from CCRI in 2017 with an associate degree in business management. He graduated on May 20 from Bryant with a bachelor's degree in entrepreneurship.
Now a part-time veterans-resource coordinator at CCRI, Cosmo plans to enter an MBA program in the fall and is weighing three offers from universities.
He chose Bryant because he met one of its students while he was a changemaker fellow at the Social Enterprise Greenhouse, while at CCRI.
The main attraction was the business degree, he said, not the veteran community on campus.
"There wasn't anything for veterans, really, before I got there. It was the students themselves," he said.
Once on campus, Cosmo activated a branch of the Student Veterans of America for the university and helped convert what had been an ROTC student lounge into a broader student-veteran lounge.
The organization on campus, called the Bryant Veterans Professional Network, has 17 members and a five-member executive board. It's open to students who are veterans, those who are interested in veteran affairs and ROTC students.
Mary MacDonald is a PBN staff writer. Contact her at Macdonald@PBN.com.

Want to share this story? Click Here to purchase a link that allows anyone to read it on any device whether or not they are a subscriber.