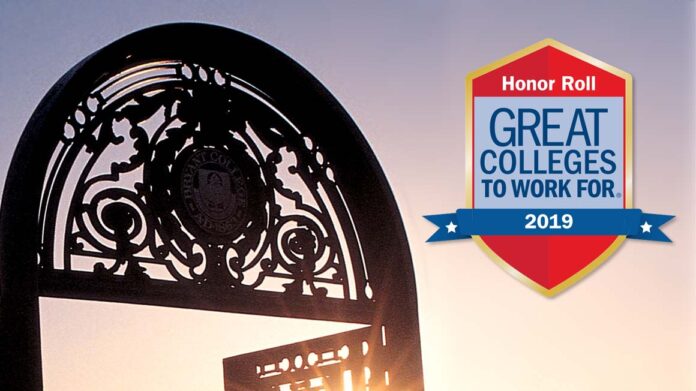 SMITHFIELD, RI- In a rising tide of prestigious national rankings announced this September, including recognition by U.S. News & World Report as a top school for undergraduate teaching and innovation, Bryant University is pleased to announce that it has been selected as one of the 2019 best colleges in the nation to work for with "Honor Roll" status.
According to a new survey by The Great Colleges to Work For® program, the University stands out as one of only 42 schools nationwide to earn the "Honor Roll" designation, which recognizes standout performance in widely accepted workplace practices and policies. Bryant is the only school in Rhode Island and one of only six in New England to earn the overall Great Colleges to Work For® distinction.
The Great Colleges to Work For® program was co-founded in 2008 as a partnership between The Chronicle of Higher Education and ModernThink. The 2019 Great Colleges to Work For® report, released Sept. 16 online and in a special insert in The Chronicle Sept. 20, highlights Bryant University among its peers for the following seven of the 12 categories of excellence: Respect and Appreciation, Compensation and Benefits, Tenure Clarity and Process, Teaching Environment, Professional/Career Development Programs, Supervisor or Department Chair Relationship, and Confidence in Senior Leadership.
"The success of Bryant University's outstanding education and collegial community is based on the contributions of every individual. I am proud of Bryant's top recognition in this study, and of the dedication and talents of all our faculty and staff employees who make Bryant such a great place to work," said Bryant President Ronald K. Machtley.
The results are based on a nationwide survey of colleges and universities, with a two-part assessment process: an institutional questionnaire that captured employment data and workplace policies from each institution; and a survey administered to a random sampling of approximately 50 percent of Bryant faculty, administrators, and professional support staff. Recognition in the Great College to Work For program is based on employee feedback. To view all the survey results, visit www.greatcollegesprogram.com.
To learn more about Bryant employment and the University's nationally recognized academic programs, distinguished faculty, and students, visit www.Bryant.edu.
For 156 years, Bryant University has been at the forefront of delivering an exceptional education that anticipates the future and prepares students to be innovative leaders of character in a changing world. Bryant delivers an innovative and uniquely integrated business and liberal arts education that inspires students to excel. With approximately 3,800 graduate and undergraduate students from 38 states and 49 countries, Bryant is recognized as a leader in international education and regularly receives top rankings from U.S. News and World Report, Money, Bloomberg Businessweek, Wall Street Journal, and Barron's.