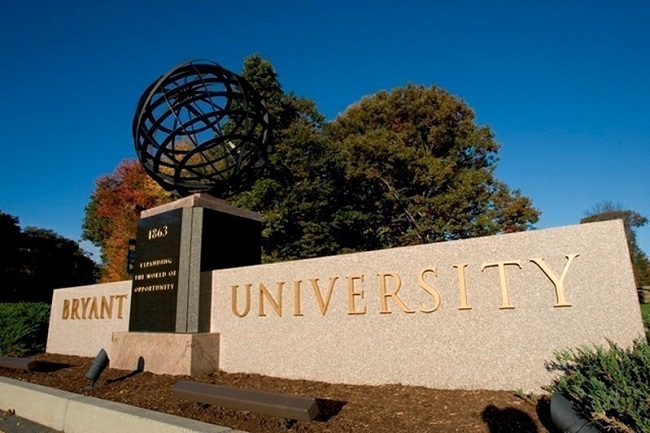 SMITHFIELD – When Beverly Johnson took part in a Vogue photoshoot in 1974, she didn't know that she was about to make history.
Johnson wasn't told where in the magazine her photo would end up, she said, as was typical for the profession. But one of her photos was featured on the magazine's cover, and she became the first African American to appear on the cover of Vogue magazine.
Johnson, speaking at Bryant University's 26th Women's Summit on Thursday, described the milestone as "a responsibility, and I was determined that I was going to honor that and tell people this is who I am.
"It's been 50 years since that cover, and I'm still talking about it, spreading the word of diversity and inclusion," Johnson continued. "So, it means a lot. It's like getting a college degree. Nobody can take it from you, because you got it, you did it."
Johnson was one of three keynote speakers to address the approximately 1,000 attendees of the sold-out, daylong event, held fully in person for the first time since the COVID-19 pandemic.
Throughout the event, this year centered on a theme of "Moving Forward Together: Me, We, Us," participants attended keynote addresses, breakout sessions and networking opportunities intended to inspire and empower women in their personal, professional and financial development.
Since appearing on the cover of Vogue in 1974, Johnson went on to establish the Beverly Johnson Enterprises LLC, a luxury lifestyle brand, which she oversees as founder, chairwoman and CEO. A model, actress, author, activist, businesswoman and TV personality, Johnson was named one of the "20th Century's 100 Most Influential People in the Fashion Industry" by The New York Times and received the Thurgood Marshall Award for style and innovation.
It wasn't an easy journey. In her keynote, Johnson also recounted her experiences facing racism, being drugged and assaulted by Bill Cosby in the 1980s, and coming forward about this attack in 2014.
Throughout these times, Johnson said she took her mother's advice and held true to her inner strength.
"You just put one foot in front of the other," Johnson said. "You walk through the fear."
She recalled once being told that she was the top Black model in the world. In response, "I said, without missing a beat, I'm the top model in the world, period," Johnson said. "That just leaped out of my mouth. It turned into a New York Times banner at the end of the day."
Johnson meant it as more than a statement of personal confidence: It meant "to be Black is beautiful," she said.
Earlier in the afternoon, Dr. Darria Long, a Harvard and Yale-trained practicing emergency physician, clinical assistant professor at the University of Tennessee School of Medicine, TedX speaker and international TV contributor, addressed the audience.
A national bestselling author, Long founded Trueve.com, a website that focuses on helping women access evidence-based and actionable health information.
Through the website, Long recruited more than 4,000 women to participate in her "Burnout Study in Women," and found that while 82% of respondents believed they "should be able to do it all," only 7% of those women felt they realistically could.
It's what Long calls the "do it all discrepancy." To minimize this phenomenon, Long teaches a system of dividing responsibilities into "reds," "yellows" and "greens," inspired by her time making triage decisions as an emergency room doctor, and her recovery from serious heart issues she first began to experience in late 2021.
Through this system, Long encourages women to "define your own red," or their top priorities in life, "ruthlessly cut" what isn't important and "batch the small stuff last."
While it might sound simple in practice, differentiating between what is and isn't a threat to personal well-being can take some thought, Long said, as the "noisy" problems might be the most noticeable but aren't necessarily the most pressing. And treating all noise the same, she continued, leads to exhaustion.
"We know in the ER if we try to do everything, we have no hope of saving our reds," Long said.
The opening keynote speaker was Sally Helgesen, an expert on women's leadership, bestselling author, speaker and leadership coach. Inducted into the Thinkers 50 Hall of Fame and ranked among the world's thought leaders by Global Gurus, Helgesen has published multiple books on inclusion and women leadership. Her most recent book, "How Women Rise," which explores the behaviors that are most likely to get in the way of successful women, became the top seller in its field within a week of publication and is set to be translated in 22 languages.
In her keynote, Helgesen focused on how women can change habits that may lead them to undervalue themselves.
For instance, Helgesen said, she's heard from women who don't apply for a job because they don't check off every requirement – for instance, they may meet four of six requirements described in a listing.
"In reality, hiring people all over say that's plenty," Helgesen said. "Your job is to describe why you can get up to speed early."
Helgesen considers her most important piece of advice to be that "we can't control [other people's perceptions]," she told the audience. "We can only control our actions."
The event also included an address from Navigant Credit Union CEO Kathleen C. Orovitz, recipient of the Kati C. Machtley Businesswoman of the Year Award.
Orovitz, a 2004 Bryant graduate, and the first Bryant alumna to receive the honor, started her career as a bank teller at age 18. In her rise to CEO, she recalled, she often struggled to feel worthy of her professional advancements.
But surrounding herself with support and making herself available as a resource to others helped, she recalled.
"Do you need courage? You absolutely do," Orovitz said. "Do you need to work hard? Yes. Should you be a continual learner, which I am? Yes. But I can finally say … I have earned it."
The Bryant University Women's Summit is the longest-running and largest event of its kind in New England, according to the university. The event has been selling out since its inception.
Providence Business News is a media sponsor of the event.
(Updates to the story throughout, including recasting the first few paragraphs and adding additional quotes from keynote speakers.)
PBN staff writer Claudia Chiappa contributed to this report.
Jacquelyn Voghel is a PBN staff writer. You may contact her at Voghel@PBN.com.

Want to share this story? Click Here to purchase a link that allows anyone to read it on any device whether or not they are a subscriber.