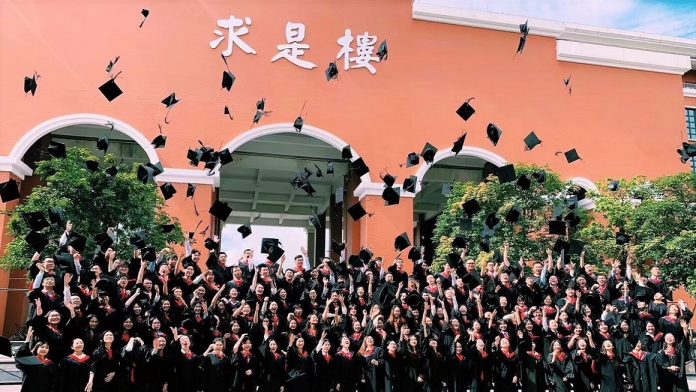 SMITHFIELD – Bryant University President Ronald K. Machtley awarded bachelor's degrees to 130 graduates of Bryant Zhuhai last Saturday, the first graduating class of Bryant's four-year school in Zhuhai, China.
The commencement follows more than a decade of strategic efforts by Bryant and Machtley to establish a four-year school in China. Bryant is only one of four U.S. universities with a four-year degree program in that country.
Bryant Zhuhai was approved by China's Ministry of Education in March 2015 and welcomed its first class of Chinese students in September 2015. The inaugural class was selected from among the top 20% of all Chinese students taking the Chinese college entrance exam.
There are 593 students enrolled in the four-year undergraduate program, a collaboration between Bryant and Beijing Institute of Technology, Zhuhai.
The academic program for American and Chinese students is taught in English and mirrors Bryant's curriculum.
Last Saturday, each graduate received a Bachelor of Science degree in business with a major in accounting. Next year, 40 Zhuhai students will transfer as juniors to Bryant in Smithfield to complete their degree requirements, Bryant said.
These milestones come at a time of a bitter trade dispute between China leaders and the Donald Trump administration. In addition, earlier this month, China's Ministry of Education warned students interested in studying in the U.S. about potential difficulties getting visas from the American government.
The U.S. last year shortened the duration of visas for Chinese graduate students in certain science, technology, engineering and mathematics fields from five years to one year. Research collaborations have become the focus of intensified governmental scrutiny.
Machtley indirectly referenced the tensions during his commencement address.
"U.S.-China relations have been, and will continue to be, the most important bilateral relationship in the future – a future where we must find win-win resolutions rather than zero-sum solutions," said Machtley, a former congressman. "Just as Bryant is educating students in both the U.S. and China, both countries must make a commitment to not only continue but expand these exchange programs. Bryant Zhuhai is a model of how an inter-institutional education can be achieved."
William Hamilton is PBN staff writer and special projects editor. You can follow him on Twitter @waham or email him at hamilton@pbn.com.