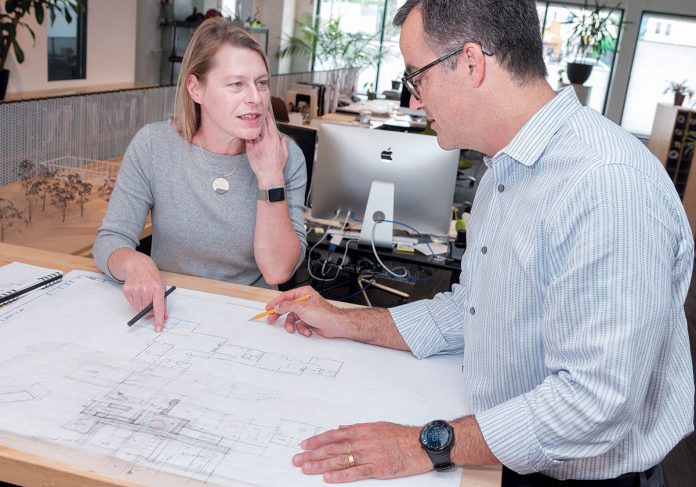 Business continues to be good for most Rhode Island companies, and a majority expect that to continue, though their optimism is tempered by uncertainty over global concerns, potential federal policy changes and a perceived lack of qualified workers, according to results from Providence Business News' Summer 2018 Business Survey.
PBN's latest biannual survey shows businesses are seeing "pretty good success," said Edward M. Mazze, ­University of Rhode Island distinguished professor of business administration.
In fact, 58.6 percent of respondents reported better-than-last-quarter business activity – a dip from 74.6 percent in the summer 2017 survey. Yet no respondents reported business as being worse than last quarter – a first in the survey's 10-year history. And 41.4 percent of respondents reported no change over the quarter.
Optimism has been high among Rhode Island businesses for several quarters and that continues. Six in 10 respondents reported planned hiring within the next quarter, with less than 1 in 10 reporting no plans to hire; the rest were noncommittal.
The local optimism mirrors strong national results from a mid-August National Federation of Independent Businesses survey.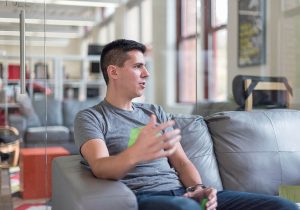 In the latest NFIB survey, the sentiment index rose 0.7 percentage points to 107.9 – 0.1 percentage points less than the 1983 record of 108. In addition, a net 29 percent of business owners responded that they expect sales to increase and 32 percent report mid-2018 as a safe time to expand. The survey also found a record-breaking need to fill currently vacant job openings.
In Rhode Island, however, Mazze cautioned, "a lot" of businesses are in a "wait-and-see" holding pattern because of the "screwiness going on in Washington" – including the implementation of tariffs, the possibility of a trade war and the general uncertainty characterizing the actions of President Donald Trump's administration.
This summer's survey is the 21st edition of the PBN survey. Six hundred thirty-five companies were queried and 58 responded. Ten local industries – including professional and business services, manufacturing, leisure and hospitality, information technology, education and construction – are included among the survey's respondents.
Mazze thinks Rhode Island's business owners are benefiting from lower corporate tax rates, decreased regulations on borrowing money and lower unemployment across the nation and the state, but he said business owners are tentative to make expensive purchases due to "uncertainty" over the economy.
Sixty-five and five-tenths percent of respondents reported an increase in new orders and business activity from the previous quarter, a slight dip from a record 71.2 percent in summer 2017. Thirty-one percent reported business activity and new orders held steady compared with the previous quarter. Businesses reporting no change quarter to quarter grew 5.6 percentage points compared with the summer 2017 survey.
Yes, business activity dipped slightly year over year. However, Mazze feels the 63.8 percent of respondents that believe their business will be better one year from now than this year – a decrease from 76.3 percent in summer 2017 – and the 32.8 percent who reported no change quarter-to-quarter reflect an optimistic group of business owners.
He warns, however, the precarious nature of international relations and the global economy – especially given the United States' deteriorating relationship with China and Iran, as well as the recent monetary crisis that hit Turkey – may curtail the optimism Rhode Islanders have reported in recent years' surveys.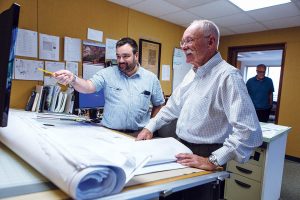 COMMUNICATION IS KEY
Nationally, the Trump administration's unpredictability may be impacting Rhode Islanders' perspective on the local economy.
But there's also a persistent feeling of a communication disconnect between state government and business owners, Mazze says of the survey results.
"We have a state government that believes they're doing the right things to support the economy," he said, but his sense is that some businesspeople don't agree.
Given the amount of paperwork he files with the state related to his business, Edward W. Burman Jr., president of Warwick-based general contractor E.W. Burman Inc., is among those who would like to see more communication from the state.
"Every time you turn around there's another piece of paper that has to be filed or refiled," he said, noting the "extraordinary" challenge of keeping up to date with building and fire permits compared to similar processes in other states.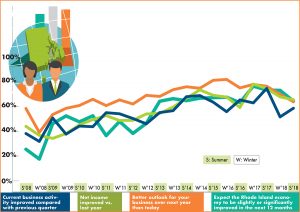 However, the state's effort to streamline filing processes for businesses was highlighted last month by The Pew Charitable Trusts as among the nation's top state-led strategies to aid business operations.
And over the past three surveys, business owners have changed their tune regarding the amount of streamlining they believe government must undertake. In the summer 2017 survey, 58.6 percent of respondent companies selected reduction of red tape as one of the most important actions the state could do to support businesses. Six months later, in the winter 2018 survey, that figure nearly doubled to 90.2 percent, but this summer's survey saw that response drop to 61.8 percent of respondents, a figure that is slightly above the median for the decadelong project.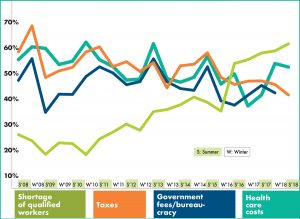 The latest PBN survey also marks a change in a question citing "government fees/bureaucracy" as one of the greatest challenges to operating in the state. For the first time respondents were allowed to choose "state government fees/bureaucracy" and "town/city government fees/bureaucracy" as separate hurdles.
Forty-three and sixth-tenths percent of respondents named state government fees/bureaucracy as a top challenge, while 10.9 percent chose the new option, town/city government fees/bureaucracy. Eliminating duplications (two respondents chose both options), government issues had the third-highest response, at 50.9 percent, after the 61.8 percent for shortage of qualified workers and the 52.7 percent for health care costs.
"[Fees and bureaucracy] still get a high percentage," noted Mazze.
HIRING NEEDS
The stability experienced by local business owners, said Mazze, is backed up by strong investments made in the local workforce year over year.
In fact, three all-time lows were documented in the summer 2018 survey. Along with no respondents characterizing their business activity as worse than the previous quarter, none of the respondents reported lower employment than last quarter or planned workforce reductions in the next quarter.
The six in 10 respondents (60.7 percent) reporting planned hiring within the next quarter is a slight decrease from the summer 2017 survey (a record 62.1 percent). However, the percentage of respondents reporting no planned hiring for the next quarter (8.9 percent) fell from 17.2 percent in the summer 2017 survey. Thirty and four-tenths percent of respondents reported they are still reviewing plans for future hiring.
But the stable business environment is challenged by an almost-across-the-board identification of a lack of qualified workers for many of the state's industries.
George J. Charette III, president and CEO of Pawtucket Credit Union, told PBN last winter he was suffering from a persistent lack of skilled workers.
Six months later, Charette said: "It's still a challenge getting the right skill set for jobs that we post. Even entry-level jobs are difficult [to fill].
"Good communications and good math skills" are at the top of his wish list, Charette said.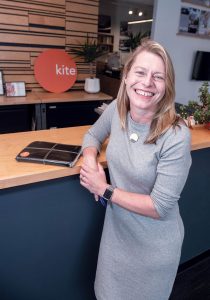 Burman said the local construction industry also needs qualified workers. However, those hands are hard to come by in the Rhode Island market and, as a remedy, he would like to see increased marketing of the trade industries in local schools, especially at the pre-vocational level.
"The problem days of 2008 [and] 2009 are gone," he said, adding, "We need to start training some kids" to follow in the aging workforce's path. Burman feels the younger generation is unaware of the "good-paying jobs" available in the construction industry, both "in the office and in the field."
Christine M. West, principal at KITE Architects in Providence, said the hiring boom since the ease of the financial tensions in the late 2000s made for a competitive environment in her sector.
"All the architects who want a job have a job, and there are jobs still open," she said.
WHO FITS THE BILL?
Many available positions remain open across the state because businesses are looking for very specific skills or qualifications in candidates – and many Rhode Islanders do not fit the bill, according to employers.
The sixty-one and eight-tenths percent of respondents who cited qualified workers as a top challenge marks a 3.6 percentage-point increase from summer 2017 and the 10th consecutive increase in a summer survey.
As of mid-August, KITE reported "one to two entry-level" or midcareer vacancies would be advertised in the next quarter. However, West noted job requirements, including an accredited bachelor's or master's degree of architecture and prior experience in the trade, are difficult to find locally.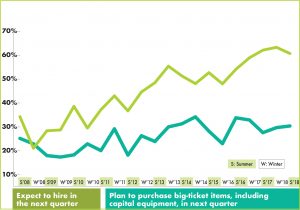 "Even someone from [the Rhode Island School of Design] with an interior architecture degree doesn't meet those criteria," she said.
West said she believes the recent financial turmoil caused a "missing generation" of skilled architects – among other trades – to disappear from the talent pool.
"A lot of people coming out of school [in the years following 2008] couldn't find careers" in their desired fields and were forced to take positions in other sectors, she said, and "that's exactly the age [professional] we need."
West said Rhode Island is an easy place to market – especially among New Yorkers, Bostonians and those in California. It's "a really intelligent community, a vibrant and creative place that has a lot of appeal," she added.
The state is working to create jobs for the local workforce and a steadily lowering unemployment rate is evidence of at least some success.
In a year in which both Gov. Gina M. Raimondo and Providence Mayor Jorge O. Elorza are seeking re-election, the May announcement of a 400-megawatt Revolution Wind turbine project by the governor and Providence-based Deepwater Wind LLC is the kind of news local officials are eager to share. Approximately 800 temporary wind-energy construction jobs are expected to result from this project, and about 50 permanent jobs for Rhode Island are expected.
However, to fill such positions, businesses are looking to the state to help new hires meet vacancy criteria. According to survey results, state workforce-development opportunities are even more important to respondents than tax incentives and credits – a perennial wish-list item – by a count of 50.9 percent to 47.3 percent.
Mazze said those results suggest that most of PBN's survey respondents are companies that are small enough that they either do not have the in-house human resources expertise or other assets to train their employees.
Not long after the announcement of Revolution Wind, Raimondo launched WindWinRI, a training plan aimed at high- and middle-school age youths that will leverage existing local natural resources, research programs and institutions to introduce students to the industry at an early age.
In addition, the Southern New England Defense Industry Alliance has seen success placing veterans with little to no civilian work experience as interns with local employers – many of whom have gone on to full employment once the placement is over.
Providence's Gilbane Building Co. said an aging workforce is one reason the construction industry struggles to find qualified workers.
Reinvigoration of the industry with "young blood" is vital to its future, said John Sinnott, Gilbane vice president and Rhode Island business unit leader. He believes both private corporations and the state need to work together to find a solution.
Because corporations "know what the results need to be" and the state "has access to federal funding, resources and time [to develop training initiatives]," he said, for any fix to be successful it has to be a "public-private partnership."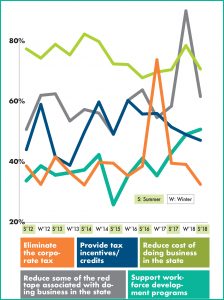 PLANNING PAYS OFF
The number of companies reporting increased inventory compared with last quarter fell from 42 percent in summer 2017 to 25.5 percent in the most recent survey.
Mazze thinks this is an example of successful implementation of resource-planning tools.
Robert M. Bolton, president and CEO of Pawtucket-based Arden Building Cos., says it's simply good business practice.
"We keep our inventory tight," he said, noting his inventory was the same as last quarter.
Bolton estimated the company's inventory of pipe and duct work materials as enough to cover three to four weeks of work.
One company bucking that trend is doing so for a different strategic reason – expansion.
As it equips a larger office in Boulder, Colo., Providence-based MojoTech LLC reported larger-than-last-quarter inventory volume, as well as planned big-ticket purchases in the next three months.
The move, said Nick Kishfy, MojoTech founder and CEO, is a response to company growth and not "betting on any type of economic conditions."
He explained the company plans to invest "a significant amount" in furniture, laptops and new hires, as the Boulder, Colo., office upgrades from 2,000 square feet of space to 4,000.
The idea of looming trade wars is now playing a role in the local economy and company plans.
Bolton, who owns four companies between Boston and Connecticut, said he had a "gut feeling" the price of steel and sheet metal were targeted for tariffs and purchased a year's worth – "millions of dollars" – in December 2017 to "hedge" possible price increases.
In the past eight months, he said, "We've been burning through all of that" but holding off on purchasing any more.
"I don't want to get caught upside down [if] Trump settles everything" in the coming months, he said, before he stockpiles again. "We need to see what the federal government is going to do."
Gilbane's Sinnott too has seen the effects of national trade policy play out in the local market. Similar to the shortage of qualified workers, he explained, the high volume of active construction projects "within 50 miles of [Providence]" means "vendors and suppliers can charge more for materials.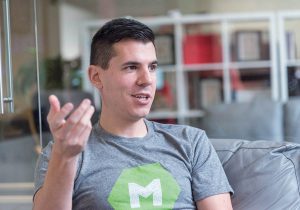 "It's a sellers' market," he said.
The confluence of low interest rates and a strong stock market, said KITE Architect's West, have led to near-record interest in the firm from private developers, small businesses, as well as institutions – three groups she said usually "are not in sync."
While she believes the industry has ridden a "sustained uptick" for three years, West predicts "consecutive quarterly interest rates [hikes] will slow things down."
As long as looming global political and economic uncertainties remain unresolved, Mazze said "optimism may turn to pessimism" among local business owners, and the economy will begin to "slow down" within the next 12 months.
Within five years, he added, the simultaneous influence of weakening U.S. relationships with Iran, ongoing Brexit proceedings, Turkey's monetary foundering and the strength of North American Free Trade Agreement could lead to an economic downturn.
Mazze does not think, however, that the economy has peaked or begun to plateau, despite signs that doubt about the economy may be creeping in for some businesses.
The percentage of respondents who believe the state's economy may worsen in the next year remains small, at 5.4 percent, but that is rising, compared with 1.8 percent reported last summer.
And the 64.3 percent of respondents who believe Rhode Island's economy will improve before next summer is an 8.9 percentage-point decrease from 73.2 percent in the summer 2017 survey.
"The small percentage [changes]" seen in the summer 2018 survey, he said, are "not statistically [significant]" and reflect the everyday challenges business owners encounter on "the day, the week [and] who you talk to" at each business, as well as the seasonality of their work.
Burman, likewise, feels it's too soon to tell if the state's economy is changing for the worse.
Rhode Island is in a "wait-and-see situation," he said.
Unlike like a state such as Texas, he said, which "continues to grow, grow, grow," economic prosperity in Rhode Island is hindered by "a lot of bottlenecks."
Emily Gowdey-Backus is a staff writer for PBN. You can follow her on Twitter @FlashGowdey or contact her via email, Gowdey-backus@PBN.com.