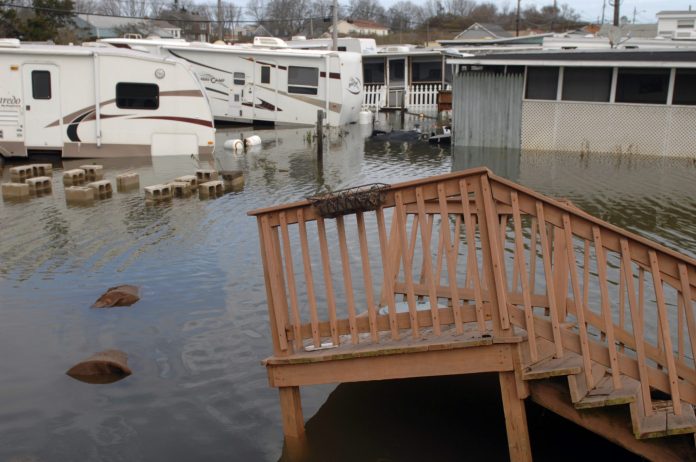 PROVIDENCE – With three named storms in the first month of the Atlantic hurricane season, including one lurking this week off the Carolinas, now is the time for Rhode Island business owners to strengthen their facilities, insurance industry representatives warned Monday.
"Before the next storm strikes, you should take a walk around your property," said Roy Wright, CEO and president of the Insurance Institute for Business & Home Safety.
"You should look for and arrange repairs to loosened shingles, siding or fences," Wright said. "Trim trees away from your business facility, and clear gutters and drains of debris so rain water can move away.
"These and other simple steps will help prepare your facility and will save you time, energy, aggravation and money after the storm passes," he added.
Business owners also should know there is a 30-day waiting period for new flood insurance policies, underwritten through the National Flood Insurance Program, to become effective, the Insurance Institute said.
"Waiting until the storm is on its way is too late to obtain flood coverage," the institute said.
As of Monday, Tropical Storm Chris was forecast to gain hurricane strength off the coast of the Carolinas in the next 24 hours. That follows Tropical Storm Beryl, which formed in the Central Atlantic late last week.
While neither storm was expected to strike the U.S. mainland, the Insurance Institute said the spate of activity early in the hurricane season should serve as a strong reminder for business owners to prepare for potentially dangerous weather.
The forecast for the 2018 Atlantic Hurricane Season calls for 10 to 16 named storms, including five to nine hurricanes, according to the National Oceanic and Atmospheric Administration.
The agency expects up to four hurricanes could become major (a Category 3 or higher), with sustained winds of 110 mph.
The Insurance Institute, a Tampa, Fla.-based nonprofit research organization funded by insurers and reinsurers, said business owners can find "science-based guidance" on how they can protect their properties from fierce summer storms at the website disastersafety.org.
Topics covered include a "reduce hurricane damages to businesses guide, business protection resources, business protection lessons learned, business continuity planning, and tips for protecting financial assets," the institute said.
"Preparedness is the key to mitigating risks for everyone in hurricane-prone areas," Wright said.
"You can protect your property through maintenance and monitoring, and with flood insurance if you live in an area prone to flood," he said. "If you live or own property along any waterway, flood insurance is something you should strongly consider."
Scott Blake is a PBN staff writer. Email him at Blake@PBN.com.