Patricia Morgan has made a political career of standing up to power.
A vocal critic of the truck tolls enacted this year in Rhode Island under the RhodeWorks program, the House minority leader and longtime Republican West Warwick lawmaker previously ruffled feathers among Democratic leadership by targeting the effectiveness of the Rhode Island Convention Center Authority.
She also was a vocal critic of community-service grants, before Democratic leadership agreed to revamp the program in 2016 following complaints about a lack of oversight.
Now a gubernatorial candidate, Morgan continues to oppose such awards as an example of wasteful government spending, a position that isn't shared by most in the General Assembly.
"Most representatives sit there and do what they're told," she said. "It's not always in the best interest of their constituents. Yes, I have a lot of bruises and scars. But I always stand up and fight for the people of Rhode Island, whether it's comfortable or uncomfortable for me."
The Ohio native, who turns 68 Aug. 25th, has been employed in a variety of professional fields. A former special education teacher, she also owned and operated a small aviation business with her former husband, and later became a financial adviser. She now works in that field as a consultant.
---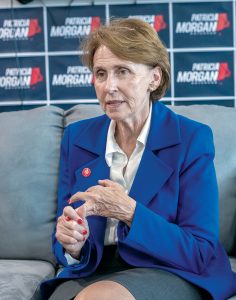 Why are you running for governor? Because I think Rhode Island is on the wrong track. I know how to fix it and I think it's worth fighting for.
How has your experience in the General Assembly prepared you for this role? I've been preparing for this challenge for a long time. So much of my life experience, I think, has brought me to this point. I want to help Rhode Islanders live better lives. And I have the skills at this point in my life, to come to bear on the challenges, the problems we have and to actually fix them. … I am very aware of the political dimension of state government.
What do you mean by the political dimension? All elected officials are accountable, or at least they should be accountable, to their constituents. So, there is always that political dimension. You can't just say, well, this is the right thing to do, get it done. You actually have to convince people it is the right thing to do. You have to teach them why your solutions are the solutions they should embrace.
See PBN's interviews with other candidates:
Gov. Gina M. Raimondo
Former R.I. Sec. of State Matt Brown
Cranston Mayor Allan W. Fung
As a House Republican, do you feel the state political arena has put you in an oppositional role? No, I think I'm the teacher. I was a special education teacher. I have an abiding faith in education and changing people's lives. I was a teacher for 14 years. When I stand up to talk I know at that point, if I'm on the floor of the House, that it's going to pass, whatever it is. But I seize that moment, to talk to people, about why it's not in their best interests. We've already lost the room, but that doesn't mean the people outside that room don't need that information, so they can make a better choice, maybe at the next election.
In 2016, former state Rep. Raymond Gallison Jr., then House Finance Committee chairman, repeatedly tried to stop you from speaking in a floor debate on the RhodeWorks truck-toll proposal. Did you get a lot of feedback from your constituents? Tons. I think they understood I was fighting for them.
See related story:
Education, economic policy linked for gubernatorial candidates
Now that you are running for governor, is it a double-edged sword? Are you seen as being too confrontational, or in a losing position on issues? I'm in one of the most Democratic districts in the state. Former House Speaker [William] Murphy lives directly across the street from me. My district was drawn to keep him safe. I have three senior high-rises. I have two trailer parks. I have a large section of Section 8 housing. Most of my folks are just … regular people. I am confident I can win again because I champion them.
Are you known across the state? How do you launch from a district representative to statewide visibility? When we started we did take a poll. About half of the people in the state know me, which is actually huge for a minority leader.
How does your business background prepare you for being governor? I was a Navy wife, that's what brought us to Rhode Island. My husband had been a naval aviator, so when he left the Navy, we started a small business, which was an air charter and flight school out of T.F. Green Airport that we had for 12 years. So, I have been a small-businessperson. I understand all of the challenges of running a small business. After the divorce, I went back to teaching and I was a special education teacher. I taught for three years in Mississippi and I [taught for] 10 years up here.
Do those skills transfer into the political realm? When you're a teacher, you have to take complex concepts and break [them] down into understandable parts. I think that helped me understand how to take concepts that most people wouldn't understand and explain them better. … On the Finance Committee, [as a former financial adviser] I break it down. How much is that per-person? I'm always thinking in terms of how to explain it to everyone, and what is the real impact on the budget. It gives me a better appreciation of how money works.
On your campaign strategy, are you focusing on Democratic Gov. Gina M. Raimondo or Cranston Mayor Allan W. Fung, a fellow Republican candidate? Clearly my first challenge is to win the primary. Then the next challenge is going to be Gov. Raimondo, and that falls pretty quickly after the primary, so you can't ignore either.
Fung was the previous GOP candidate for governor in 2014. How big of an obstacle is that? He has more name recognition. When you see the polls right now, they're polling the general election. They're not polling the primary. [Editor's note: Morgan recently campaigned with someone dressed in a chicken suit outside Cranston City Hall to complain about Fung's unwillingness to commit to more than one debate.]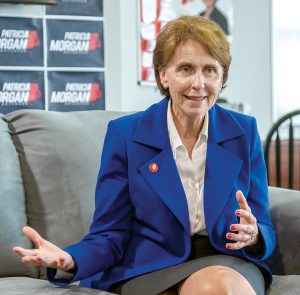 How do you differ from your GOP opponents? I'm honest. My experience makes me different. Rhode Island is worth fighting for and my experience tells me I know how to do it. I have been up in the Statehouse eight years, a front-row seat to dysfunction. I've been on the Finance Committee. I've grappled with the statewide issues with our budget. I've thought through what I, as governor, can do to affect the state and make it better.
You say Rhode Island is worth fighting for. What are you fixing? What is wrong? Rhode Island used to be a powerhouse of prosperity. People came to Rhode Island to build wealth and financial security, to have their families in a spot where they could have incredible futures. We don't have that in Rhode Island anymore. People are struggling now to make ends meet. People do not feel financially secure. If they lost their job, they're not sure they can find another one. They're not able to save for the future. They are lucky if they can save for the vacation they want to take next year.
You don't think these things have changed or moved upward under Raimondo? I think we have seen progress in Rhode Island, but it is more based on national trends than what we have done in our state. We haven't fixed the things that need to be fixed. … We've added a new toll, tax or fee every single year I've been there. We haven't reduced the size of government, we haven't taken layers of bad practices, the hostile practices, out of our economy. Just throwing money at a problem doesn't always solve the problem.
What is your economic plan for Rhode Island? It's multifaceted. One of them is starting to tackle those bad policies, practices. Taking out the regulations that make no sense but just add a burden to our small businesses. Others … [such as] joint and several liability. That is the deep-pocket syndrome that you can be tangentially involved in an accident or an injury, but because you have the biggest insurance policy, you end up paying for it. We're one of 10 states that haven't done the reform yet.
Our electricity costs. We have to look at having a statewide, forward-looking energy policy. Our electricity costs are really damaging. Look at Greencore. We gave them a ton of money to come to Rhode Island. Did they leave because the electricity was too high? Or because the sewer rates were too high? We have to look at every policy. What are the things that are fundamentally hurting our business climate? Just having all of these programs, and throwing money at companies, yeah you get a few jobs, but who is paying for those? All of those other companies that have been here for decades?
It doesn't help our homegrown businesses. Fundamentally repairing what we have done wrong over the past decades – that's what will help Rhode Island.
What is your position on the Burrillville natural gas-fired energy plant? I'm against it. It's in the wrong place. It's a very rural area. It's just not appropriate. [But] we need additional capacity.
How about the Field's Point liquified natural gas facility in Providence, which is also a proposal? I'm against that. The best way to move gas is through pipelines.
Gun restrictions? Does Rhode Island have enough? We have the eighth-strongest gun laws in Rhode Island. I think we have enough.
I want to use [the] internet sales tax to lower the overall rate.
Your tax proposal advocates a gradual lowering of the state sales tax. Can you elaborate? We passed the Amazon tax, which is expected to bring in an increasing amount of money each year. I want to use that internet sales tax to lower the overall rate, so it would be revenue neutral. I don't want to take that extra money and just spend it. We would lower the rate, based upon our internet sales. So, everybody benefits then. Over four years, I believe we can lower it to 6 percent. If it adds more activity, we may be able to go below that.
What are your thoughts on a $15 minimum wage? I want to grow jobs that pay more than the minimum wage. I think we should be focused on that. … Do I expect families to live on the minimum wage? I don't. But I expect our economy to grow the kinds of jobs that we're not haggling about the minimum wage.
On RhodeWorks, you are opposed to the truck tolling. Explain your opposition. Without that revenue, how will you repair the state's roads and bridges? I think, one, tolls are the most inefficient way to collect money. There is so much leakage. Secondly, we don't need that money. When I studied the tolls, I was able to find more money through wasteful, misdirected programs, bad spending in government, than we are going to get from tolls.
Give me an example of bad spending. What are some of the things you think are frivolous? Community-service grants are one. … There are wasteful programs, programs that government probably shouldn't be funding, but we are. There is more than enough money in a $9.6 billion budget, that we don't need this. Remember, DOT gets $590 million a year. That's a lot of money. They spend a lot of it very poorly. Secondly, it is just another way to grab more money out of everyday Rhode Islanders.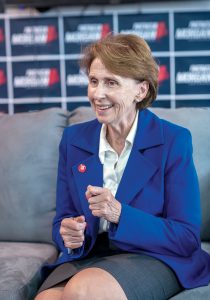 These are truck tolls. Is it automatically going to be passed on to consumers? They will be passing that on. One way or another, whether it is extended to all vehicles and we pay through our transponder, or if we pay it in an increased cost on all of our goods, the money comes out of consumers at the end of the day. I would stop them. I don't think we need tolls in Rhode Island.
What is your position on state-sanctioned sports betting? And online gambling? I think we have enough gambling in Rhode Island. Everything we do we always attach a dollar sign to it. I don't think we should ever be making policy that affects people's lives, based upon how much money the state is going to collect.
Affordable housing has become a recent concern. What is being built in Rhode Island is primarily luxury housing. Is there a role for the state here? We are not building starter homes anymore. And there is a real need for the starter homes. I'm a free-market person. That being said, I think there is a role for the government in the regulations. If a builder has to go through 200 regulations to build a house, and each regulation makes it more expensive, there is a role there.
Raimondo introduced a package of business relocation and expansion incentives. Are they necessary or overdone? I would liken that to having a Charlie Brown Christmas tree and each one of those incentives is an ornament. Underneath, you still have a Charlie Brown Christmas tree. I think we need to do the real fundamental reform of what is wrong with Rhode Island. Is there a place for incentives? On a limited basis. But all of these programs we have, no. We are paying airlines to come to our airport. … That's not free market. If there is a need for a nonstop flight, the airlines will do it.
On Medicaid, Raimondo identified this in her first budget as an expense that needed to be contained. What is your approach to Medicaid funding? There are a lot of doctors who will not see Medicaid patients now. And not because they don't want to. It costs them money to see those patients. They have to pay their staff, their overhead. At the end of the day, the reimbursements are so low they won't take a lot of the patients.
We are paying airlines to come to our airport. … That's not free market.
So, what is the solution? Over the last few months I've been talking to all of the stakeholders in the health care field. … They can all tell me what the problems are. They can pinpoint some solutions. The good news is, they're willing to help us make the delivery of health care services more efficient and more effective. They're willing to work with each other.
On the Unified Health Infrastructure Project, this is a long, tangled history. What would you do to correct this issue? I would get rid of Deloitte to be honest. Get a new vendor. They're not telling us the truth.
On the Pawtucket Red Sox, you opposed the deal that came before the Senate. Why? I believe in the free market. This is a private business. Should we be building a facility for every company that comes to Rhode Island? I don't think we should. A stadium is occupied 70 days a year. The employees are seasonal and pretty much part time. It is not real economic development.
Did you favor Rhode Island Promise, the free community college tuition program? Why or why not? Should K-12 be the focus instead? No. I thought it was a poorly designed program. Remember, the poorest of the poor children can already access Pell grants. There was no criteria of achievement in order to get the free tuition. … Once you're there, you have to have a 2.0 to keep the free tuition. But to get in, no. Too many kids are going. They're taking remedial courses. And they fail. You have taxpayers then paying for failure.
Mary MacDonald is a staff writer for the PBN. Contact her at Macdonald@PBN.com.