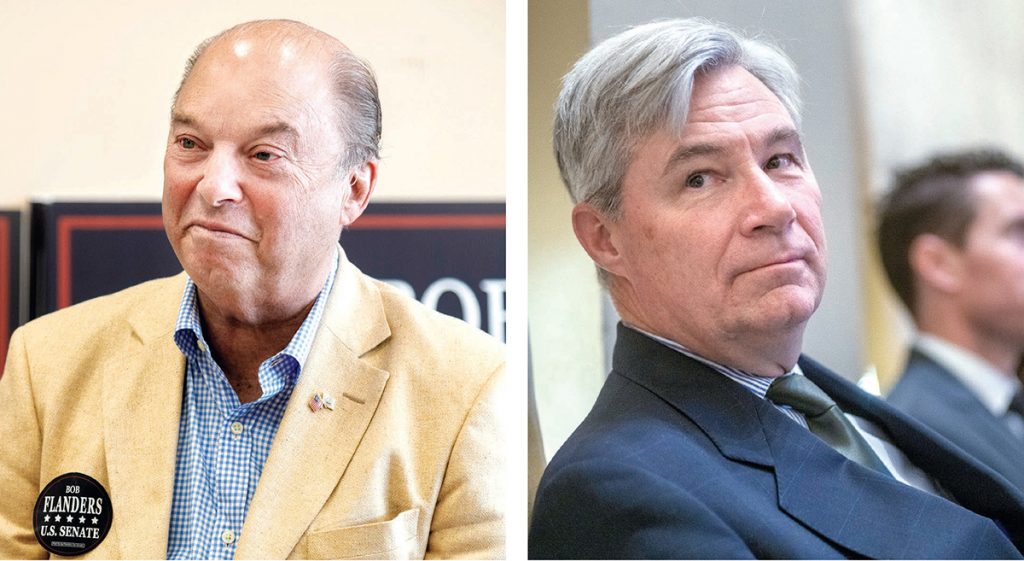 A consistently liberal voice on both fiscal and social issues since joining the Senate in 2007, Sen. Sheldon Whitehouse, D-R.I., has made a name for himself as one of the chamber's leading voices on the dangers of climate change.
As a member of the Senate's Committee on the Judiciary, he's seen his national profile rise over the past year amid investigations of Russian interference in the 2016 elections and as a consistent critic of the Trump administration's conservative agenda.
As he seeks a third term, however, the state's junior senator says he remains eager to pursue bipartisan solutions to problems that impact Rhode Islanders.
And while many political observers have criticized the 115th Congress for its often-paralyzing partisanship, Whitehouse called it part of his "most productive legislative period" yet.
The 62-year-old Newport resident claims several bipartisan successes, including $350 million to alleviate student loan debt and legislation to spur investment in next-generation carbon capture, utilization and storage technologies.
And in 2016, the Comprehensive Addiction and Recovery Act co-authored by Whitehouse was signed into law.
---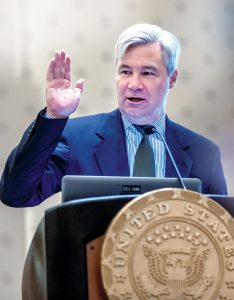 Why are you seeking re-election to the U.S. Senate? Because there is so much work to be done in Washington that I both want to do for Rhode Island and feel that I can be effective in doing.
How can you have an impact on economic development locally as a U.S. senator? In a variety of ways. A very big one is infrastructure – both for the jobs infrastructure projects provide and the economic value of having good, effective, efficient infrastructure.
Because of Rhode Island's defense economy, making sure [General Dynamics Electric Boat] and the [Naval Undersea Warfare Center Division Newport] are supported is a big deal. All of the jobs resulting from the [National Defense Authorization Act's call for increased submarine production] is a significant lift for Rhode Island.
On the smaller scale, I try to work with various groups in Rhode Island to help them become more-effective advocates for themselves. I've done this with the textile and composites industries to encourage them to [find] commonalities. The way I describe it is: "How do you turn stars into a constellation?"
What are one or two main points that specifically hit on Rhode Islanders' needs or interests that you will pursue in a third term? We have seen the threat to go after Medicare and Medicaid turn quite specific in the wake of the [federal tax overhaul in 2017]. Republican leaders in Washington are talking very plainly about the need to pay for that tax break by cutting Medicare and Medicaid. When you consider how many Rhode Islanders are on Medicare and Medicaid, that is a … fight worth having.
If you look at the projected maps of Rhode Island for 30, 40, 60 years from now, you see a very different [landscape]. Rhode Island becomes an archipelago as sea-level rise creeps in and changes our coastline. The dangers of that to our economy are profound. If you wait until those things are happening to try to stop them, you have missed the bus. I am trying to get us on the bus now, when changes will, I hope, prevent at least the worst-case scenarios our own scientists at the University of Rhode Island and the Coastal Resources Management Council are predicting.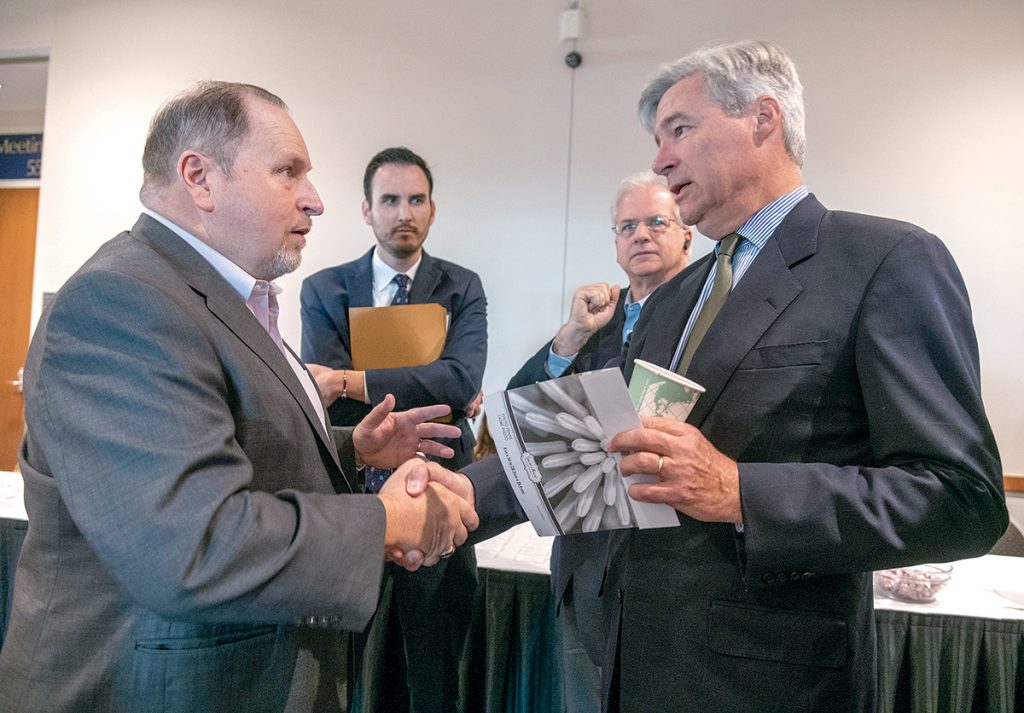 Which of the state's sectors do you feel are best situated for local growth and what types of businesses do you feel should be recruited for relocation to Rhode Island? Health care is going to be big for a long time. We have an older-than-average population and we're going to be higher-than-average consumers.
We have a lot of capacity to develop more expertise in cybersecurity and that process is underway.
The blue-economy work going on in Newport [and] Providence has a lot of potential. It's going to be one of the unfortunate consequences of sea-level rise that coastlines all around the world will suffer. … The silver lining of that cloud is that URI and [its] Graduate School of Oceanography are experts, and I hope it becomes a world-class investment opportunity for URI to grow into being the place you call. Who you gonna call, Ghostbusters? Who you gonna call? GSO, when it's your coastline that is imperiled.
Speaking of climate change, you voted in favor of a four-month extension of the National Flood Insurance Program – an underfunded federal-protection effort benefiting homeowners living on the nation's coasts. When will the program reflect the risks involved in purchasing such property via higher premiums required of owners, rather than passing the buck to taxpayers? There are a number of reforms being kicked around right now – that is a very lively conversation.
Despite the fact that I'm not on the Banking, Housing and Urban Affairs Committee – where a lot of this is taking place – [I have] been very involved [in the conversation] because I've inserted myself due to the importance of this to Rhode Island.
The program hit its deadline before that conversation had come to a place where we could have an agreement. [The four-month extension] was a temporary stopgap and those conversations are going to continue.
The issue is less, "Should there be taxpayer support for flood insurance?" than, "How do we deal with the fact that a flood is no longer an occasional event from which you revert to an earlier safe status?"
A flood is now an increasingly likely event on most coasts and reflects a changing status of lost coastlines and homes swept into the sea. In that new environment, you have to redesign the way the program works and the biggest change is what to do about paying people to continue to rebuild in the same place when the same place is not sustainable. … All of that is being re-examined and there will be an agreement fairly soon.
Which, in your mind, are the top priorities outlined in the Resilient Rhody report and how do Rhode Island's plans to combat climate change compare to other coastal states? I think we're in the first rank with that report.
Evaluation of what coastal features and infrastructure are at risk and development of financing methods to deal with those risks is our core problem. The report puts a lot of effort into figuring out how different financing methods available – and different risks – can be brought together so the former can be the solution to the latter.
Climate change will be an uphill battle for everyone, but particularly for Rhode Island given the "first in, last out" impact of the Great Recession. Do you feel we're behind the eight ball? We're certainly in harm's way. … I don't know that we're more behind the eight ball than anybody else.
You've been a longtime proponent of comprehensive health care. Besides passing a $6 billion increase in funding to the Comprehensive Addiction and Recovery Act, what more can you do to help tackle effects of the opioid crisis locally? There's room to increase funding further and the hole has mostly been on the recovery side.
Once you're through treatment … and into long-term recovery, it's that last part that's been overlooked and that's where a lot of people [exist]. For a lot of them, relapse [is possible] and we don't have a system capable of dealing with [such regression].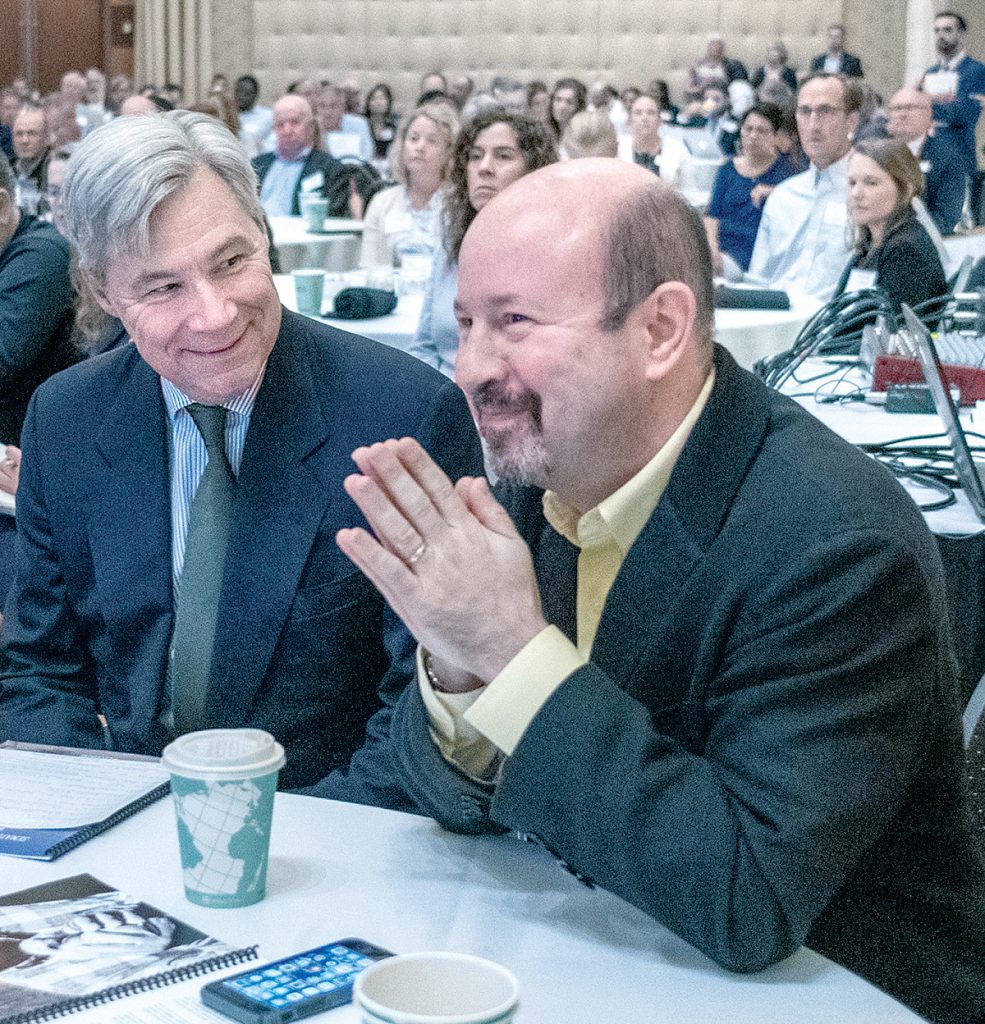 You're describing a decadeslong process. Do you feel the quality of today's health care meets the standards you sought when establishing the Working Group for Health Care Innovation in 2015? Yes, I'm proud of what's happening in Rhode Island. We're certainly not there yet, but Rhode Island has worked hard to build a lot of infrastructure.
We probably have the best all-payer claims database of medical records, payment records and health information exchanges in the country. We were the first to align billing from all of the streams for people with chronic conditions, including Medicare and Medicaid, and have the system not be a confusing nightmare.
We're [home to] groups [such as] Coastal Medical Inc. and Rhode Island Primary Care Physicians Corp., who are at the tip-top of the nation in terms of improving quality of care while lowering cost. [Coastal President and CEO] G. Alan Kurose and his team dropped the per-year cost per patient by $700 and they've done it by making their patients very happy with much better service.
They've been able to enact the hypothetical principal that if you invest in people's well-being and get them the care they need when they need it, you'll … save money.
That's how you solve the health care cost problem, by incentivizing doctors to keep patients healthier.
You have raised concerns about partisan rulings by the U.S. Supreme Court. Do you think President Trump's opportunity to appoint a second justice, after the retirement of Associate Justice Anthony Kennedy, will further entrench the members, inhibiting the body to rule beyond party lines? Yes. There is a disturbing trend at the Supreme Court of 5-4 decisions in which the five are all Republican appointees and in which the decision confers benefit on Republican interests … despite violating traditional judicial conservative principles. … My worry is that [nominee Judge Brett] Kavanaugh will help create a new five that continues this discouraging trend and expands it to those areas [where] Kennedy had been a bulwark.
That puts at risk, ultimately, the credibility of the court.
Will you vote to appoint Kavanaugh? [Editor's note: On Sept. 10, Whitehouse announced he would oppose Kavanaugh's nomination. In a statement, he cited concern about the court "having been captured by the far right. … Judge Kavanaugh could have pledged to help buck that trend. … Instead, he ducked our questions."]
Kavanaugh is now facing an allegation of sexual assault that he has denied. Should an accusation of this type by itself be disqualifying for the U.S. Supreme Court? Sexual assault ought to be disqualifying, particularly if accompanied by a lack of candor about the events in question.
Rhode Island has long been supportive of unions. However, the U.S. Supreme Court's Janus v. AFSCME Council 31 ruling may impact the strength of such organizations among public-sector workers. Most union leaders and scholars say the impact here will be slight, do you agree? I think there is a strong chance of that. The labor-business relationship in Rhode Island, by and large, has been very good. I suspect Rhode Island will be one of the states that is quickest to find a way to restore the balance.
My favorite example being that Electric Boat agreed to a project-labor agreement. As far as I know, and they've told me this, [the company] has never done a project-labor agreement anywhere in the country. But, working with the building trades in Rhode Island, they became comfortable with the idea.
Do you agree with your GOP opponent, Judge Robert G. Flanders Jr., that R.I. House Speaker Nicholas A. Mattiello's violation of a PAC spending limit earlier this year was a serious enough offense to call for resignation? I don't know what my opponent has done on that, so I'm not in a position to comment.
Should a member of the state's congressional delegation weigh in on such internal political issues involving the General Assembly and state government? Members of the delegation are best served working in the lane the voters have given us.
[Late Sens.] Claiborne Pell and John Chafee warned [me] about that. When you're delivering something for your home state, you need to focus on it … but that doesn't necessarily mean bringing the office of U.S. senator into a local political quarrel.
Emily Gowdey-Backus is a staff writer for PBN. You can follow her on Twitter @FlashGowdey or contact her via email, Gowdey-backus@PBN.com.

Want to share this story? Click Here to purchase a link that allows anyone to read it on any device whether or not they are a subscriber.