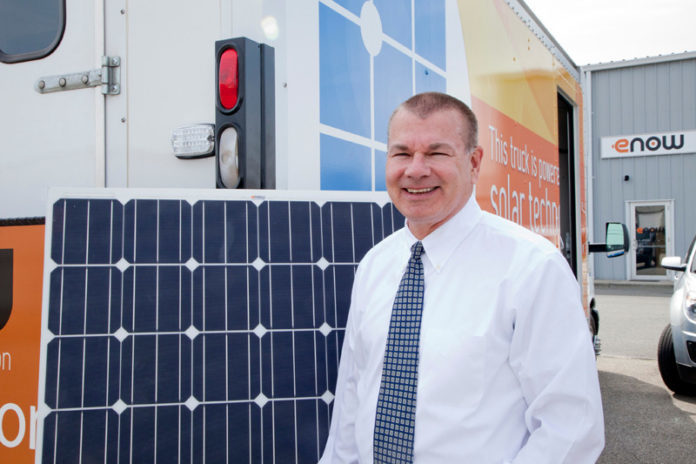 WARWICK – Solar-energy equipment supplier eNow Inc. just locked down a new big investor.
Canadian Solar Inc., a leading solar provider in the global market, has purchased a 10 percent stake in eNow, the Warwick-based company announced Thursday.
"We are honored to have received funding from Canadian Solar," said Jeff Flath, founder and CEO of eNow, in a statement. "Their tremendous expertise, technology innovation and global credibility in the solar industry could not be matched. We see this investment and partnership as more proof of the viability of Energy-as-a-Service and the increasing demand for sustainable solutions in the commercial transportation industry."
According to a press release, the investment should serve to expand eNow's global reach, utilizing Canadian Solar's international connections and integrating with the solar purveyor's photovoltaic developments and "production expertise." Canadian Solar has subsidiaries in 24 countries and reported a net income of $65.28 million in 2016.
Shawn Qu, chairman and CEO of Canadian Solar, in a statement, said "eNow's power management for the commercial transportation industry is a big step forward from Canadian Solar's first product. We see a great potential for the transportation industry. It will reduce transportation fuel costs while making a significant impact in cutting vehicle emissions."
As PBN reported in January, eNow received $2.36 million from the Slater Technology Fund and Tamiami Angel Investors in 2016. The company was founded in 2011.
Chris Bergenheim is the PBN web editor.