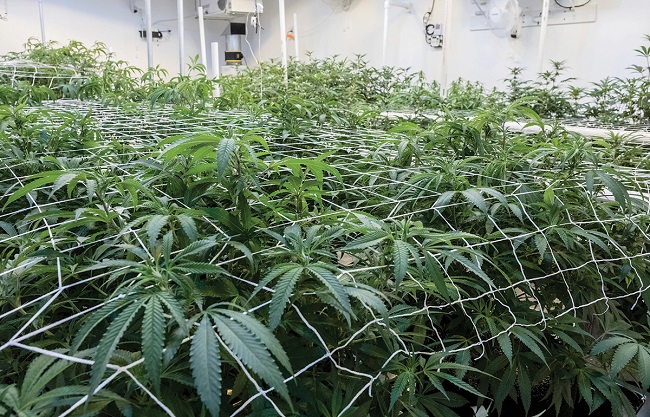 WARWICK – A Providence Superior Court judge denied a local cannabis cultivator's request for an injunctive relief from state regulator's "administrative hold" over the company Friday.
STJ LLC, also known as Fire Ganja, filed a motion in August seeking monetary relief and requesting that the court "revoke and dissolve" an administrative hold and quarantine of marijuana plants the Rhode Island Department of Business Regulation had issued in June, according to court records obtained by Providence Business News.
On June 21, state regulators notified STJ they were placing an administrative hold on all of the cultivator's inventory and plants through Metrc, which is the state system that tracks marijuana products. This was the result of a state regulator's investigation into STJ after the cultivator's manager and principal, Mark Laraway had emailed regulators on June 19 asking for assistance with logging plants into Metrc.
Throughout the following two days, regulators visited STJ's facilities days later and found more than 1,400 untagged or improperly tagged plants, 3,500 ounces of untagged or improperly tagged cannabis flowers and concentrates and 276 ounces of cannabis concentrate in their facility at 36 Bellair Ave.
The hold prohibited STJ from manufacturing or selling cannabis products, which the company stated caused them to lose approximately $8,200 per day in sales revenue as well as $885,228 in destroyed and quarantined plants as of Aug. 17. STJ also stated they were forced to reduce its staff from 15 full-time employees to just two part-time workers, according to court records.
Court records also show that both parties were in the process of negotiating a consent agreement. However, talks broke down on Aug. 9 after each side rejected each other's settlement offers. The R.I. Department of Business Regulation had initially proposed an administrative penalty of more than $2.9 million, while STJ countered with $35,000. 
Through their investigation of STJ, regulators also discovered a lawsuit between Fire Ganja's owners and the company, San Miguel LLC. Regulators argued that the lawsuit revealed STJ had violated state regulations by failing to properly identify San Miguel's ownership interest in STJ. However, STJ disagreed stating that they filed amended paperwork with regulators in June 2021 adding San Miguel as a lender to the business.
State regulators then issued an administrative order on Aug. 16 for STJ to appear at a show-cause hearing on Sept. 15 about why they were seeking to revoke the cultivator's license.
A pre-hearing conference took place on Sept. 15 and a status conference with written discovery has been scheduled for Nov. 30, according to a spokesperson with the R.I. Department of Business Regulation
Representatives from STJ and The R.I. Department of Business Regulation both declined Providence Business News' request for comment on Friday.
(Update: Adds Providence Superior Court in 1st paragraph, R.I. Department of Business Regulation declining comment added in 11th paragraph.)

Want to share this story? Click Here to purchase a link that allows anyone to read it on any device whether or not they are a subscriber.