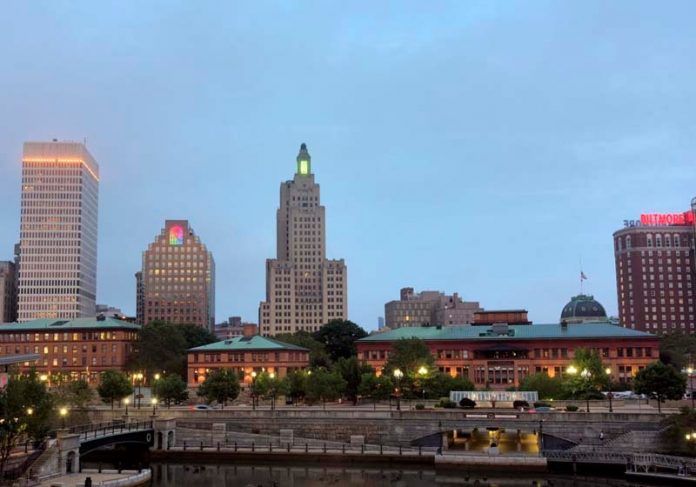 PROVIDENCE – The Downtown Providence office market continued to strengthen in 2018, with the combined commercial districts that make up the area ending the year with an occupancy exceeding 90 percent.
Absorption totaled more than 150,000 square feet across the eight downtown districts, with a total vacancy rate of 9.8 percent, an improvement from the 12 percent reported at year-end 2017, according to an overview of the commercial real estate market, presented Thursday by CBRE Inc.
The company presented its 2019 Providence market overview in an event at the Omni Providence Hotel.
The downtown office market last year had a boost from a number of notable deals, according to Andrew Galvin, a first vice president and partner at CBRE. The Class A space, the premium office buildings, had 35 percent ownership turnover last year, he said.
In December, for example, the building known as the IGT Center sold for $71 million. It is among the significant transactions in the Capital Center submarket.
This district ended the year with 49,270 square feet of absorption and a 7.9 percent vacancy rate, according to CBRE.
The Financial District, which is the largest submarket, had an increase in asking rents to $26.79 per square foot, according to CBRE.
Capital Center continues to have the city's highest office rents, with its asking rent of $33.69 per square foot in 2018, fueled by proximity to public transportation centers and newer buildings.
The Promenade District, which includes the Rising Sun Mills, also had a good year, with nearly 65,000 square feet of office absorption, much of it due to business expansions or relocations to the mill. As a result of the activity, the Promenade District's vacancy rate has dropped to 9.5 percent.
Suburban market:
The suburban office market had a slight increase in vacancy, up less than 1 percent to 12.7 percent. The market had a negative absorption rate of 22,000 square feet, after an absorption of 74,000 square feet one year prior, according to CBRE.
Industrial market:
The industrial vacancy rate was 1.8 percent in 2018, a slight increase from 1.7 percent in 2017. Industrial market absorption was 362,000 square feet in 2018, compared with 347,000 square feet one year prior.
In Rhode Island an opportunity exists for more investment in industrial buildings, said Tom Barry, a CBRE vice president, who discussed the segment. Nationally, he said, new warehouse construction offers 32-foot ceiling heights, and in some cases 40 foot and above.
Rhode Island has a stock with lower heights, of 22 to 24 feet.
"Ten to 15 years ago, that was perfectly suitable," he said. "But in an age when every single cubic foot helps, much of our stuff is substandard."
Mary MacDonald is a staff writer for the PBN. Contact her at macdonald@pbn.com.
An earlier version of this story contained statistics that were not finalized.