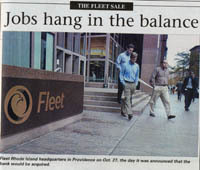 In just three years, a sign in front of a bank on Wakefield's Main Street bore three different names. First it was Rhode Island Hospital Trust. Then in 1998, BankBoston, which had owned Hospital Trust for a decade, put its name up. In 2000, a big red Sovereign Bank sign replaced it.
The same happened at banks across Rhode Island, reflecting dozens of mergers and acquisitions over the last 20 years. In the end, some institutions, such as Fleet and Citizens Bank, grew to be national players, while others, such as Old Stone Bank, vanished completely.
The list of deals can read like a genealogy in the Old Testament.
Take Fleet: In 1988, Fleet Financial Group merged with Norstar Bancorp, of Albany, N.Y., giving the Providence bank $23 billion in total assets. Then it bought the Bank of New England in 1991, taking control of its three subsidiaries and $19 billion in deposits.
In 1995, Fleet took over Shawmut National Corp. in Hartford and the New Bedford Institute of Savings, and became the largest bank in New England. But it wasn't done. In 1999, Fleet paid $16 billion for BankBoston Corp. in the region's largest bank merger ever.
The new entity, FleetBoston Financial Corp., was the No. 8 bank in the nation. But to comply with antitrust laws, it had to divest some of its assets. It sold 278 branches in New England to Sovereign for $1.4 billion, giving the Wyomissing, Pa., bank a major foothold in the region.
In 2000, FleetBoston made its next move, the $7 billion buyout of Summit Bancorp, based in Princeton, N.J. Three years later, FleetBoston itself was acquired, by Charlotte, N.C.-based Bank of America. The $47 billion deal made Bank of America the No. 2 bank in the nation, after Citibank.
Neil D. Steinberg, who was Fleet's top Rhode Island executive at the time, said the bank's deal-making was part of a broader trend.
"It was nationwide – it wasn't just here," he said. "The opportunities to grow by acquisition, expand the revenue base and get cost savings were quite significant."
Citizens, on the other hand, was acquired early on, in 1988 – by The Royal Bank of Scotland Group – and went on to make acquisitions as a subsidiary of the British bank. It acquired Old Stone Bank in Providence in 1994, Manchester-based First NH Bank in 1996, and Boston's UST Corp. in 2000. During this period, its assets surged to $29 billion from $7.8 billion.
Today, Citizens dominates the Rhode Island market, with 81 branches and 43.3 percent of the state's deposits as of last June 30. In Massachusetts, it ranks second, after Bank of America, with 269 branches and 14.4 percent of deposits (Bank of America had 20.8 percent).
But Citizens isn't just a regional player. In 2004, it bought Cleveland, Ohio-based Charter One Financial, adding another $40 billion in assets while growing its presence in the Midwest.
"The merging that went on here on the East Coast was so that banks could enter new territories, build their business base and thus build their profitability," said Garrett B. Hunter, a former senior executive at Hospital Trust who heads the Business Development Company of R.I., a non-banking lender in Providence.
Simultaneously, out-of-state banks have moved into this territory. In 2004, Waterbury, Conn.-based Webster Financial Corp. purchased Swansea-based FirstFed America Bancorp, gaining a local foothold to begin expanding across Rhode Island and southeastern Massachusetts.
Bank was built from mergers
During the slew of mergers in the past 20 years, ownership of Rhode Island's major banks moved out of state. Yet a group of local investors bucked that trend, creating a mid-sized bank out of the leftovers from one of those mergers, one that is based and focused on Rhode Island – and named after the state.
When Fleet Financial Group took over Shawmut National Corp. in 1995, the bank was forced to divest Shawmut assets to satisfy antitrust laws.
Merrill W. Sherman, a lawyer and former CEO of Eastland Bank, and Malcolm G. Chace, a local industrialist, put together a group of investors in October 1995 and bought Shawmut branches in Providence and Kent counties, creating Bank Rhode Island.
"This is a unique opportunity to create a new banking institution in Rhode Island," Sherman said at the time. "I don't think an opportunity like this will come up … ever again."
Sherman became BankRI's president and CEO, and the mergers and acquisitions going on in the industry gave her plenty of opportunities to recruit top executives. Unlike their former employers, Sherman said in an interview last week, BankRI "has no choice but to allocate our resources here, because we're based here and we're focused here."
To stand out in a competitive market, BankRI has emphasized business banking. Has the strategy worked? Sherman said the "proof is in the pudding."
Ten years ago, BankRI opened with 12 branches, $465 million in assets, and $421 million in deposits. Since then, the bank has gone public (it went on Nasdaq in 1998), opened four more branches, and built up to more than $1.4 billion in assets and $981 million in deposits.