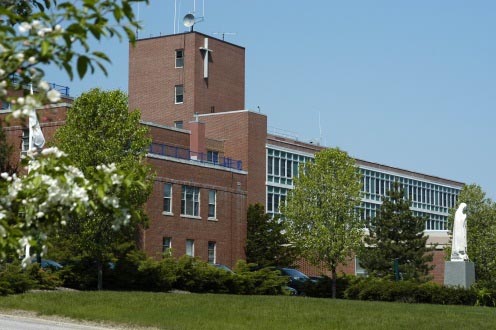 NORTH PROVIDENCE – CharterCARE Health Partners announced that it will permanently close the St. Joseph School of Nursing this year after 117 years of operation.
The school graduated its last class in May. As of May 31, the school employed 12 staff and had 71 students. CharterCARE cited changes in enrollment and tuition as the impetus to shut down the school.
The School of Nursing's offices, skills labs, computer lab and meeting rooms were located on the campus of Our Lady of Fatima Hospital in North Providence, while its classes were held at the Salve Regina Campus in Warwick.
A spokesman for CharterCARE said that the change is not expected to impact operations at Fatima Hospital.
The school's statement on the closure began by noting that, "nursing education programs and market trends continue to challenge diploma schools of nursing like the St. Joseph School of Nursing."
The school said that it had reached an agreement with the New England Institute of Technology to have all current students of the nursing school be accepted into an NEIT associate degree program in the fall. Both schools are expected to offer "individualized guidance and information assistance" to affected students.
"This agreement is a product of a cooperative relationship between NEIT and St. Joseph's School of Nursing," stated Steven H. Kitchin, NEIT's vice president for corporate education and training. "We have worked diligently to avoid some of the challenges that the closure of other higher education institutions in New England have recently faced. NEIT will do everything in its power academically and financially under this teach-out agreement to accommodate St. Joseph's students."
NEIT said that roughly 60 students were impacted by the closure. The school said that it will waive all application fees and tuition deposits and has a dedicated staff of financial aid and admissions professionals prepared to meet individually with St. Joseph's students.
"New England Tech is pleased to have the  opportunity to support St. Joseph's School of Nursing students in meeting their academic needs," NEIT's Director of Nursing, Darlene Noret stated Wednesday. "NEIT will do its utmost to ensure a smooth transition for these students. The NEIT community will always remember St. Joseph's as a school of excellence and is excited to assist the students in achieving their career goals."
The St. Joseph School of Nursing recently had appointed Debra Campo as interim dean of the school in March, following the departure of Betty Sadaniantz.
Chris Bergenheim is the PBN web editor. You may reach him at Bergenheim@PBN.com.