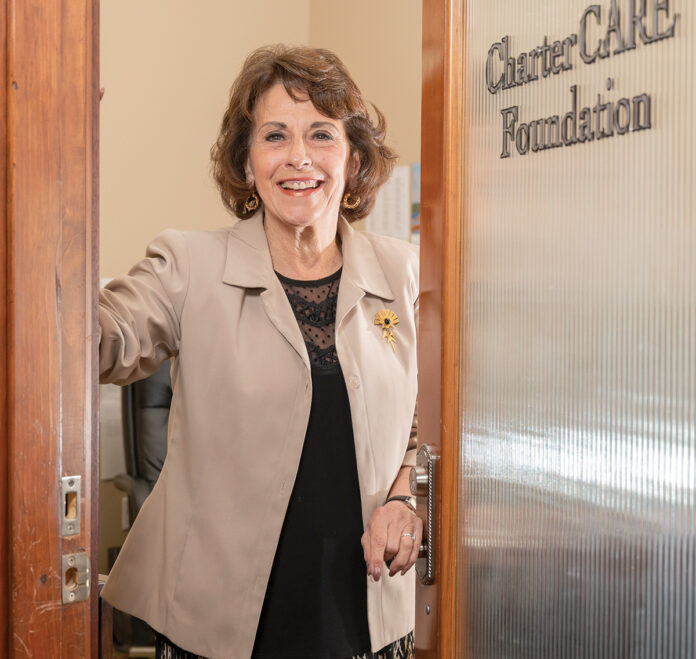 PBN 2023 Business Women Awards
CAREER ACHIEVER: Paula Iacono | Chartercare Foundation executive director
---
WITH 40 YEARS of experience in developing community partnerships and organizations, Paula Iacono understands what needs to be done.
Iacono – executive director for the Chartercare Foundation in North Providence – originally wanted to be a journalist, she said. However, Iacono began volunteering for Bryant University's alumni council and her career trajectory began to change. Iacono became Bryant's alumni director, helping grow an alumni chapter network and became a mentor for the student alumni association.
"It was really happenstance," Iacono said of her time in alumni relations. "I just was in the right place at the right time."
By 2001, Iacono had moved to the health care field to fundraise and handle donor relations for a hospital that eventually became part of Chartercare Health Partners. During her early years there, three hospital development systems merged and Iacono became the development officer for those entities.
When those organizations were bought up by a for-profit company, Iacono helped Charter­care create its own foundation. Chartercare Foundation now awards grants for nonprofit agencies that provide health care for Rhode Islanders. Iacono's network grew because she already had relationships with the donors and knew how to use the funds.
"I view it as a real partnership," said Iacono of the foundation's relationships with other agencies. "I take an interest in it. We just don't award them the grant and then never see or talk to them again. I go out and visit the site; I meet with the people doing the programming and the services; I monitor how it's going; if they need additional funding, we talk about that. As a result, we've developed relationships with a lot of these health care agencies over time that have resulted in a lot of progress."
As executive director, Iacono handles many foundation aspects, including working with donors, fundraising, handling grant applications, site visits and awarding grants. She also handles the foundation's accounting and website development.
"The best advice I can give anyone wanting to get into this type of work is to be flexible and be mindful of changing needs in the community," Iacono said. "It's great to have processes and procedures, you [must] have those. But I think the flexibility allows you to react appropriately when emerging health care needs arise, such as when COVID-19 hit. We had to shift and deviate from our normal process to try to meet some of the needs of the community."
Due to the partnership and knowledge gained about each organization, Iacono believes the foundation is often secure enough to go forward with further funding. Chartercare Foundation board Chair Patti McGreen admires Iacono's ability to get everything done.
"Our organization is small and she does it all," McGreen said. "She's calm, capable and respected."
Iacono is self-driven and develops the thoughts and direction of the foundation, McGreen said.
It's important to get out in the community, maintain the relationships you make and keep your ear to the ground, Iacono said.
The foundation is currently reviewing awards for medical education scholarships, and is also focusing on needs in behavioral health, nutrition education, and senior wellness and safety, Iacono said. The foundation also has a broad scholarship program for Rhode Island students studying in the health care field.
Since the foundation launched in 2014, it has distributed more than $1 million in small grants in the Rhode Island community. Overall, the foundation focuses on small nonprofit organizations so the funds can make an impact.
"I've had the opportunity to meet a wide variety of people between health care and education and volunteering, and from all walks of life, and they've truly enriched my life," Iacono said. "I've learned something from every one of them. Amazingly, I've kept in touch with most of them, so I think I'm most proud of the personal relationships that have developed from this work. It's very rewarding."

Want to share this story? Click Here to purchase a link that allows anyone to read it on any device whether or not they are a subscriber.