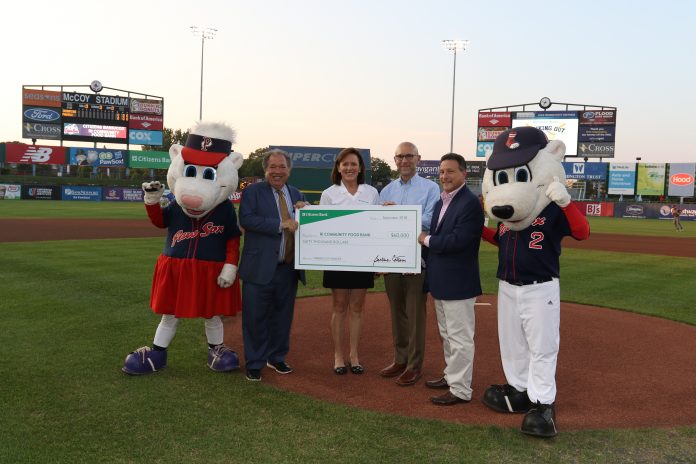 PAWTUCKET – Citizens Bank, Cox Communications and the Pawtucket Red Sox partnered recently to raise $60,000 for the Rhode Island Community Food Bank. The gift will provide an estimated 150,000 meals to Rhode Islanders in need of food assistance.
Citizens Bank provided the money, donating $60 each time a PawSox pitcher threw a strikeout this season, up to $60,000. Cox Communications provided advertising and marketing services for the campaign, said food bank spokesman Hugh Minor.
Since starting 11 years ago, the Striking Out Hunger campaign has raised more than $760,000, according to the food bank.
It hopes to continue the program, in one form or another, after the PawSox leave Rhode Island to relocate to Worcester, Mass.
"We can do it for the next two years while the team is here, then we'll have to decide what to do after that," Minor said.
Organizers said the program is a response to the need for food assistance during the summer, when families who rely on school meals to feed their children must make up for those lost meals. Also, the food bank said it receives fewer donations in the summer, driving the organization to find new ways to address the need.
"Our Striking Out Hunger partnership with Cox Communications, the food bank and the PawSox raised critical funds and put an important spotlight on the issue of summer hunger that affects children in every Rhode Island community," said Barbara Cottam, Citizens Bank's Rhode Island market executive.
Scott Blake is a PBN staff writer. Email him at Blake@PBN.com.