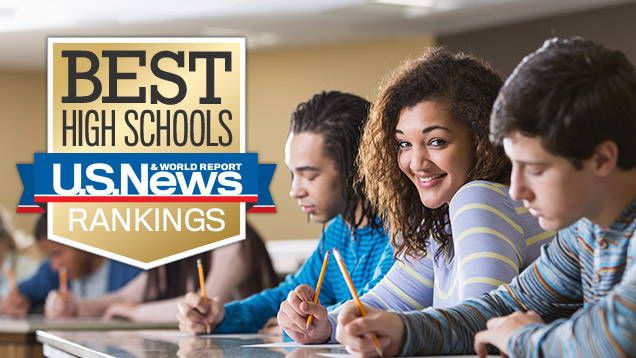 PROVIDENCE – Rhode Island dropped from ninth to 20th best state for high schools according to the 2017 U.S. News & World Report's state-by-state comparison of the top performing public high schools, released by the news bureau on Tuesday.
Among the top 500 ranked schools were Providence's Classical High School, No. 353, and Barrington High School, No. 417 – a fall from No. 218 and No. 400, respectively, from 2016's findings.
In addition, six schools received silver medals: Portsmouth High School, which ranked No. 591 in the nation, Narragansett High School (No. 935), Times2 Academy (No. 1,201), East Greenwich High (No. 1,283), Middletown High School (No. 1,986) and Westerly High School (No. 2,360).
Barrington High School was also named No. 110 in the 2017 U.S. News top STEM schools ranking – it was the sole Rhode Island high school named to the STEM list.
Times2 Academy in Providence came in at No. 177 on the U.S. News top charter schools list.
No Rhode Island schools were listed on the 2017 U.S. News top magnet schools list.
"It is critical that students graduate from high school to put them on a successful path to college and a career," said Anita Narayan, managing editor of education at U.S. News, in a statement. "We encourage parents to use the data included in the 2017 Best High Schools rankings to help make informed decisions about their children's education."
For the third year in a row, Maryland, came in first place with the highest percentage of gold and silver medal high schools. Connecticut ranked fourth in the nation followed by Massachusetts in the fifth slot.
The top high school in the nation is BASIS Scottsdale in Arizona.
When calculating the rankings for the top performing public schools in the nation, U.S. News compared students' reading and math results on state-level proficiency exams while factoring in the number of economically disadvantaged students who often score lower than their peers.
Data on more than 22,000 high schools in the 50 states and the District of Columbia was included in the ranking, according to U.S. News.