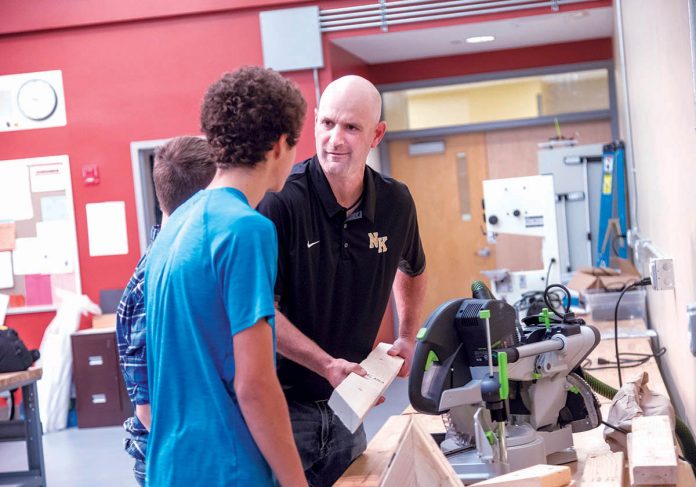 In some places, wind energy is still thought of as a grand experiment. In Rhode Island, it's already seen as a promising industry of the future. Here, the grand experiment in wind energy will take place in the classroom.
Business leaders and state officials are hoping that's where Rhode Island's future workforce for the offshore wind-energy industry will come from.
Aspects of the industry are starting to be integrated into the curriculum at North Kingstown High School, less than a mile from Narragansett Bay. That's a short boat ride away from the nation's first offshore wind-energy farm off the Rhode Island coast, with much more to come.
Similar projects are in the planning and approval process from the Carolinas to Martha's Vineyard.
North Kingstown High and, to a lesser extent, the private Rocky Hill School in neighboring East Greenwich are serving as pilot programs to introduce Rhode Island students to potential careers in wind energy.
"There's still a lot of work to do," said Kristin Urbach, executive director of the North Kingstown Chamber of Commerce, serving as the lead coordinator of the so-called WindWinRI program.
The Chamber received a $100,000 state grant about a year ago to get the program started. It hired a professional curriculum developer to work with the schools. Now the Chamber is applying for a second grant, with the hope of expanding the program someday to an "urban" school, possibly in Pawtucket.
WindWinRI has a powerful ally – Gov. Gina M. Raimondo. She spoke to a group of business leaders and educators in North Kingstown in August about the program.
'This program … will help ensure that companies have a pipeline of talent for years to come.'
GOV. GINA M. RAIMONDO
"This program … will help ensure that companies have a pipeline of talent for years to come in Rhode Island," she said.
The grant came from the state Department of Labor and Training's Real Jobs Rhode Island initiative, designed to ensure Rhode Island employers have the talent they need to succeed here.
"Wind farms are … the wave of the future," said Laura Hastings, the department's grant adviser for Real Jobs RI. "So, the department is looking to access and develop the workforce of the 21st century. Having a curriculum and educating students now gets Rhode Island poised for when [offshore wind energy] explodes."
At North Kingstown High, educators recently started introducing the program to students. The goal is to start graduating some students in 2020 with offshore wind-energy certificates, on top of their diplomas.
The North Kingstown School Committee has given the program its blessing, said Kevin Gormley, North Kingstown High's director of career and technical programs.
Gormley said incorporating elements of offshore wind energy into certain courses is a complex process and has needed review and approval.
"Demographically, what better place to design a career pathway [into wind energy] than here, with our coastline and our trade and seaport?" Gormley said about the program.
The program has two pathways: One is for students who plan to attend a four-year college and possibly graduate school, then hopefully explore job opportunities in the wind-energy industry. These students would be the industry's future scientists, researchers, engineers, business managers and other white-collar professionals.
The other pathway is for students not planning to go to college or those planning on a two-year college. These students would be the welders, maritime and construction workers, and other blue-collar professions.
So far, about 50 students at North Kingstown High have expressed interest in the program, said Barbara Morse, the school's assistant principal. She said it's the first time that she knows of that the school has imbedded information in its curriculum for a specific industry.
"The curriculum is evolving on a day-to-day basis," said Joy McGuirl-Hadley, the curriculum developer selected by the Chamber for the program.
She and other educators were hoping to attract 60 to 80 students for a field trip this month to Deepwater Wind's Block Island Wind Farm. The facility can generate up to 30 megawatts of electricity, the first of its kind to operate in the United States.
Earlier this year, Rhode Island officials selected Deepwater to build a much larger 400-megawatt wind-energy farm – dubbed Revolution Wind – off the state's coast.
In May, Massachusetts officials selected another company, Vineyard Wind, to build an 800-megawatt wind-energy farm off Martha's Vineyard.
In Providence, Deepwater manufactured the five turbines used for the Block Island Wind Farm at the city's seaport.
Providence Mayor Jorge O. Elorza said plans call for much more work in the city from Deepwater.
"We're following our values and protecting the environment," the mayor said about wind energy. "We're also positioning Providence to be a leader in a new and growing industry."
Scott Blake is a PBN staff writer. Email him at Blake@PBN.com.