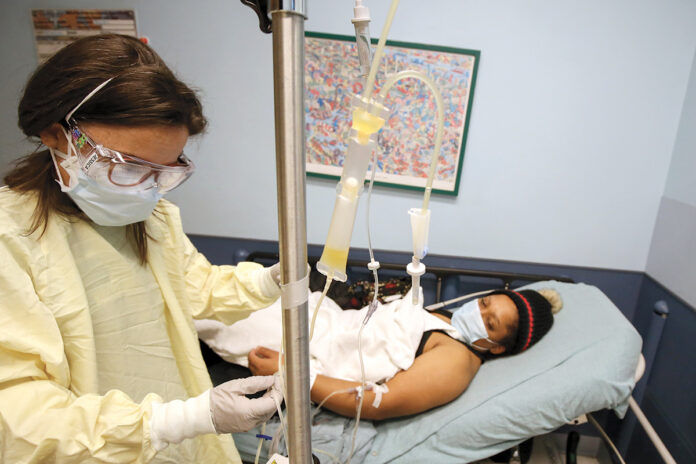 Rhode Island Hospital is one of 30 medical facilities nationwide testing whether a plasma-based treatment for COVID-19 that has been approved for emergency use by the federal government is actually effective.
The hospital has partnered with Johns Hopkins University to become a clinical trial site for the testing of convalescent plasma therapy as a way to reduce the symptoms of COVID-19 and the infection.
The therapy uses the blood plasma from people who have been infected by the virus and have survived. The plasma, which contains antibodies, is then given intravenously to those who need treatment.
At Rhode Island Hospital, 12 patients are undergoing the convalescent plasma therapy to determine if the antibodies can prevent sickness in those who have been exposed to the coronavirus or aid recovery for those who have been recently diagnosed and have symptoms.
Until a vaccine can be distributed that is safe and effective, some public health experts say the therapy might be the best treatment option.
There are other antibody trials underway at Rhode Island Hospital for those who needed hospitalization, according to Dr. Adam Levine, primary investigator for Johns Hopkins efforts in Rhode Island.
But this study is running a set of two clinical trials to determine whether giving people antibodies earlier in the illness is effective at treating recently diagnosed patients and at preventing those who have been exposed to it from actually catching the disease.
"We have really promising evidence from observational studies looking at the use of convalescent plasma in thousands of patients with COVID-19 that were hospitalized," said Levine, who works in emergency medicine at Rhode Island Hospital and is a professor at Brown University's Warren Alpert Medical School. "But we still don't have any data from randomized controlled trials to show that it is definitively efficacious."
Levine said data from observational studies at the renowned Mayo Clinic in Rochester, Minn., shows that convalescent plasma is safe, but he said questions remain about whether it reduces mortality.
Convalescent plasma therapy has been used in other outbreaks of pneumonia and meningitis and was tested during an Ebola outbreak.
"There are many respiratory viruses for which convalescent plasma works. We just have to demonstrate that it works for this specific one, too," said Dr. David Sullivan, JHU professor and study leader.
The treatment uses blood from people who have recovered from COVID-19. It is processed to remove the blood cells, leaving behind a yellowish plasma that contains antibodies. The fluid is administered by IV drip.
Johns Hopkins officials hope to enroll 600 patients across the 30 trial sites. If proven effective, Levine said the treatment could also help treat those who refuse to be vaccinated when one is available.
"While we're waiting for many different vaccines to become available, it's still important to understand that none of them will be perfectly effective," he said. "Half of Americans say they're not even going to take a vaccine when it's available. So they're still going to get sick with COVID for many years to come."
And plasma could prevent them from having to go to the hospital, according to Sullivan.
"Everyone was focused on hospitalizations [in the beginning], but no one was doing early outpatient treatment," he said. "This is not just a stopgap, even after we do have a vaccine because not everyone is going to respond to [a vaccine]."
Convalescent plasma therapy became a political issue in August when the U.S. Food and Drug Administration approved its emergency use after President Donald Trump accused the agency of delaying the development of COVID-19 treatments.
Trump praised the FDA's authorization, but then last month, the National Institutes of Health said there was "insufficient evidence" of the therapy's effectiveness, and that it should not be considered a standardized COVID-19 treatment.
Kate Fry is CEO of America's Blood Centers, a national trade association for independent blood centers that collect nearly 60% of the nation's blood supply and more than 80% of COVID-19 convalescent plasma. Fry said that despite the political dustup, blood centers remain committed to prioritizing the safe collection and equitable distribution of plasma.
Enrollment into the trials has been selective. Levine said Rhode Island Hospital has been recruiting patients who arrive in the emergency department with symptoms in their first week of illness, which is only a small number of patients. Levine said he wants to get the word out about the trials to attract more candidates.
Alexa Gagosz is a PBN staff writer. Contact her at Gagosz@PBN.com.

Want to share this story? Click Here to purchase a link that allows anyone to read it on any device whether or not they are a subscriber.