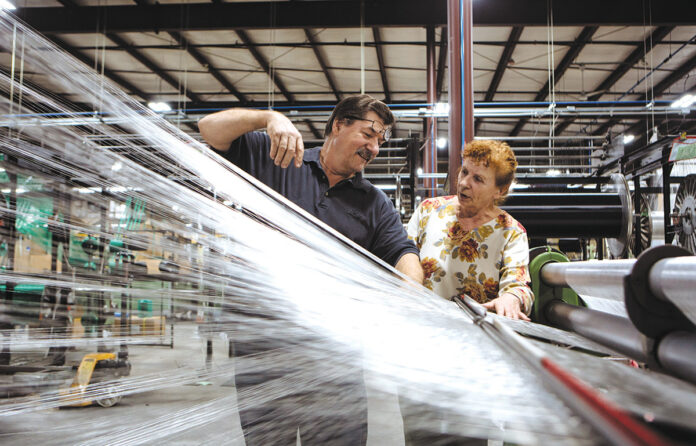 2019 PBN Business Excellence Awards
EXCELLENCE AT A FAMILY-OWNED BUSINESS: American Cord & Webbing Co.
---
FROM HEAT-RESISTANT PLASTIC BUCKLES for military equipment to backpacks and sleeping bags, American Cord & Webbing Co., of Woonsocket, has the market cornered to an award-winning degree.
"Our position in the market is unique, as we are the only manufacturer of both the webbing [belts and straps], hardware [such as buckles] and sewings [such as backpacks] for a variety of industries," said Jordan Krauss, the company manager.
Krauss primarily points to American Cord's family-owned nature and workforce philosophy for its success. It starts with the company's training. On their first day, new employees are introduced by human resources staff to personnel throughout the entire facility, from the engineers to the other trainees.
With this leg up on understanding how American Cord operates, the new workforce can develop and progress through the company, Krauss said, and can subsequently move up.
"Having a concentrated focus on workforce development has proven over and over to pay dividends to both ACW and its customers," Krauss said. "We have a strong core of experienced employees [that] has been built up over the years. When young people join the company, we employ a mentorship and apprenticeship program. It really works wonders in fostering relationships between different generations of workers, nurturing cross-training and ultimately maintaining ACW's knowledge base that has continued to grow over many years."
Krauss said the people American Cord hires take pride in their work. Many staffers are family members, who thusly have good reasons for working closely together, and staying committed to both each other and the company's goals.
Employing knowledgeable, committed staff only helps to grow the company, Krauss said, sparking innovation because staff people know the company's goals and its existing products.
'We have a strong core of experienced employees [that] has been built up over the years.'
JORDAN KRAUSS, American Cord & Webbing Co. manager
Krauss estimates American Cord produces and sells millions of yards of webbing and a million buckles every year to the military and defense industries and other commercial applications. Military equipment, pool covers, sleeping bags and floatation devices are among the items the company offers to consumers.
Over the last five years, Krauss said, American Cord has grown nearly 20% by introducing new product lines such as an Underwriters Laboratories-approved, heat-stabilized plastic line that's less expensive, safer and weighs less.
The line developed a total of 20 other different military-approved products, such as plastic components for U.S. Army modular lightweight packs, standard-issue military backpacks, a rifleman set, a forest pack and the U.S. Marine Corps Main Pack. It is also made in conjunction with the U.S. Army Natick Soldier Systems Center in Natick, Mass., and the U.S. Department of Defense's Defense Logistics Agency.
Max Krauss founded American Cord in 1917, and his grandson, Mark, is the company's current owner. Mark Krauss' sons, Jordan and Alex, are continuing the next generation of the company's family ownership. Two years ago, American Cord celebrated its centennial anniversary.
Karen Frayne has worked at American Cord for 38 years and has nothing but praise for its workforce philosophy. Her first job, she said, was sewer on the factory floor while in high school when the plant was located in Lincoln. From there, she rose to office assistant in the order department – an area that she now leads.
Within that time, American Cord has expanded and changed its product lines. Those lines have been successful, she said, and she's enjoyed learning about the company's product lines as they apply to the end use of each.
American Cord has gone through changes and consolidations since Frayne started there, including moving operations to Woonsocket in 1990. But Frayne enjoys working for American Cord, she said. "It's been great to see [its] growth," she said.
What also impresses her is that right behind her in seniority are employees who have been there for approximately three decades. "That says something about working here too," she said.

Want to share this story? Click Here to purchase a link that allows anyone to read it on any device whether or not they are a subscriber.