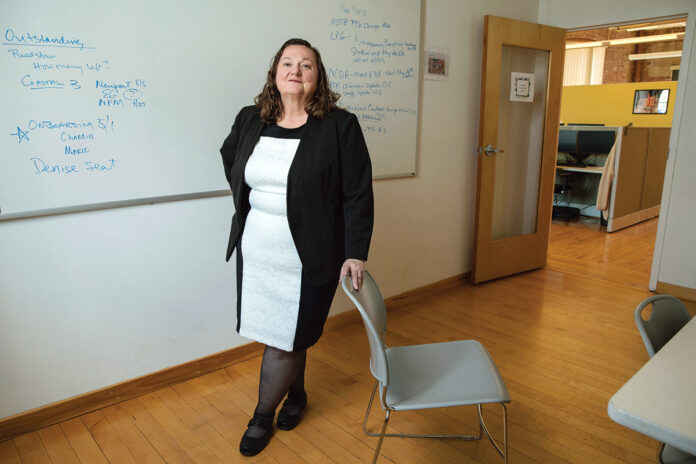 PBN 2023 Business Women Awards
HEALTH CARE SERVICES INDUSTRY LEADER: Debra Reakes | Coastal Medical Physicians director of quality
---
FOR DEBRA REAKES, the director of quality for Providence-based ­Coastal Medical Physicians, gaining information about patients' needs helps provide the best medicine possible.
As director of population health management at the Lifespan Corp.-owned health entity, Reakes leads a team of 20 employees who oversee gaps in care closure. She is responsible for reviewing contracts from insurance companies, quality improvement projects, the Medicaid accountable program and working with department heads on care management. Reakes also led the work to help Coastal Medical earn National Clinical Quality Assurance accreditation.
Reakes says she has always wanted to work in health care since she was 5 years old, saying her grandmother had been a nurse. Reakes started as a pre-med major and graduated from Rhode Island College with two degrees, one in nursing and one in biology – Reakes chose nursing as her career.
Reakes was in management in the visiting nurse field when she began working on projects and policymaking. In 2012, she became an electronic health record optimization specialist for Coastal Medical. More than a decade later, Reakes is Coastal Medical's director of quality with 36 years of nursing ­experience.
One challenge facing Coastal Medical during the COVID-19 pandemic was how to conduct behavioral health screenings, asking questions such as if individuals could afford medications or food, if they have adequate housing or if they can pay their utility bills.
"It's really about asking people about the social barriers that impact their health," Reakes said. "Collecting such information about patients became really important with people in lockdown, some unable to go to work or go to the store."
Within weeks during the pandemic's onset in the spring of 2020, Reakes supported a cross-department effort to create an electronic way to conduct the screenings using email. At a critical moment, Reakes developed an initiative to help Coastal Medical navigate the worldwide health crisis, said Kelsey Ryan, Coastal Medical's director of population health management.
"She has had the vision and been the driving force allowing us to succeed and ensuring we are providing the highest-quality care possible to our patients," Ryan said.
Reakes also advocates for her team. Over the past four years, she recognized the need to review employee compensation to address high turnover, which many health care organizations were experiencing post-pandemic. To address the issue, Reakes and the vice president of human resources worked on an in-depth market analysis of what her team was being paid and adjustments were made.
"We had trouble recruiting staff and retaining staff," Reakes said. "I advocated that people now can get a job at McDonald's for $19 [an hour] and I have employees getting $19. Why should they work so hard at so much more difficult work for less than they can make at McDonald's or Target?"
That push paid off for both Reakes and Coastal Medical. She said every position on her team has been filled, a stark contrast from last year when Reakes' team had a 50% turnover rate.
Ryan also lauded Reakes for being a "driving advocate" for her team to ensure her staff was being paid at a rate that was competitive and representative of the work "and the value they bring to patient care." Ryan also describes Reakes as a great mentor and "amazing leader."
Reakes has also volunteered for the Rhode Island Free Clinic. A reiki master, Reakes participates in community events and advocates for aging community members. She is also treasurer for the American Legion Auxiliary at Post 311 in Seekonk.
Reakes says she loved being a nurse and was "actually pretty good at it." But at that time, a nurse can impact maybe eight people a day and maybe in a week impact 40 different people, Reakes said. Now, Reakes says her current role provides her a broader reach to assist others.
"In my job, I impact quality of care for up to 120,000 patients. So, I still feel like I'm using my nursing hat making sure all those patients get the best type of care possible," Reakes said.

Want to share this story? Click Here to purchase a link that allows anyone to read it on any device whether or not they are a subscriber.