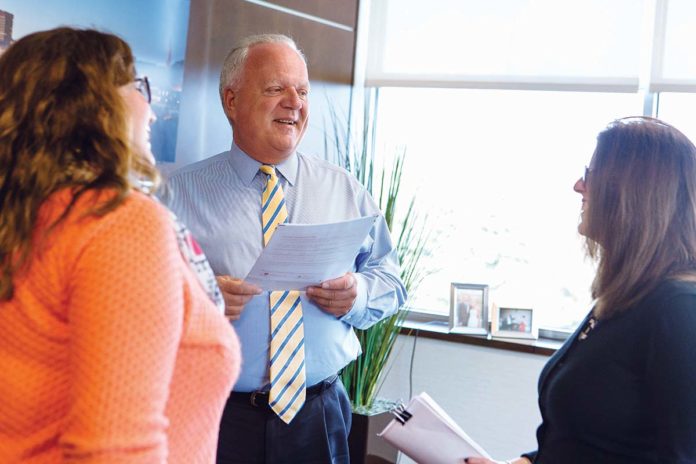 Excellence at a Midsize Company | Coastway Community Bank
Coastway Community Bank's team has been serving Rhode Islanders' financial needs nearly 100 years, growing to offer online and mobile banking products to more than 30,000 customers with the aim of helping them succeed.
Today, the company spans nine branches and three mortgage satellite offices staffed by 151 employees.
"From handwritten general-ledger cards in 1920 to electronic banking today, we're proud of our history," said William A. "Bill" White, Coastway's president and CEO. "We've become a leader in guiding first-time homebuyers through the buying process and in helping small-business owners grow."
As one of the smaller banks in the state, White says, Coastway possesses the ability to form relationships with its customers and truly work with them on a personal level to ensure they're getting what they need out of the relationship.
"I'm passionate about what we're able to do in our communities," White said. "Every time one of our mortgage loan officers gets a thank-you note from a first-time buyer, or we attend the grand opening of a new business that we've financed, that's what's it's all about."
In 2014, Coastway went public with an initial public offering on the Nasdaq. Since then, the bank has been named U.S. Small Business Administration Lender of the Year for three years in a row and Rhode Island Housing's Participating Lender of the Year for four straight years.
As a vice president, business lender associate and regional sales manager, Megan Johnson is responsible for originating commercial loans by partnering with the branches and surrounding communities to develop relationships for existing clients and prospective customers.
Johnson says she's very grateful she's able to partner with her clients because the work she does not only helps them achieve their goals but may also serve to alleviate some of their financial stress.
"In my role, I am able and fortunate to connect with a diverse group of individuals each and every day, which I greatly appreciate," Johnson said. "The work that I am able to do with every one of my clients has a direct impact on their business and their personal life. Every client at Coastway is valued for their relationship regardless of the size of their account. We truly appreciate getting to know all of our clients and what is important to them."
Coastway officials want their customers to fully understand how their financial decisions impact their lives. To encourage that level of financial literacy, Coastway focuses a tremendous amount of time on educating its customers, with 10 financial educators on staff who present educational curriculum in Coastway's branches, nonprofits and school groups statewide via the Empower by Coastway program.
In a continued effort to keep up with newer technologies and remain relevant and attractive to younger customers, Coastway formed an employee-run Innovation Committee in 2016 that helps tap into the ideas and opinions of the bank's employees. The committee meets monthly to discuss what the bank can do to make itself better for its customers and its own team members as well.
"To us, business excellence means looking at the person, not the numbers," White said. "We're committed to helping our customers succeed, and if that means taking a chance on a new business, or helping a customer through an account issue, we're there. On an internal level, Coastway's excellence is based on our commitment to providing our employees opportunities for growth."
Coastway promotes from within whenever possible and offers an array of enrichment opportunities for its employees, including online courses to help staff learn new skills; workshops covering topics such as health and well-being; paint nights; holiday parties; family picnics; and social events such as pub trivia nights.
"When it comes to our employees, we want them to be satisfied, engaged and heard," White said.