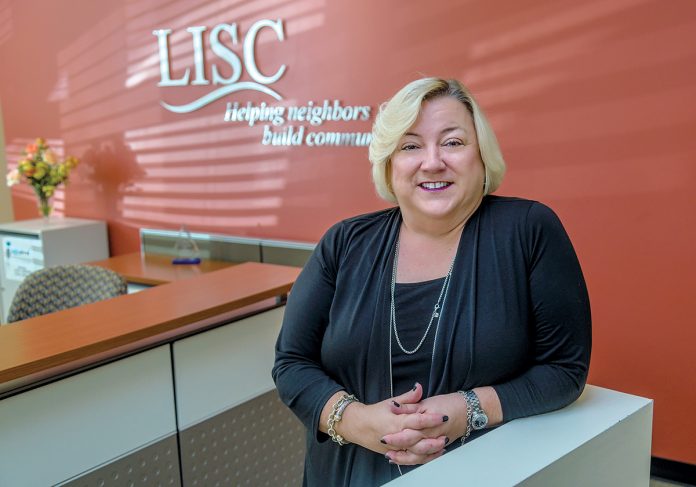 Honoree | Jeanne Cola, LISC Rhode Island
---
Career changers are common in today's workforce. Those switching industries bring broad perspectives and fresh skill sets to new fields but can make the modern-day corporate ladder look more like a winding road at times.
But Jeanne Cola is lucky enough to have found her lifelong career at her very first job, at Citizens Bank. She started work there as a student, was exposed to all areas of banking through training and stayed for 25 years, learning how to create mortgage products for clients with low incomes along the way.
"I only left [because] the opportunity with LISC [Rhode Island Local Initiatives Support Corp.] would allow me more influence," said Cola, who has been executive director of the organization, which helps get affordable housing and other projects off the ground within the state's most-distressed neighborhoods, for six years. "It was about moving into corporate banking, only from a community perspective. I could be deeply engaged in change for residents and create opportunities to make their lives better."
A community-development financial institution, LISC opened its Rhode Island office in 1991. Its goal is to build healthy neighborhoods by linking local leaders and organizations with resources to improve the quality of life. With a national corporation behind it, LISC Rhode Island is able to open up access to resources residents wouldn't otherwise have – including public and private funding in the form of loans, grants and equity investments – for local projects.
"Those first dollars that come in allow millions to flow in after," said Cola. "That is what really influences that change. That's where, in my opinion, you see the real influence of LISC due to its impact in the early stages, with early investments. But we have to operate in a fiscally responsible way to have more dollars to lend out."
Beautiful Beginnings Child Care Center, in Providence, which serves households with low incomes, is an LISC project. Cola's group first assisted in making the space appropriate for child care with its Child Care Facilities Fund, adding in grant money, a loan to refinance the state-licensed facility's mortgage at a lower rate, assisted in a renovation for program expansion and refinancing with more-favorable terms. According to its website, LISC has invested more than $850,000 at Beautiful Beginnings, which serves more than 100 children and their families with Early Head Start and other learning initiatives.
"Our goal is to provide what they need where a bank might not be able to," said Cola. "So, we can be a catalytic influence."
"If there is a project that will advance the LISC mission, then Jeanne will move mountains to get it done," said Joseph Silva, senior vice president of commercial lending at Pawtucket Credit Union and chair of the LISC Local Advisory Committee.