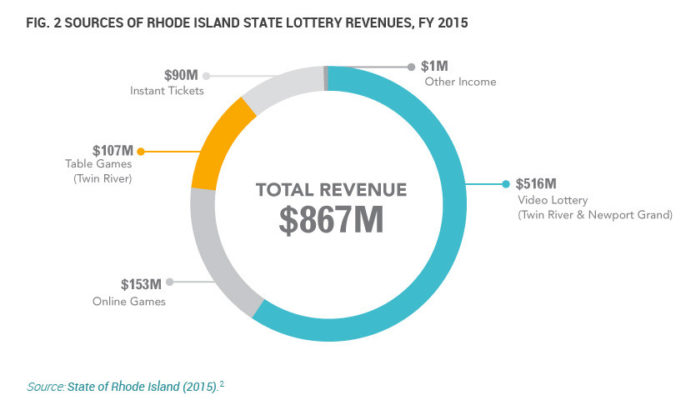 PROVIDENCE – Increased casino competition in New England, especially from Massachusetts, will present challenges for Rhode Island's gambling industry and the state revenue it generates, according to a new study from The College and University Research Collaborative.
"The Future of Casino Gambling in Rhode Island" by Julia Camp, Carol Hartley and Patrick Kelly is one of three studies that will be discussed at the Public Policy Speakers Series hosted by The Collaborative on Oct. 27 at 9 a.m. at the Statehouse.
"A decrease in gambling revenue at Twin River would result in a corresponding decline in tax payments to the state, cutting into the fifth-largest source of revenue for the state's general fund," the study states.
It notes that Rhode Island's two gambling facilities, Twin River Casino in Lincoln and Newport Grand in Newport, "are a major source of state revenue and economic activity." In fiscal 2015, video lottery terminals and table games at the facilities accounted for almost 75 percent of the $867 million in state lottery revenue, with $382 million of that figure going to the state's general fund.
The study also notes that a gaming industry trade group estimates that Rhode Island's two gambling facilities contribute $1 billion in economic activity and support approximately 5,500 jobs in the state.
The report notes issues affecting the future of casino gaming, from increased competition in Massachusetts (Plainridge Park Casino in Plainville, Mass., has already opened, and three more casinos are planned for the Bay State, in Everett, Taunton and Springfield), as well as the proposal by Newport Grand's owners to close it and open a new facility in Tiverton, a move subject to voter approval on Nov. 8. The report also makes note of the state's relatively high rate of casino taxation and limited funding for problem gambling services compared with other states.
It said Plainridge's effect on Twin River's revenue has been slight, as revenue for the nine-month period following the opening of Plainridge Park was $4 million (1 percent) less than the same period during the prior year.
The report suggests that the state may want to work with the owner of Twin River to address the issue of increasing competition from Massachusetts, given the casinos' significance to the state economy.
"The addition of table games and the construction of a recently approved hotel at Twin River, along with the potential development of a casino in Tiverton, are measures that may help shore up Rhode Island's casinos from competition," the report states.
"In the process of competing with Massachusetts, however, casinos in Rhode Island may further target convenience gamblers who live in state," it continued.
To prevent a potential public health problem, the report states that Rhode Island could consider more funding for problem gambling prevention and treatment programs.
"While the growth of gambling in the region raises concerns for Rhode Island, it also presents opportunities for the casinos to address competition through new offerings and for the state to continue benefiting from casino revenues," the report concluded.
The other studies that will be presented on Oct. 27 are: "Inclusive Infrastructure: Creating Space for Buses & Bicycles," by Jonathan Harris from Johnson & Wales University, which explores how Rhode Island could benefit from expanding transportation options, and "Using Game Theory to Help Cities Cooperate and Save Money," by Rupayan Gupta from Roger Williams University, which explores the potential value of cooperative game theory as a way to help cities to collaborate and save money.