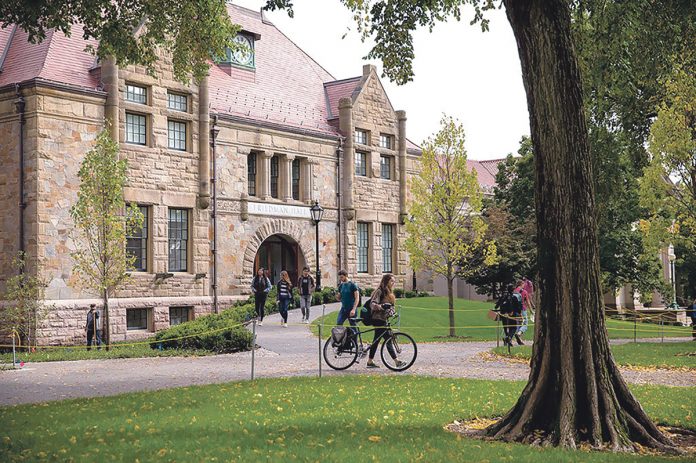 By the end of January, analysts will come out with their annual report on the performance of endowments of U.S. colleges and universities, including those in Rhode Island.
Last year's strong earnings performance may be hard to repeat.
A big factor could be changes to tax and charitable giving that went into effect last January.
The federal changes "will make it much more difficult for colleges and universities to increase endowment dollars to support their missions," said John Walda, president and CEO of the National Association of College and University Business Officers.
"Despite [last year's] higher returns," he added, "We remain concerned about the continued long-term results for most endowments."
The volatility of the stock market in recent months should be reflected in next year's endowment results, as this year's results only cover the 12-month period ended June 30.
In cooperation with the Commonfund Institute, the association is scheduled this month to release its annual study on endowments, covering the fiscal 2018 period from July 2017 through June 2018. Last year's study showed that endowments at 809 participating institutions produced an average 12.2 percent return in the fiscal 2017 period. That was up markedly from a 1.9 percent loss in fiscal 2016 and a 2.4 percent gain in fiscal 2015.
Despite such mediocre results, many colleges and universities are seeing record endowments, including Brown University in Providence. In October, Brown reported its endowment had grown to a record $3.8 billion – by far the largest among Rhode Island schools – with an annual return of 13.2 percent in fiscal 2018.
"We are fortunate both to partner with outstanding investment managers who navigate the markets skillfully and to be guided by an investment committee [within the university] of exceptionally knowledgeable investors," said Jane Dietze, Brown's vice president and chief investment officer.
'[Tax changes] will make it much more difficult for colleges … to increase endowment dollars.'
JOHN WALDA, National Association of College and University Business Officers CEO
With the strong performance, Brown's endowment contributed $163 million to the school's operating budget, which went for student aid, professorships, academic programs, teaching and research.
Rhode Island School of Design in Providence has an endowment of $335 million. It had a 7.9 percent return on investment for the fiscal year ended June 30, with a five-year average annual return of 6.3 percent, according to David R. Proulx, RISD's senior vice president for finance and administration.
The fund is handled by an outside chief investment manager who reports to Proulx and an investment committee of the school's board of trustees.
"RISD does not have any direct investments in fossil fuel extraction companies – but it does invest in commingled funds and does not have the ability to direct those investments in any particular way," he added.
Meanwhile, Johnson & Wales University in Providence has an endowment of $260.8 million, according to university spokesman Ryan J. Crowley.
"Through the combination of withdrawals used for general-spending purposes, investment gains and contributions, the value of the endowment has declined by approximately 2 percent since June 1, 2013," Crowley said.
The Johnson & Wales endowment is governed by a school policy statement. It details the primary investment goals and constraints for how the assets are managed. That includes targets and ranges for diversification, risk tolerances, liquidity levels, investment "time horizon" and spending policies, Crowley said.
Colleges and universities commonly use their endowments to bolster financial aid programs for students, to pay for faculty research and to maintain or improve facilities, said Ken Redd, the association's senior director of research and policy analysis.
Larger schools tend to have their own in-house investment professionals but sometimes tap outside money managers for certain consulting, while smaller schools tend to rely more on outside money managers, Redd said.
Schools are putting more of their endowment dollars into alternative investments, instead of conventional stocks and bonds. Redd estimates that endowment investments in hedge funds, venture capital and other private equity now accounts for about half of all such investments, with the other half going to stocks and bonds.
The alternative investments are often riskier, but schools are enticed by their potential for greater returns, he said.
Meanwhile, schools have largely eschewed applying socially responsible investing standards to their endowments. A 2015 study of 200 U.S. colleges and universities found that only 20 percent had socially responsible investing restrictions, called SRI screens, on their endowments. Most of the schools that used such screening were faith-based institutions, which often balance their fiduciary duties to maximize returns with certain moral and ethical values.
An example would be prohibiting investments in funds or businesses involved with or gaining proceeds from abortion, alcohol, armaments and weapons, gambling, pornography, tobacco and unfair labor practices.
Most schools have shied away from using SRI screens because it often conflicts with the fiduciary duty of endowment trustees to maximize returns. There is evidence that schools applying SRI screens sacrifice some returns, though the difference seems to be narrowing, Redd said.
Commonfund, an asset-management firm focused on nonprofits, found inflation for U.S. colleges and universities rose 2.8 percent in fiscal 2018. The rate was slightly above the 2.4 percent average for the past five years, according to Commonfund's higher education price index.
"The goal of achieving real returns [from endowments] to cover spending has been a daunting task for higher education for more than a decade – and we don't expect the challenge to get any easier," said Commonfund President and CEO Catherine ­Keating.
"At the same time," she said, "With tuition discount rates [often from student financial aid] at historic highs and inflation … at its highest level since 2008, the importance of endowments in the ecosystem of colleges and universities has never been greater."
Scott Blake is a PBN staff writer. Email him at Blake@PBN.com.