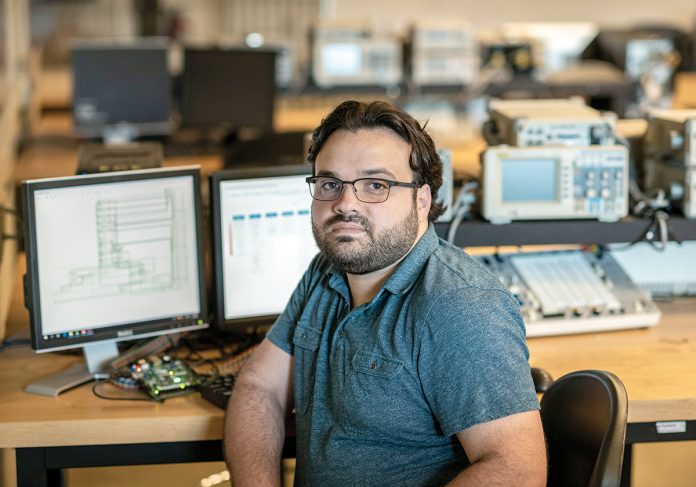 In recent years, colleges and universities across Rhode Island have upgraded their cybersecurity course offerings, but reports show schools can't pump out cyber-trained students fast enough.
They're people such as Patrick DaSilva, a computer engineer at the U.S. Naval Warfare Center Division in Newport who's also a University of Massachusetts Dartmouth PhD candidate in the Electrical Engineering/Computer Engineering Option Program with a focus in embedded systems security, part of cybersecurity.
He's among the legions of students being churned out with advanced training in cybersecurity – where job growth is plentiful.
In 2004, the University of Rhode Island used a grant from the National Science Foundation to offer a certificate program in digital forensics, a branch of cybersecurity relating to the gathering and analysis of digital evidence for law enforcement investigations and other legal matters.
In 2008, URI added a cybersecurity graduate-level certificate program consisting of four courses. Then, in 2015, URI started offering a professional sciences master's degree program in cybersecurity consisting of nine courses. URI also allows students in any undergraduate degree program to minor in cybersecurity or digital forensics.
About 120-150 students each are enrolled in URI's undergraduate and graduate cybersecurity programs, Victor Fay-Wolfe, a computer science professor at URI and director of the school's cybersecurity programs, estimated.
"The students are usually looking to enhance their careers or change careers," he said.
'Everywhere, you see employers are looking for cybersecurity professionals.'
MICHAEL KELLY, CCRI cybersecurity program director
Fay-Wolfe began developing a cybersecurity curriculum for the school about 15 years ago after noticing an increase in requests from the federal government for university research in the cybersecurity field.
"I was looking for a different branch for my research career," he recalled.
Academia, in general, has been playing catch-up to meet the needs of the fast-growing cybersecurity field, according to the "2019 Cybersecurity Job Outlook." In 2014, the report reads, there were 1 million unfilled cybersecurity jobs worldwide and that number is projected to grow to 3.5 million by 2021. Meanwhile, it notes, there are more than 200 cybersecurity startup companies raising venture capital, much of it intended for new hires.
Cybersecurity jobs such as security operations center analysts, who plan and carry out security measures to protect computer networks, and penetration testers, who create scripts to find vulnerabilities in corporate networks, are projected to grow by 28% from 2016 to 2026, much faster than the average for all occupations. In the United States, the projected median pay for those jobs is more than $95,000 a year, or nearly $46 per hour.
Community College of Rhode Island started offering a two-year degree in cybersecurity about four years ago. Prior to that, elements of cybersecurity were embedded in related courses such as computer networking and computer science, said Michael Kelly, CCRI's cybersecurity program director. Today, the school's cybersecurity program offers students internships in the field.
"Employers want to see students with some practical work experience," Kelly said. "Everywhere, you see employers are looking for cybersecurity professionals. An [associate] degree will get you an entry-level job."
Last year, UMass Dartmouth started offering students a concentration in cybersecurity through its Computer Engineering Department. Students can declare a concentration after their sophomore year. The cybersecurity concentration consists of four courses, said Raymond Laoulache, associate dean of UMass Dartmouth's College of Engineering. Courses cover computer forensics, cyberthreat and security management, design and implementation, and network security.
In May, UMass Dartmouth and the Mass. Air National Guard's 102nd Intelligence Wing signed an agreement to collaborate on cybersecurity programs. The partnership calls for airmen to assist the university in offering the most relevant cybersecurity courses and to provide students with internships and professional mentoring. In turn, the school provides the 102nd Intelligence Wing with mobile training teams to keep military personnel abreast of developments in computer forensics.
Roger Williams University, meanwhile, offers bachelor's and master's degrees in cybersecurity and networking. About 100 students are currently enrolled in those programs, said Doug White, chairman of RWU's Cybersecurity and Networking Department.
White began teaching cybersecurity in the late 1990s at the University of Northern Colorado. He came to Rhode Island in 2003 to develop a cybersecurity curriculum at RWU. White credited Rep. James R. Langevin, D-R.I., for his help in getting RWU's cybersecurity program up and running.
In 2007, the school offered its initial degree program in cybersecurity.
"We were looking at the market's needs and what was missing at the time," White said.
Reflecting on the cybersecurity job market, he added, "Originally, it was a very specialized thing. Companies were looking for experts with advanced degrees. Now, they're looking for everything down to the entry level. The market is really hot."
Scott Blake is a PBN staff writer. Contact him at Blake@PBN.com.