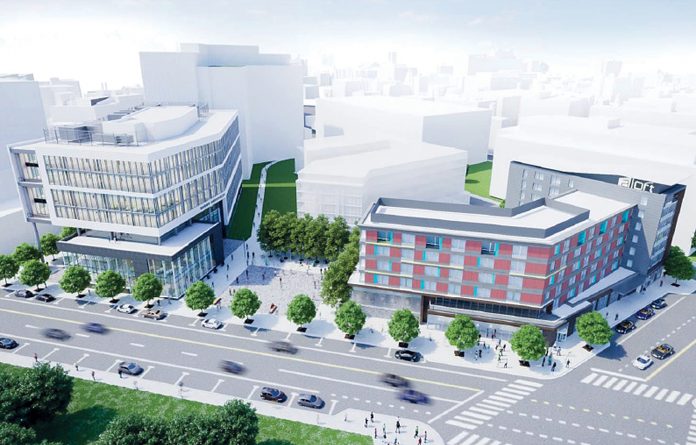 PROVIDENCE – The R.I. Commerce Corp. board of directors approved incentives for CV Properties LLC and Custom & Miller Box, as well as Innovation Vouchers for five local companies Monday evening.
CV Properties was approved for a tax increment financing incentive of $6.8 million, Rebuild Rhode Island tax credits of $100,000 and was approved for sales tax rebates on construction materials for the construction of the 169-room, seven-story Aloft Hotel.
"CV Properties is pleased to announce it will continue its 15-year development and investment legacy in Providence with the announcement of an agreement with the state of Rhode Island to provide tax incentives to support the construction of the first hotel located within the I-195 land in the Innovation & Design District," said Richard Galvin, president and CEO of CV Properties, in a statement.
The project is expected to cost $55.2 million and will be located adjacent to the Wexford Innovation Center.
Custom & Miller Box was approved for up to $612,000 in Qualified Job Tax Credit incentives to expand Rhode Island operations by relocating and consolidating offices into an existing building in Pawtucket. The company anticipates creating 42 jobs eligible for the credit, Commerce RI said, including in production staff, sales and design jobs, with hiring starting in 2020.
"There's no question that our economic-development programs are working," stated Gov. Gina M. Raimondo. "The two new projects we announced today will create jobs, spur development and contribute millions to our [gross domestic product]. The five innovation vouchers will support critical research and development to help Rhode Island small businesses innovate and expand. I'm excited about these new projects, and I look forward to continuing our progress."
The Commerce board also approved five Innovation Vouchers (for up to $50,000):
Dryvit Systems Inc. – $50,000 to work with the University of Rhode Island Department of Mechanical, Industrial and Systems Engineering to explore the development of a semi-automated or automated system to join corner bricks into a single module.
MIKEL Inc. – $50,000 to work with the URI Equipment Development Laboratory to expand the capability of its Submerged Acoustic Navigation System technology.
Revolution Cycle Works Co. – $50,000 to work with URI to develop wearable technologies that improve the visibility of bicyclists and pedestrians to Forward Collisions Warning Systems.
Mearthane Products Corp. – $49,716 to develop and implement a new process for manufacturing molded components to support its sports and recreation market.
Onvector LLC – $42,886 to work with URI to validate the company's Plasma Vortex disinfection capability for seawater
Chris Bergenheim is the PBN web editor. Email him at Bergenheim@PBN.com.