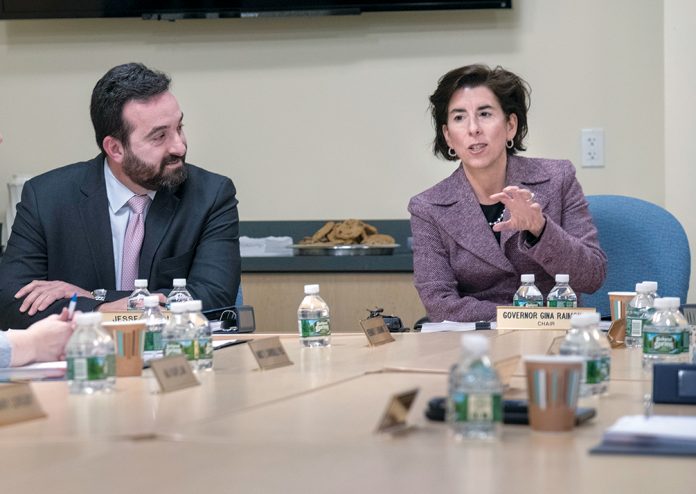 PROVIDENCE – State officials authorized up to $14,655,000 in incentives Monday intended to attract two new companies to Rhode Island and encourage two existing entities to expand. In all, 2,000 permanent jobs could be created over the next 20 years, said Gov. Gina M. Raimondo.
By far, most of the jobs would come through a planned expansion of General Dynamics Electric Boat at Quonset Business Park and a new meat processing facility proposed by an affiliate of Ahold Delhaize.
"If we do our job at this meeting, we can create well over 2,000 jobs for Rhode Islanders," Raimondo said, as the R.I. Commerce Corp. meeting got underway.
Commerce RI authorized one of the largest incentive packages for Infinity Meat Solutions LLC, which has pledged 700 food manufacturing, distribution and management jobs at a site in the Ocean State.
Infinity Meat Solutions is a subsidiary of Retail Business Services, part of the Ahold Delhaize USA family. The company plans to build a $100 million facility for food processing and distribution. The site has not been finalized according to company officials, but Raimondo indicated in the meeting that Quonset Business Park is the location.
The facility will not slaughter animals but will process meat into finished packages and prepared meals, for distribution to Stop & Shop supermarkets and Peapod, an online delivery service, said Chris Kukay, director of distribution and transportation for Retail Business Services.
Positions would center around food packaging, food processing and distribution, he said and would have an average salary of $32,500, he said. A ground breaking is expected in August, with completion by the end of 2019.
The company had considered a location in an adjoining state, Kukay said, but was encouraged to locate in Rhode Island through the use of the state incentives.
For this project, Rhode Island has authorized $1,915,000 in tax credits through the Rebuild Rhode Island program and another $9.5 million through the Qualified Jobs tax credit program, for a total of $11.4 million. The project also will qualify for sales tax incentives on materials purchased in Rhode Island.
Qualified Jobs allows employers who create jobs that either pay above the state median salary or are in targeted industries a tax credit of up to $7,500 per position, per year. Rebuild Rhode Island is designed to help offset the expense of renovating an older facility or building new construction for economic development purposes.
General Dynamics, as previously reported, will invest in a new manufacturing facility at Quonset Point. The $707 million project will be used for construction and assembly of two submarine classes, over the next 20 years, according to Commerce officials.
The company was authorized to draw on $2 million in tax credits through the Rebuild Rhode Island tax credit program.
In all, 1,300 new jobs will be created at the site over the next 20 years, not including the short-term construction jobs, said Jeff Miller, executive vice-president of investments for Commerce RI. "This is a multi-generational investment," he said.
In other business, Commerce RI awarded $100,000 in Qualified Jobs incentives, per year, for up to 10 years, to iXblue Defense Systems, a Natick, Mass.-based maritime navigation manufacturer. The company plans to relocate to Rhode Island, moving its 20 jobs.
President Mack Barber said Monday the company had initially not wanted to leave Massachusetts, but the Rhode Island incentives persuaded him to move the company.
"This program brought us here," he said.
Commerce also awarded $26,000 a year for 10 years in job creation incentives to Advertising Ventures Inc., which plans to add 10 new jobs to its Providence offices. The company has offices in Miami, and the incentives will help maintain its presence in Rhode Island, said Commerce Secretary Stefan Pryor.
Mary MacDonald is a staff writer for the PBN. Contact her at macdonald@pbn.com.