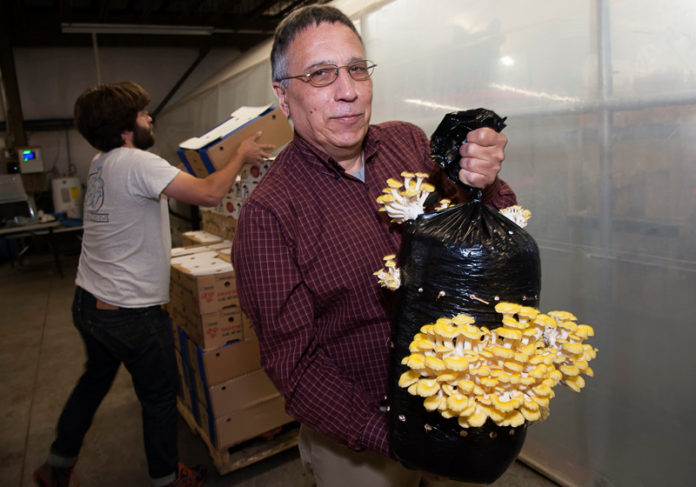 PROVIDENCE – A program to inject capital into some Rhode Island small businesses is picking up momentum, according to the R.I. Commerce Corp. Created with a $5.45 million allocation of state funds, the Small Business Assistance Program has loaned out $600,000 of its capital to 20 local companies, which in turn has been matched by private lending to the participating small businesses. Including those matching funds, nearly $2.5 million has flowed into the participating companies since the program started making loans in November.
"The Small Business Assistance Program eases the path to growth for small Rhode Island businesses. The goal of the program is to assist viable entrepreneurs and small businesses that encounter difficulty obtaining adequate credit from traditional lending organizations," said Commerce R.I. spokesman Matt Sheaff.
One such company is RI Mushroom Co. LLC, which received $325,000 in funding from The Business Development Co. to expand its local cultivation and production at its farm in South Kingstown. As a result of the cash infusion, the mushroom producer expects to add 6-10 new jobs next year.
A representative for BDC said that it paired $150,000 of its private capital with $175,000 from Commerce RI's $1 million SBAP allocation to the company. It is still accepting and evaluating requests for the remaining $825,000 from the SBAP, said a spokeman.
For his part, Michael Hallock, co-founder of RI Mushroom, sees great advantage not just in receiving the capital but with partnering with BDC.
"What sets BDC apart is that they got to know me. They got to know who I am. They invested in the company, but they also invested in me and my plans," said Hallock. "That's impossible to find in lenders today and that makes BDC special."
Sheaff also pointed to other examples of the positive effects of loans from the state funding that is channeled through private lenders in partnership with the SBAP. Casa Mexico owners Ivan and Jackie Sanchez purchased the building in Providence in which the market has operated for 30 years thanks to $158,000 in state and private funding. RI Organics owner Carder Starr increased inventory and expand his business in Narragansett thanks to a $75,000 loan (including the match) through Community Investment Corp., while a $56,000 infusion through the South Eastern Economic Development Corp. allowed Kendall Reiss to purchase a small commercial building in Bristol and expand her business, Kendall Reiss LLC.
Businesses and total capital through SBAP loans and private match:
Saki's Pizzeria – Cumberland – $504,336
RI Mushroom Co. – South Kingstown – $325,000
Palagi's Ice Cream – Pawtucket – $210,000
A. Macari Construction – Providence – $200,000
Casa Mexico – Providence – $158,000
Piccolo – Barrington – $150,000
Kendall Reiss LLC – Bristol – $126,000
Daily Wichual – Newport – $110,000
Raymonds Brother Tailor Shop and Laudromat – Cranston – $100,000
The Town – Warwick – $100,000
Chessawanock Island Oysters Inc. – Cranston – $75,000
RI Organics – Narragansett – $75,000
KLLM-Med LLC – West Warwick – $62,000
Stellar Sound Labs – Providence – $60,000
Ultimate Image – Middletown – $60,000
Anchor Health and Performance – Bristol – $42,000
Cocofuel – Cranston – $41,000
Copper Cool, Inc. – Pawtucket – $40,000
Hair on Mane – Kingstown – $40,000
Sin Bakery – Providence $15,000
Commerce RI lending partners through the SBAP:
For direct loans at or above $25,000:
Business Development Co.
South Eastern Economic Development Corp.
Community Investment Corp.
For direct micro-loans between $2,000 and $25,000:
Center for Women & Enterprise
Social Enterprise Greenhouse
Community Investment Corp.
More information on the Small Business Assistance Program and its partner lenders can be found at the Commerce Corp. Website.
Chris Bergenheim is the PBN web editor.