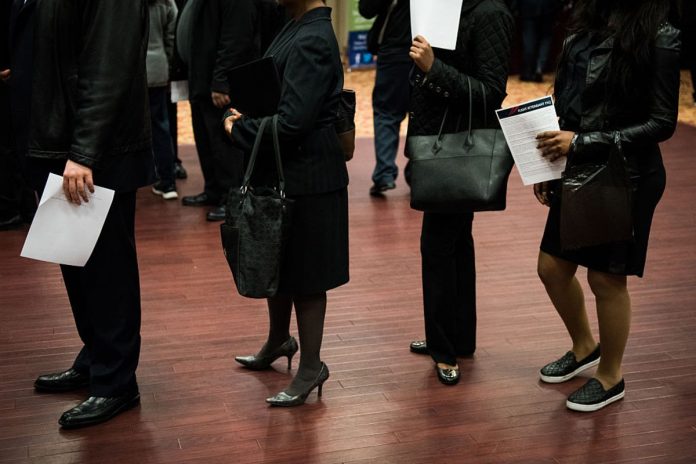 NEW YORK – Companies added the most workers in five months to U.S. payrolls in July, a sign hiring remains strong despite a shrinking pool of qualified workers and headwinds from trade, according to data released Wednesday from the ADP Research Institute in Roseland, New Jersey.
Highlights of ADP employment (July)
Private payrolls rose by 219,000 (estimated 186,000) after upwardly revised 181,000 gain in June
Payrolls in  goods-producing industries, which include builders and manufacturers, increased 42,000 after a 28,000 rise
Service providers added 177,000 to payrolls, most since Jan., after 153,000
Key takeaways
The results, coming ahead of the monthly jobs report due from the Labor Department on Friday, are a positive sign for private payrolls. Demand for labor increased across a range of industries including professional and business services, health care and social assistance, leisure and hospitality, manufacturing and construction, the ADP report showed.
Employment growth, along with lower taxes and contained inflation, is helping to boost consumer spending, the biggest part of the economy. That's also helping to cushion the headwinds from uncertainty related to import tariffs. Even with the labor market remaining solid, a sustained acceleration in wages has proved elusive so far in this expansion.
Economists views
"The job market is booming, impacted by the deficit-financed tax cuts and increases in government spending," Mark Zandi, chief economist at Moody's Analytics Inc. in West Chester, Pennsylvania, said in a statement. Moody's produces the figures with ADP. "Tariffs have yet to materially impact jobs, but the multinational companies shed jobs last month, signaling the threat."
Other details
Hiring in construction rose by 17,000; factories added 23,000 workers
Professional and business services boosted their workforce by 47,000 while health care and social assistance added 49,000 workers; leisure and hospitality added 37,000
Companies employing 500 or more workers increased staffing by 48,000 jobs; payrolls rose by 119,000 at medium-sized businesses, or those with 50 to 499 employees, most since 2014; and small companies' payrolls advanced by 52,000
Shobhana Chandra is a reporter for Bloomberg News.