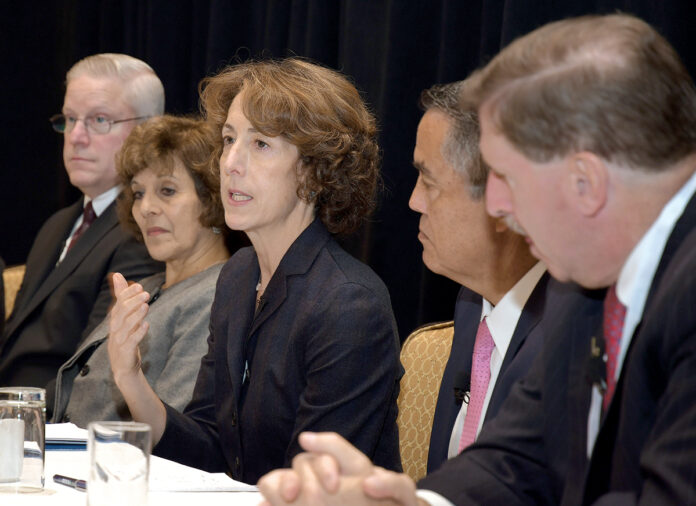 Prices attached to health care services and products need to be more transparent, according to panelists at the Providence Business News 2019 Fall Health Care Summit, but the issue remains so complex that insurers and providers have yet to agree on the most effective approach.
The six panelists in the summit's first session on Oct. 30 at the Crowne Plaza Providence-Warwick also discussed updates on Rhode Island's efforts to curb rising health care costs, the state's newly created reinsurance program, and the latest on the Rhode Island Foundation's long-term health planning ­committee.
According to the panelists, effective price transparency remains an elusive goal.
While most insurers have tools to share cost information and pass them along to members and providers, price distributions typically aren't widely used, said Kim A. Keck, CEO and president of Blue Cross & Blue Shield of Rhode Island.
The challenge is that patients who already need a service aren't likely to cost-compare when they have a health issue that needs to be addressed.
"People don't really shop for services once you're in a hospital," Keck said.
National efforts led by the Centers for Medicare and Medicaid Services and the U.S. Department of Health and Human Services to require hospitals to publicly list prices may not have a significant impact on affordability for that reason, she said.
"There's a lot of good policy conversation that I think is going to need some support, but I think if we're not careful, we'll just create additional transparency that doesn't add a lot of value," Keck added.
R.I. Health Insurance Commissioner Marie L. Ganim cited a recent study by Mass. Attorney General Maura Healey that found price transparency without specific intent is not very useful.
"I think it really depends on how you do it," she said.
'People don't really shop for services once you're in a hospital.'
KIM A. KECK, Blue Cross & Blue Shield of Rhode Island CEO and president
Simply listing prices for services and medications fails to address a complicated issue that includes effective use of resources, according to Stephen Farrell, CEO of UnitedHealthcare of New England.
"We believe that it's a complicated solution," Farrell said. "And it's a solution that means we have to connect the communication to the consumer, along with the communication to the provider, and bring them together in arrangements [such as] plan designs and strategies and accountable care organizations where the better performance can be understood and … where the consumer can make that decision."
Such conversations are likely best between patients and physicians, who are often the best source of quality information for patients, said Dr. Alan Kurose, CEO and president of Coastal Medical Inc.
Still, changing the availability of information, and making it easier to weigh quality and outcome versus price in terms of patients' insurance coverage is a slow process. The ultimate goal, Kurose said, should be to make such discussions possible between a doctor and patient in an exam room.
"That's a really sophisticated analysis that has to take place in real time," he said. "I know that's a long trip, but I also know that payers are working on it."
Meanwhile, efforts to curb the growth of health care costs in Rhode Island have moved into a second phase, according to Ganim.
The R.I. Health Care Cost Trends Steering Committee, a multiagency effort that includes the R.I. Office of Health Insurance Commissioner, the R.I. Executive Office of Health and Human Services, Brown University School of Public Health and the Peterson Center on Healthcare in New York, is now considering how to report data that was gathered during its first phase.
Officials set a 3.2% health care cost growth target during the project's first phase. The figure is based on what the state is spending on other types of goods and services, Ganim said.
"Phase two is how we're going to report it, how transparent we're going to be, what reports are going to be issued and what they're going to be focused on," she said.
The second phase, which is expected to last 18 months, will also compare health care spending in 2017 and 2018 with the spending this year.
"How much did Medicare claims cost, how much was Medicaid, how much was commercial insurance and how much was self-funded. … We are going to measure that against 2019 claims and we are going to look at what is driving any cost increases," Ganim said.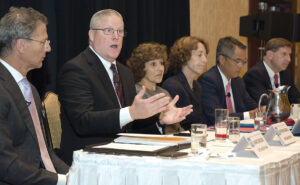 The project's second phase is likely to lead to an "unprecedented" flow of information on costs and services, Kurose said.
"Now we're actually going to get that data, learn how to analyze it correctly, to format it, to report it, to make it actionable, and then ultimately to create both individual and shared accountability; it puts us in a unique place in the region and in the nation that we should be proud of," he said. "It provides a new level of promise that we're going to actually get there."
The discussion turned to the Rhode Island Foundation's long-term health planning committee, which for the past year has been honing its 10-year vision for overall health in the state. The committee is expecting to release a plan by the end of the year or in early 2020, said Neil D. Steinberg, foundation CEO and president.
The overarching plan aims to push for health improvements on a number of different fronts, including eliminating disparities that bar access for some to quality health care.
The goals are more than just generalities, Steinberg said.
"There's a lot underneath it," he said. "Priorities are to increase opportunities for people to live safely at home for as long as possible, to improve access to and coordination of outcomes of behavioral health care, address behavioral and social influencers of health, improve access to safe affordable housing, increase food security and improve transportation, reduce wasteful spending in order to redirect those resources to social determinants and improve affordability."
The panelists also discussed the state's reinsurance program, which is projected to allow Rhode Island consumers in the individual health insurance market to see savings starting at the beginning of 2020. Federally approved in September, the program makes use of revenue generated by individual mandate penalties.
Money from penalties is matched with federal dollars to form the base of the program, which acts as a backup for insurers, Ganim said.
"What the reinsurance program does is it keeps individual market premium increases down by establishing a fund to offset the cost associated with the sicker customers," she said. It pays a portion of high-cost claims. So basically insurers can price their products knowing that there is this assistance for those higher-cost claims, bringing the premiums down."
As a result, rates for some of the state's top insurers dropped or reflect slight increases rather than substantial ones.
Blue Cross & Blue Shield of Rhode Island, which requested a 6.6% increase, now says its rates will drop by 1.5% overall in 2020, while Neighborhood Health Plan of Rhode Island's requested increase of 5.4% was dropped to a 0.2% increase.
Elizabeth Graham is a PBN staff writer. Contact her at Graham@PBN.com.