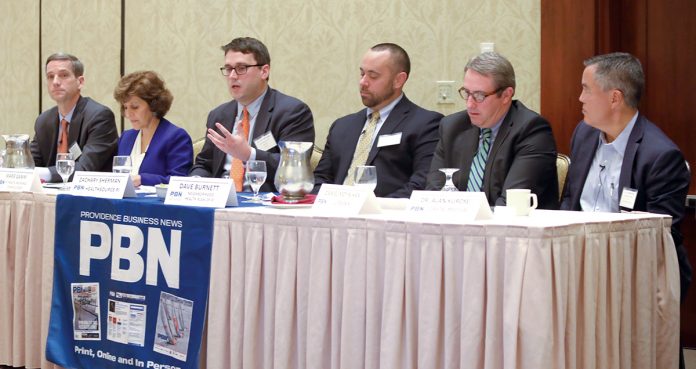 A weakened individual mandate for health insurance under the Affordable Care Act taking effect next year remains a potent threat to local health care market stability, said panelists at Providence Business News' Oct. 30 Health Care Summit at the Crowne Plaza Providence-­Warwick.
But Gov. Gina M. Raimondo's Market Stability Workgroup aims to solve that concern by introducing legislation to replace it with a state mandate in 2019.
The summit's second panel focused on health care reform and the insurance market, with good news for consumers and businesses, depending on the Ocean State's ability to stave off federal efforts to undermine the ACA, to continue to provide affordable access to health care.
The panel included Marie L. Ganim, R.I. health insurance commissioner; Dr. Alan Kurose, CEO, Coastal Medical; Daniel Moynihan, vice president of payer relations and contracting, Lifespan Corp.; Dave Burnett, chief growth officer, Neighborhood Health Plan of Rhode ­Island; Zachary W. Sherman, director, HealthSource RI; and Marc Spooner, executive vice president, commercial and government products, Tufts Health Plan.
Panelists noted the continuing stress on the health care market repeated congressional and Trump administration actions have placed on the system, including the Republican tax cut bill that also removed the penalty for not signing up for health care in 2019. The penalty remains for the balance of 2018, however, noted Sherman.
Additional undermining moves include two executive orders by President Donald Trump, the first of which ended cost-saving-reductions for health insurance companies, and another in August that rolled back an Obama administration prohibition against short-term health insurance plans that lack ACA protections.
'[Avoiding unneeded care] really involves all of us, including the patient.'
DANIEL MOYNIHAN, Lifespan Corp. vice president of payer relations & contracting
"I think it confuses the market," Burnett said about the destabilizing moves. He said the efforts are detrimental to his company's pricing models, where the aim is to plan for risk and manage uncertainty.
Ganim noted the ACA seems to have been under attack for the last 16 months, about the length of her service as health insurance commissioner in the state.
"I've given up trying to predict what Congress is going to do with the ACA," Sherman said. However, he said, there are things the state can do to protect the stability of the health insurance market locally. Sherman said he and Ganim have worked with other members of the Market Stability Workgroup to develop strategies to counteract the destabilizing forces on the health insurance market.
"It's creating uncertainty for consumers as well," said Spooner, who pointed to the loosened restriction on short-term plans as an example. The plans are excluded from consumer protections spelled out in the ACA, including requirements that prohibit medical underwriting, pre-existing-condition exclusions, lifetime and annual limits, as well as minimum-coverage standards, according to the Henry J. Kaiser Family Foundation.
Ganim noted that despite a federal loosening of prohibitions against short-term health insurance plans, they are not approved for sale in the Ocean State. Such plans were developed as a short-term fix between jobs but don't protect against excluding pre-existing condition coverage or provide consumers basic-care options required in Rhode Island.
In August, Ganim told PBN federal rules expanding access to the plans had not made them legal to sell, though some find that out after they make the purchase from uninformed brokers.
Sherman said the rationale behind expanding access to short-term plans didn't make sense to him, given that HSRI's service is itself a short-term health insurance alternative, and one that's more cost-effective, with many options costing less than $100 per month, without ACA protections left intact. The ACA was written in part to provide access to health insurance for people in between jobs who don't have employer-provided health insurance, Sherman said.
Sherman said that last year, despite the fact that many think the individual mandate penalty has already ended, they've seen continued growth in enrollment and no losses as a result. He said what concerns him and others in 2019 and beyond is the slow impact of all these things.
Sherman said he would urge all employers to sit down with their health insurance advisers to discuss the market in 2019.
"They should be presenting you with their options. I am hopeful that part of those options [is] HSRI for employers," Sherman said, noting it offers the lowest-cost health insurance plans in the market.
Kurose noted that physician-based affordable care organizations appear to be better at generating savings than hospital-based ACOs. When asked about the difference, Kurose said financial incentives play a role.
Kurose said that his physicians ACO, Coastal Medical, for instance, cut its total cost of care by reducing hospital admissions by 25 percent for three years. For Coastal Medical, that was just a savings of total cost of care, Kurose said, but for a hospital system, it's a loss of revenue.
"And I think those kinds of conflicting financial incentives have not really been reconciled yet," Kurose said. He said it would be good for consumers if chasing value and pulling waste out was the path of success for health care providers.
"That's my bet," he said.
Moynihan elaborated on the discussion by the day's first panel of low-value care, outlining it in three categories: 1) ineffective, providing no benefit; 2) inefficient, repetitive for no reason; and 3) unwarranted, care that doesn't solve the problem.
"So, we develop strategies around those three areas" at Lifespan, Moynihan said.
Typically, he said, unnecessary care isn't covered by insurance plans. Inefficient care can be managed using health systems, he said, using proper record keeping and sharing at the right time to avoid duplicate treatments and tests. Another element of inefficient care is a lack of trust between clinicians, which can be managed through better communication between medical professionals, he said.
For unwarranted care, he said, "That really involves all of us, including the patient," Moynihan said, and requires discipline during conversations between patients and doctors about the best approach.
Moynihan said moving reimbursement from fee-for-service, toward awarding physicians a set amount of money for every patient they care for, will also help limit low-value care.
In response to a recent survey by the National Business Group on Health indicating employers are pulling back from only offering high-deductible health plans and adding lower-deductible options for employees, Spooner said the competitive labor market should be inspiring employers to offer richer health insurance products for their employees.
He said that rather than attempt to talk customers out of high-deductible plans, Tufts instead focuses on making sure people who choose high-deductible plans get the most value out of those plans as possible. He said Tufts makes sure its customers in high-deductible plans are aware of the costs of things such as MRI scans in multiple locations, and to make that sort of price comparison possible in their provider search tool.
At Neighborhood Health Plan, which has been on the forefront of transforming care, Burnett said governmental policy changes regarding health care have sown a lot of uncertainty.
"The rule of the day is confusion," Burnett said. He said Neighborhood has reacted by working to keep health care as simple as possible for its customers. One strategy, he said, is for the plans it offers to change very little from year to year, to cut down on the new information a customer has to pay attention to in light of the other complicating developments. He added that another part of its approach is to participate in open communication with Sherman and HSRI, and other members of the health insurance marketplace. The effort has been a mutual one among peers, he said.
"You've seen one of the more stable markets in the country" in Rhode Island, Burnett said, because of that cooperation.
Spooner said that despite growing public support for a single-payer alternative to the ACA, one New England example, in Vermont, was not implemented by the governor because of the cost.
Still, the simplicity of a single-payer approach remains attractive for many people frustrated with the current system who wish it were simpler to navigate.
Those in favor of a single-payer system are likely thinking, " 'Maybe if we had one single payer, we would have that simplicity,' " Ganim said.
Rob Borkowski is a PBN staff writer. Email him at Borkowski@PBN.com.