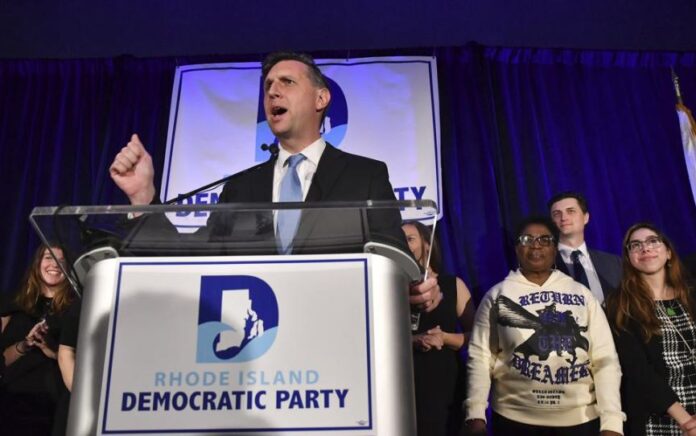 PROVIDENCE – Rep. Seth Magaziner's first week in the U.S. House was mixed with building connections with fellow congressional members and witnessing chaos.
Magaziner – who succeeds former longtime Rep. James R. Langevin in Congress after defeating former Cranston mayor and Republican candidate Allan W. Fung on Nov. 8 – is looking to right away prioritize campaign promises. His focus on addressing education, lowering drug and energy costs and bringing manufacturing back to Rhode Island remained unchanged, while House Republicans this past week went 15 rounds of voting to elect Rep. Kevin McCarthy, R-Calif., as house speaker.
Magaziner has immediate goals to support the Ocean State and some hurdles may be easier to clear than others, but local experts still feel it may take some time for the first-term congressman to make his mark in the nation's capital.
Magaziner said he spent his first week in the U.S. Capitol getting to know his colleagues from both parties as he begins his first term in U.S. Congress. The newly elected Rhode Island Democratic congressman representing the state's 2nd District hopes those early connections made can be useful for the future to create policies that can benefit both the Ocean State and the nation.
"While I think it was an unusual week, I think it was a productive one," Magaziner told Providence Business News on Monday. "Now that I'm officially sworn in, I'm excited to start the job in earnest."
Right away, Magaziner says in the coming weeks he looks to possibly either sponsor or co-sponsor additional legislation to cap drug and energy costs. He said the federal Inflation Reduction Act was a "good first step" in lowering drug costs, including insulin, but says "a lot more" could be done. Magaziner said the act, which allows Medicare and Medicaid to negotiate with drug companies on costs for a "handful of drugs," should be expanded for negotiations on additional prescription drug costs.
Magaziner says he also wants to introduce bills supporting career and technical education, giving students both locally and nationally more opportunities to take trades courses for careers that do not require a four-year college degree. He notes that General Dynamics Electric Boat has approximately 1,500 positions it is trying to fill in North Kingstown over the next five years, but a lack of a skilled workforce poses a challenge to meet that goal.
"More funding for career and technical education for apprenticeship programs for community colleges and trade schools is something I want to prioritize for education," Magaziner said.
Political observers say it will take Magaziner time to carve a niche in the U.S. House, especially with the Republicans having majority rule. But they also say there are some avenues where Magaziner could have influence.
Providence College associate political science professor Joseph ­­Cammarano told PBN it will be hard for Magaziner to stand out since the Democrat is not someone who will "tweet his way into celebrity." But, Cammarano feels that with Republicans in charge of the U.S. House, Magaziner is in a way "liberated" to where he can pursue common ground within the House chamber.
"If he shows a real effort [to build common ground] given it is a two-year election cycle, he can build for the future," Cammarano said. "Sometimes, it takes 20 years to achieve your goals. If [Magaziner] keeps his eye on things, he can start to build progress that someday can reap benefits. But it won't be [soon]."
Wendy Schiller, professor of political science at Brown University, says that Magaziner being in the same political party as the current sitting president – Joe Biden – does carry weight. "You have a lot of opportunity to influence money flow to your state and regulatory favors," she said.
Magaziner said he is committed to working with Republicans on some bipartisan matters, which is a slight change from when he was heavily critical of the Republican party during his campaign for Congress. When asked what changed, Magaziner did admit he is concerned that the extended vote on McCarthy's speakership could become a pattern where "extreme" Republican congressional members are "calling the shots" and makes it harder to make initiatives a reality.
Magaziner said he introduced himself to some Republican congressional members, such as Rep. Stephanie Bice, R-Okla., and Rep. Ron Estes, R-Kan., and said he will work with "anybody if it helps Rhode Island and moves things forward."
"Hopefully there are moderate Republicans who are willing to work across the aisle [on items such as career and technical education] and are willing to flex the muscle on the Republican side so that it is possible to get things done," Magaziner said.
Both Schiller and Cammarano feel Magaziner could push to become a member of a House committee that fits his specialties, such as banking and finance – Magaziner served as R.I. treasurer for eight years – or education. Magaziner told PBN he could potentially be part of a committee but said the U.S. House Financial Services Committee is typically closed to freshmen members.
Magaziner said he told Rep. Patrick McHenry, R-N.C., who chairs the financial services committee, he's available to offer the committee any expertise it needs if Magaziner is not a committee member. Magaziner is also interested in serving on education and labor-related committees, he said.
"I'm very excited to have the opportunity to represent Rhode Island in Congress," Magaziner said.
James Bessette is the PBN special projects editor, and also covers the nonprofit and education sectors. You may reach him at Bessette@PBN.com. You may also follow him on Twitter at @James_Bessette.

Want to share this story? Click Here to purchase a link that allows anyone to read it on any device whether or not they are a subscriber.