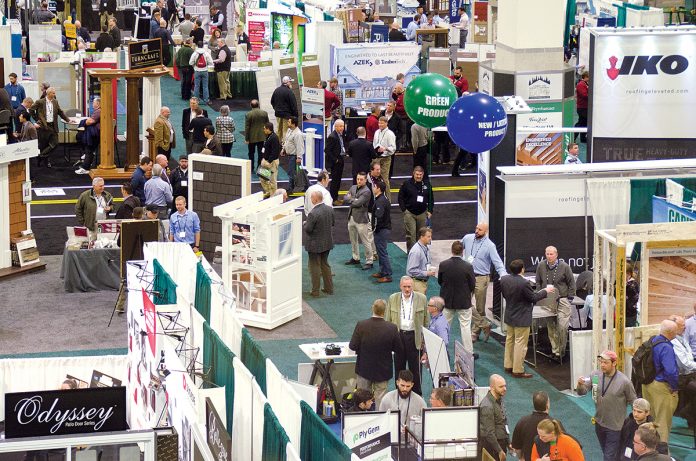 In February, hundreds of members of the Northeastern Retail Lumber Association poured into Providence to attend their annual industry expo at the R.I. Convention Center. Over the three days, attendees booked 3,052 hotel rooms and spent $1.13 million, according to convention center sales manager Arleen Oliva.
"Providence offered everything that the bigger city had, without all of the expense," said NRLA President Rita Ferris, who moved the expo from Boston to Providence three years ago.
Events such as the NRLA's are vitally important to the convention center, which in 2017 brought in $78 million in direct spending to the state and more than $7 million in taxes, according to a report prepared for RICC by Minneapolis-based firm Conventions, Sports and Leisure International.
Coming off a 2017 fiscal year where the convention center generated an $800,000 operating profit, Executive Director James McCarvill expects it to perform even better this year.
McCarvill said RICC will host 36 trade shows and conventions, coming in at about 250 events for the year, a slight increase over the 242 events hosted in 2017.
Martha Sheridan, president of the Providence Warwick Convention & Visitors Bureau, said 2018 won't see as many conventions as last year, especially during the convention center's peak months of May through November.
"We still have a significant number of youth and community sports events coming through," Sheridan said.
The largest event slated for the year is Rhode Island ComicCon, with a projected 30,000 fans descending upon the city. But this November event will include mostly regional attendees, which means they may not generate the same economic impact as out-of-towners. The latter often rely on rental cars or pay to park their car and spend more money locally by staying in hotels.
Compare that to the National Association of College and University Food Services Convention this July that will see nearly 4,000 room nights booked, the most this year from a single convention. The event comes to Providence from Nashville.
The convention center will make up for the slow convention months by welcoming more sporting events.
Events such as the Dream Big gymnastics competition in January and the Rhode Island Rumble volleyball tournament held April 14-15 can generate significant local spending.
"For a family, this becomes a mini vacation for them," Sheridan said, noting that internal concessions and Providence Place mall benefit.
Still, it's not the same type of money that business travelers attending conventions or trade shows bring in. "They're oftentimes on expense accounts, so their per-person spending is typically a little higher," she said.
For visitors, Providence's culinary and cultural scene is a draw, in addition to lower prices than other East Coast cities.
"The price of parking in larger cities is so much more than in Providence," said Ferris.
"People like the destination so much that as long as we're able to accommodate them, they'll keep coming back," McCarvill said.
'Providence offered everything that the bigger city had, without all of the expense.'
RITA FERRIS, Northeastern Retail Lumber Association president
But while RICC has succeeded in attracting several new events to Providence, it has also seen some outgrow their space in recent years.
The largest-attended annual trade show, JLC Live, is "bursting at the seams," McCarvill said. "It just barely fits."
What can the convention center, which opened in 1992 and contains 100,000 square feet of exhibit space, 23 meeting rooms and a 20,000-square-foot ballroom, do to keep growing shows here? McCarvill says his team is thinking creatively about how to make the most of its floor plan.
The convention center has started to convert some offices on its fourth floor to small conference rooms and is creating new office spaces closer to its third-floor exhibition hall.
McCarvill credits many local players for helping bring events to Providence. The International Association of Chiefs of Police Technology Conference is bringing 500 people to Providence from May 21-23. Col. Hugh Clements, the city's police chief, helped the convention center bring them here, McCarvill said. Likewise, the Rhode Island Hospitality Association helped to bring in the 1,100-attendee National ProStart Invitational, a culinary arts competition to be held April 27-29.
Going forward, Sheridan hopes to leverage development occurring downtown to encourage new meetings in Providence. "We are working with companies … [such as] Infosys Ltd., and Virgin Pulse, and encouraging them to host their annual meetings in Providence," she said. Infosys, an India-based technology-services and consulting company, will host meetings in Providence in September, generating 700 total room nights.
Ferris of the NLRA will rotate the lumber expo back to Boston next year but said that she would certainly consider Providence again for future events.
"Providence is a beautiful city," she said. "There wasn't any negative to consider."