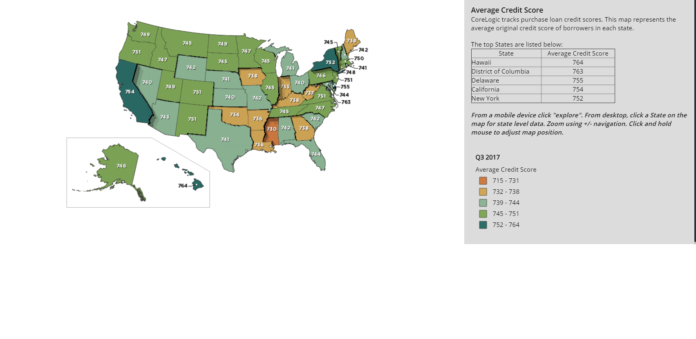 PROVIDENCE –The average credit score of a home loan borrower in Rhode Island for the third quarter of 2017 was 741, the second lowest in New England, according to CoreLogic Tuesday.
Massachusetts ranked No. 1 in the region with an average credit score of 750 for the quarter. Connecticut followed second, with a score of 748. Vermont trailed in third with a borrower's credit score of 745. New Hampshire placed No. 4 just ahead of Rhode Island with a credit score of 742.  Rhode Island placed fifth with 741 ahead of Maine's 738 point credit score.
While the Ocean State improved from an average credit score of 736 in the 2016 third quarter (which placed it tied for fourth place a year earlier), its five-point increase was not as significant as it was for other New England states. Both Connecticut and Vermont saw eight-point increases in credit scores, while Massachusetts and New Hampshire saw six-point gains compared with Rhode Island's five-point improvement. Maine posted the same credit score of 738 in the third quarter as it did the year earlier.
Hawaii placed first in the study, with an average credit score of 764 in the third quarter (a 13-point year-over-year gain). Mississippi ranked last in the nation with a credit score of 730 (itself a 15-point gain over the 12-month period).
Chris Bergenheim is the PBN web editor.