Castle Hill Inn executive chef Lou Rossi and his culinary team recently prepared a unique foodie weekend featuring the flavors of the American South, including coastal Georgia and Florida. Two chefs from that area were guests in the Castle Hill Inn kitchen in Newport over a weekend in early March for a four-course Saturday night dinner, followed by a Southern Sunday brunch.
Rossi and Matt Koons, Castle Hill's food and beverage director, talked on my radio show about the region, its food and the two chefs who traveled north to cook and how everything is connected.
Daniel Zeal, resort executive chef at Sea Island Resorts in Sea Island, Ga., has spent the last 10 years at the five-star resort. Recently appointed to the position, he oversees the resort's entire culinary program. He was joined by Matt Moore, executive chef at St. Joe Club & Resorts in Santa Rosa Beach, Fla. Moore has spent his 20-year career in luxury restaurants, resorts and clubs in Florida and Georgia. The connection is Castle Hill Managing Director Brian Young, who worked with both chefs in the South before he came to Newport.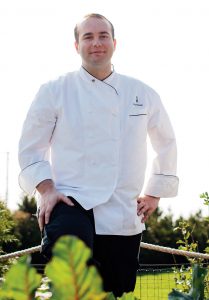 The two Southern chefs took over the kitchen and did most of the work creating Saturday's Southern Soul Supper and Sunday's elegant brunch. The tastes were authentic "down-home," starting with the first course at dinner of a tomato soup known as "Mater" from the kitchen of chef Moore's grandmother, with fried green tomatoes, grilled cheese, bacon and Georgia olive oil, followed by blue crab in an agnolotti accompanying tenderloin of bison over blue corn grits.
At brunch the next day, the traditions continued with skillet cornbread with braised pinto beans; buttermilk hush puppies with chipotle remoulade; Covey Rise Farms' smoked pork belly served with natural jus and baked macaroni and cheese; bison short-rib hash with pickled hominy; honey-money fried chicken with collards and Canewater Farms pimento cheese grits; biscuits and gravy with truffle scones, Maine lobster and andouille sausage gravy; and Georgia white shrimp with spicy tomato stew and fried okra. And there was still peach cobbler with sweet cream and banana pudding with shortbread crumble for dessert.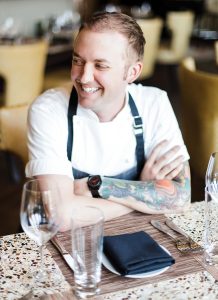 Following the foodie weekend, ­Rossi flew to Carmel, Calif., to take part in GourmetFest, a prestigious food event put on by Relais & Chateaux, the exclusive, worldwide association of landmark hotels and restaurants to which Castle Hill Inn belongs.
The event features member chefs and select wine estates and food purveyors. Rossi took part in a Wild Mushroom Hunt & Lunch on the 20,000-acre Santa Lucia Preserve in upper Carmel Valley. A team of mycologists and Rossi led guests in foraging for several species of wild mushrooms. Following the hunt, the chef and the preserve's host prepared a wild-mushroom lunch with accompanying wines. Also included for guests were wine and champagne tastings, featuring such marquee labels as Taittinger, Chateau Lafite and Opus One. Celebrity chefs, including award-winning San Francisco chef-restaurateur Michael Mina, led cooking demonstrations during lunch and dinner all weekend.
Carmel has many parallels to Newport, including jazz and art, as well as food and wine. In fact, some of the names and personalities featured at GourmetFest have been spotlighted at the Newport Mansions Wine & Food Festival. So, it was easy to imagine such a weekend in our backyard – perhaps at Castle Hill. Stay tuned.
Bruce Newbury's Dining Out radio talk show is heard Saturdays at 11 a.m. on 1540 AM WADK, through various mobile applications and via smart speaker. Email Bruce at Bruce@brucenewbury.com.