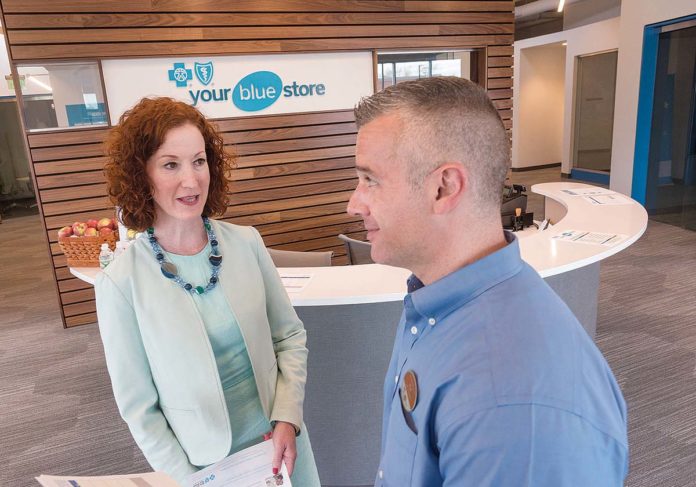 Three years ago, Melissa Cummings traded her role at insurance giant Aetna to lead customer service at Blue Cross & Blue Shield of Rhode Island. It was a chance to come home to the state where she grew up.
Cummings, a for-profit insurance industry veteran, said it was her first "foray" into a nonprofit, and she has embraced the change.
"They don't enjoy the same brand responsibility that a Blue Cross has," Cummings said of the big players. "I feel like my job is to take care of that brand."
At Blue Cross, Cummings has zeroed in on creating a customer-service experience for members that rivals other professional services, such as credit card companies and banks. Credit card companies have access to comprehensive customer analytics. Cummings said the same should be true in the health insurance space, which would allow Blue Cross to anticipate customers' next questions.
Kim Keck, president and CEO of Blue Cross, said as chief customer officer, Cummings ensures all operations are customer-centered.
"That means staying on top of – or ahead of – national trends, and understanding the latest products and services, technologies and platforms," Keck wrote.
Right away, Keck said Cummings delivered a strategy that structured all operations around the customer. Her tangible contributions include mobile messaging that gives members tips on saving money; health reminders and benefit updates; a mobile app that lets members search for providers, view plan and benefit information; and a tele-medicine service that allows members to talk to providers anytime.
But even more significant has been Cummings' leadership in opening the company's retail locations, known as Your Blue Stores, beginning in 2014. The company is the only insurer in the state with a retail presence, offering members customer service and educational programming. The stores, located in Bristol, East Providence, Lincoln and Warwick, help "demystify" insurance for members, Cummings said.
"I think it's a really cool concept," she added.