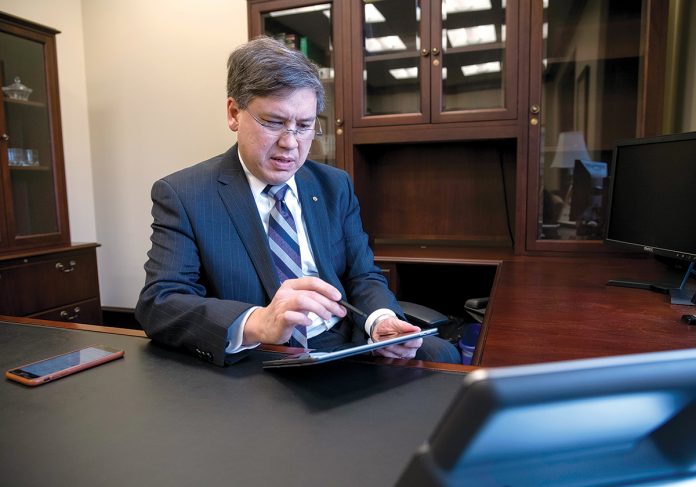 It started with drive-through banking lanes. Then it was automated teller machines – ATMs. Hailed as the future of banking, many thought the days of face-to-face interactions with tellers were numbered.
But customers kept coming.
Now, it's mobile banking. Easy and ubiquitous, apps offered by both traditional banks and mobile-only models allow customers to open accounts, apply for loans, make deposits and move money with just a few clicks.
Convenient, yes, but heads of both traditional and mobile banking services say they don't see the industry transitioning to becoming completely digital just yet.
"The brick-and-mortar presence, you have to operate it almost in tandem with the digital services, they supplement each other, but we don't think they replace each other yet," said Mark K. W. Gim, president and chief operating officer of Westerly-based The Washington Trust Co.
With no physical locations, BankMobile, a mobile-first company owned by Customers Bank, addresses what its president called "perceived limitations" of digital banking by providing opportunities for customer interaction over the phone, via social media and through its website.
The strategy mirrors what traditional banks are already doing by providing as-needed support.
"You're seeing a lot of these traditional banks launch digital-only offerings, because they realize they have to cater to [what customers want] with new channels. I don't think brick-and-mortar is disappearing, but … I think the future is being able to blend in those new channels," said Luvleen Sidhu, co-founder and president of BankMobile.
BankMobile, established in 2015, joins a growing list of national mobile-first banking options, which includes offerings by Apple Inc. and Amazon.com Inc.
Artificial intelligence is even jockeying for position amid mobile banking offerings.
According to Bank of America Corp., its AI-driven virtual assistant, Erica, reached more than 6.3 million users and completed more than 35 million requests from customers in the first quarter of fiscal 2019.
But though digital banking is serving millions, mobile banks still recognize a need for connection.
"We look at being available to anyone wherever they want to bank," Sidhu said.
Nationwide retail partnerships offer physical access to money through ATMs, while about 800 on-campus collaborations aimed at students and a new checking option launched in conjunction with T-Mobile have extended BankMobile's reach and allow for hassle-free banking, she added.
"People are looking to open an account in five or six clicks, they want to be able to earn money on their money, they want access to their money, and they are looking to avoid exorbitant fees," Sidhu said. "These are basics that are still broken in the [traditional] banking experience."
Still, the value of in-person ­interaction, especially when it comes to conversations about major financial decisions, has been nearly impossible to duplicate digitally.
Even mobile-only bank and insurance company USAA features telephone service with bankers and other financial pros.
Providence-based Citizens Bank offers many mobile services, but its branches are still seeing traffic.
'Some people [aren't comfortable] making a major … decision on their phone.'
MARK K. W. GIM, The Washington Trust Co. president and COO
"Increasingly we're seeing customers who want to go into a bank to have conversations with a banker about goals or financial options versus going into a branch strictly for a transaction," Citizens spokesman Peter Lucht said. "Having a banker who really understands you, there is an important value to that."
The company, with branches across 11 states, has no plans to consolidate its physical footprint, but joins nearly all other major banks in bolstering its digital offerings.
Washington Trust has opened a new branch about every 12 to 14 months, and continues to regard physical locations as a core component of its business model.
As a regional bank with 22 branches, dwindling in-person business has not impacted the company on the same level as national banks with thousands of branches. By focusing on operating physical locations hand-in-hand with digital offerings, Washington Trust continues to maintain its customer flow, Gim said.
"When it comes to making meaningful decisions on really important things, having well-trained employees who are experienced or empowered to give relevant advice to get to the right solution for financial needs is extremely important," he said. "If you have a question about what you can afford, what is a prudent amount to borrow, etc., I don't know that you can get that information solely online."
The bank's investments in technology have evolved along with customers' expectations, but a strong attachment to the reassurance of physical access remains.
"Over time, behavior changes, and fewer people may use the branch than they did before, but if you're talking about an avenue of access, you have to make sure that's what the customers want before you take it away," Gim said. "Some people wouldn't necessarily feel comfortable making a major financial decision on their phone."
Elizabeth Graham is a PBN staff writer. Contact her at Graham@PBN.com.