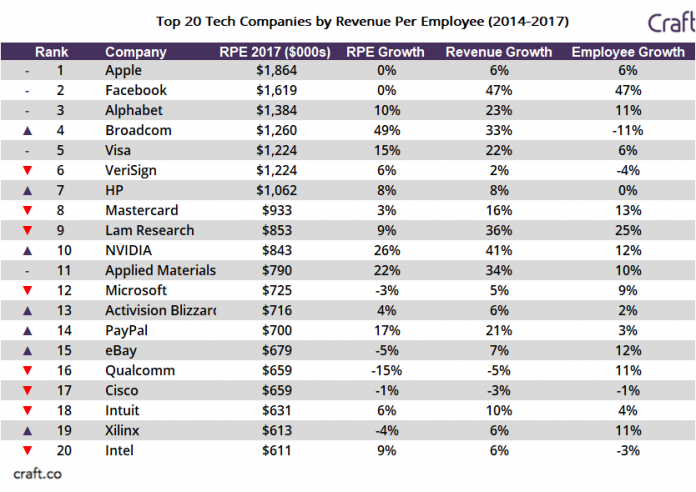 According to a recent study, technology companies overall are increasing their productivity via revenue per employee, or RPE. That's according to Craft, a data and analytics platform, looking at 2014-2017 numbers, reports Priceonomics.
Companies are ranked by RPE to measure how efficiently they use human capital, said Priceonomics.
In the top five: Apple, had a 2017 RPE of $1,864; Facebook, at $1,619; Alphabet, $1384; Broadcom, $1260, and Visa, $1124, according to the report.
Though Apple and Facebook didn't show RPE growth over the time period, compound annual revenue growth was up 6 percent and 47 percent for those tech companies, respectively. Alphabet grew its RPE by 10 percent, Broadcom by 49 percent and Visa by 15 percent over the three years, Craft found.
Companies on the list with Rhode Island offices include VeriSign and Cisco, coming in at No. 6 and No. 17. The tech companies on the list are in the Standard & Poor's 500 Index.
Susan Shalhoub is a PBN contributing writer.