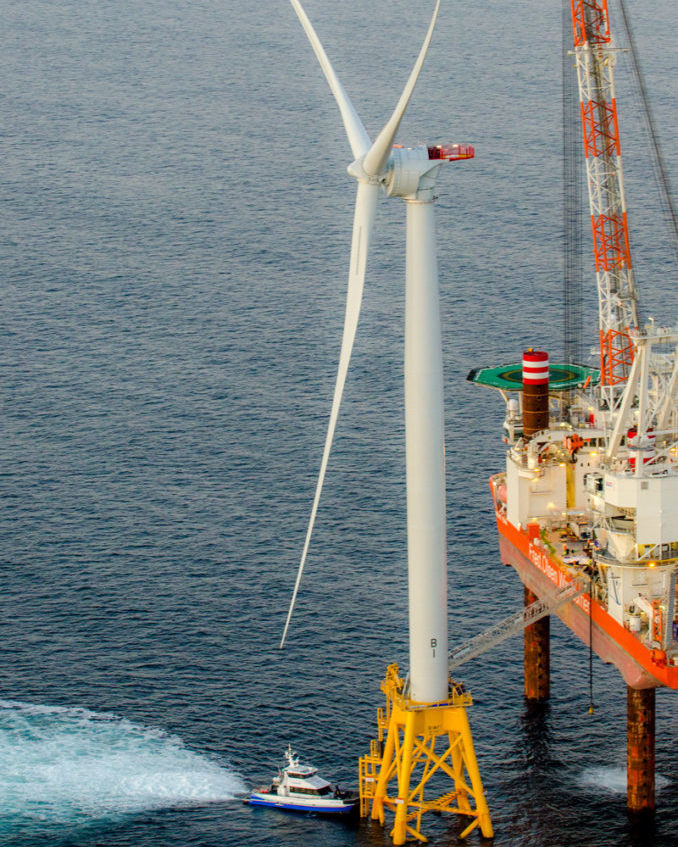 Updated, 9:36 a.m., Aug. 2
NEW BEDFORD – Looking to expand its offshore wind operations, Deepwater Wind LLC has proposed building a 144-megawatt wind farm and a 40 megawatt-hour battery storage system to serve Massachusetts.
The offshore wind project – dubbed "Revolution Wind" – would be nearly five times larger than the company's 30-megawatt Block Island project, which started providing electricity to Rhode Islanders last year.
The Massachusetts proposal includes a 40 megawatt-hour battery storage system, which would be provided by the renewable-energy giant: Tesla.
Jeffrey Grybowski, Deepwater CEO, said the proposed wind farm paired with the battery storage system would be the largest such project in the world.
"People may be surprised by just how affordable and reliable the clean-energy combo will be," he said in prepared remarks.
The proposal, announced on Monday, was made in response to a Massachusetts request for proposals for new sources of clean energy under the Act to Promote Energy Diversity, according to a press release.
The act, signed into law last fall by Massachusetts Gov. Charlie Baker, a Republican, calls for the procurement of about 1,600 megawatts of offshore wind-generating capacity.
The company says it intends to submit additional proposals with Massachusetts before other bids are due in December 2018.
Deepwater, based in Providence, would base its construction and operations out of New Bedford, where the company opened a new office last year.
The activity would likely come as a welcomed sign to the New Bedford Marine Commerce Terminal, which was built out in recent years in anticipation of robust growth in offshore wind projects.
The terminal has thus far realized marginal gains from the burgeoning industry. The RFP had no specific requirements that Deepwater base its operations in Massachusetts, but a Deepwater spokeswoman said job creation in the Bay State would be part of the evaluation.
The wind farm would be built in federal waters leased by Deepwater about 12 miles south of Martha's Vineyard, adjacent to where the company is currently working on a 90-megawatt project to serve Long Island, New York.
If approved, Deepwater says it could build the 144-megwatt project in a single construction season, which would begin in 2022.
In addition to Massachusetts and New York, Deepwater is also working on a 120-megawatt project to serve Maryland.
"Offshore wind is mainstream and it is coming to the U.S. in a big way," Grybowski said.
Eli Sherman is a PBN staff writer. Email him at Sherman@PBN.com, or follow him on Twitter @Eli_Sherman.