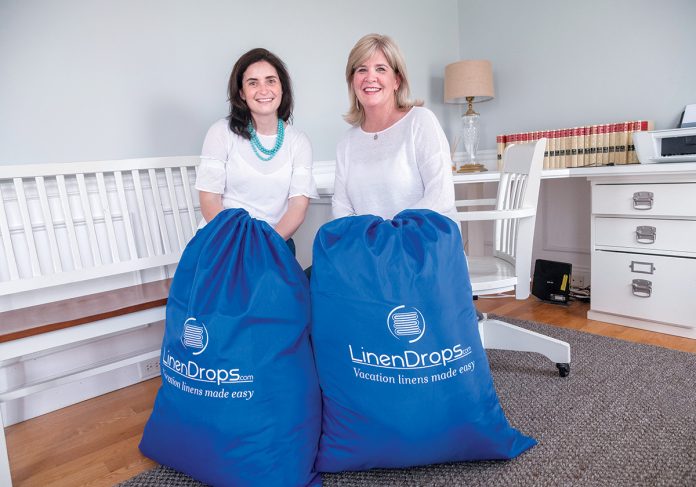 After working in criminal justice, Maureen Pagliaro was looking for something different to work on. Inspiration came during her vacations in North Carolina when she noticed all the linen services in the area – something Northeast coastal towns were missing.
"I thought it would be a niche here," Pagliaro said.
Turns out, she was right. With her idea, Pagliaro started ­LinenDrops.com in 2017 after teaming up with co-founder Rosa Ciunci, who had some experience in the hospitality industry, and conducting site visits to a few of North Carolina's linen services.
The East Greenwich-based linen-delivery service offers pickup and drop-off for linens, such as bed sheets and towels. After ordering linens online, LinenDrops delivers to the client's property. After the linens are used, LinenDrops picks up the linens and handles laundry.
Though Pagliaro and Ciunci are the only full-time employees at LinenDrops.com, they set up a system that allows for the service to run smoothly. Linens are stored at warehouses in Rhode Island and on Nantucket and Cape Cod, independent drivers complete the pickups and deliveries, and the dirty laundry is sent to a laundry facility for processing.
At the warehouse, Pagliaro and Ciunci keep strict inventory to make sure the linens are fresh.
"All of our linens have scan tags in them, so we're able to keep a strict inventory so we know what's exactly on our shelf and we know how many times it's been laundered," Pagliaro said, adding that an android device scans the linens and digitally keeps track of the inventory. "We've done a lot of research and really dove right into figuring out the process."
In managing the business, Pagliaro focuses on the sales side of LinenDrops, managing outreach, conducting door-to-door marketing and working with the linen vendors. Ciunci focuses on operations for the warehouses and trains the part-time staff that comes in to help during the busy summer months.
Homeowners and vacation rentals were LinenDrops' target market when the company started. Pagliaro and Ciunci made connections with local Realtors and created email marketing and social media campaigns to help get the word out. Over time, the company has developed relationships with clients on Cape Cod and Nantucket, as well as the Rhode Island and Connecticut shoreline.
Pagliaro and Ciunci imagined the quality and convenience in their product would help them build a strong customer base in market segments beyond vacation rentals and homes. The company announced in April that it will be expanding into colleges, summer camps and short-term corporate housing.
"It was always the plan to not make it just a seasonal business," said Pagliaro. "It's not just the summer type of business – we planned on branching to different markets."
Moving forward, Pagliaro hopes the company can expand its service area and seek more opportunities with shipping services.
"It's been a surprisingly fun process to learn the whole ropes and start something from the bottom up and get it moving," Pagliaro said.
OWNERS: Maureen Pagliaro and Rosa Ciunci
TYPE OF BUSINESS: Online linen ordering and delivery service
LOCATION: 1485 South County Trail, East Greenwich
EMPLOYEES: Two
YEAR ESTABLISHED: 2017
ANNUAL SALES: WND

Want to share this story? Click Here to purchase a link that allows anyone to read it on any device whether or not they are a subscriber.