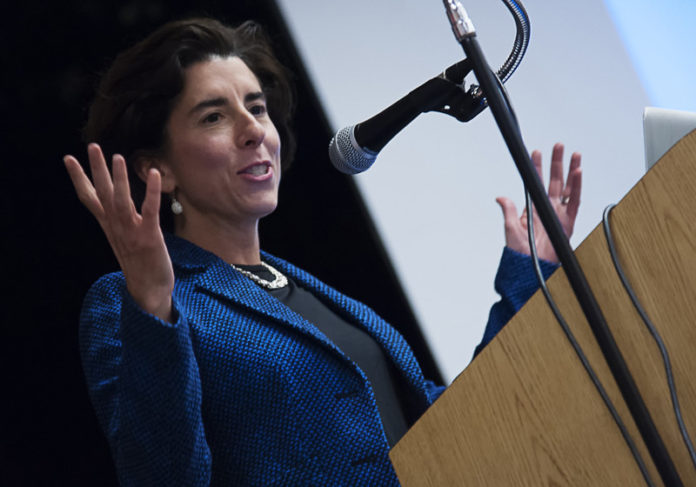 PROVIDENCE – Deloitte Consulting LLP has agreed to credit Rhode Island $58.6 million and pay any fines from the federal Food and Nutrition Services related to the vendor's botched rollout of the RI Bridges software, the R.I. Executive Office of Health & Human Services announced Tuesday.
According to a spokeswoman for the EOHHS, Deloitte recently disclosed to the state that a newly discovered system error in its RI Bridges software resulted in thousands of unprocessed applications for benefits.
Gov. Gina M. Raimondo has been negotiating the deal "over the past week or so," according to the EOHHS.
The credit will cover all maintenance and RI Bridges operations for fiscal 2018. It also will cover Rhode Island's overtime costs related to the project as well as cover additional costs of personnel and contractors who were hired after the RI Bridges system launched last year.
"Rhode Island taxpayers deserve the system they've paid for, and our customers deserve timely and reliable services from our agencies. We've made a lot of progress in the last six months, but this new disclosure from Deloitte is a serious setback," said Health and Human Services Secretary Eric J. Beane. "Deloitte has pledged to do whatever it takes to catch up by the end of the year. Thanks to Gov. Raimondo's direct engagement with Deloitte's CEO [Janet Foutty], we have recovered more than $85 million to date and we have a commitment from Deloitte that they'll cover the costs of any FNS fines and penalties."
This credit is in addition to the $27 million credit the state secured earlier this year for previously discovered problems.
"We're not going to tolerate these ongoing system issues or Deloitte's poor performance. They owe us a system that works, and we're not going to pay until we get it," said Raimondo in a statement. "We've been able to recover over $85 million from Deloitte, and they've committed to ensure that taxpayers don't have to pay potential federal fines because Deloitte's system hasn't worked. I'll continue to hold them accountable and will not take the option of future litigation off the table until they deliver."
Deloitte has pledged to process the newly discovered applications by the end of the year, but the release from EEOHHS said that the company has not yet fully identified the extent of the issue.
Chris Bergenheim is the PBN web Editor.