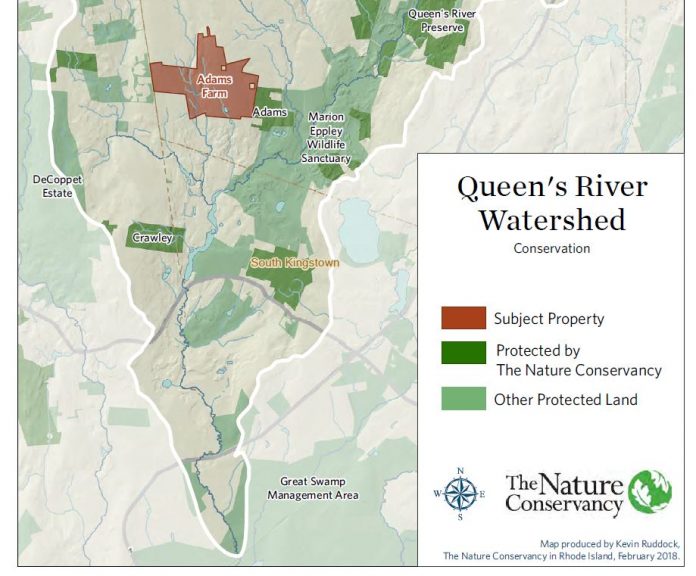 PROVIDENCE – The R.I. Department of Environmental Management on Tuesday announced the acquisition of the development rights to 369 acres in Exeter from Earl Adams for $3.34 million.
The DEM worked in partnership with The Nature Conservancy, the Champlin Foundation and the Rhode Island Agricultural Lands Preservation Commission. The funds to purchase the land included $1.14 million from farmland bond money, $1.2 million from Congress set aside for the protection of the Queens River watershed, and $1 million provided by the Nature Conservancy with funding from the Champlin Foundation, the 1772 Foundation, the Bafflin Foundation and individual donors.
The farmland is located in southern Exeter, near the border of Richmond and South Kingstown. The farm is primarily used for hay production. Adams had previously conserved 66 acres of his farm in a conservation easement to TNC in 2004, and the farm is now the second-largest protected farm in Rhode Island, after Tuckahoe Turf Farms Inc. in Richmond.
The deal creates 2,500 contiguous acres of fields and forest, much of it part of the Audubon Society of Rhode Island's 1,225-acre Eppley Wildlife Refuge.
"Through this project and our partnership with The Nature Conservancy, we are able to maintain one of the last large, unprotected tracts of farmland in Rhode Island as agricultural land for future generations," stated DEM Director Janet L. Coit. "Adams Farm is a gorgeous property that sits within one of the largest undisturbed areas of the state. It's such a joy to preserve this iconic working farm for years to come. I'm grateful that the Green Economy Bond funds allow us to work with partners to preserve these precious farmlands."
Chris Bergenheim is the PBN web editor.