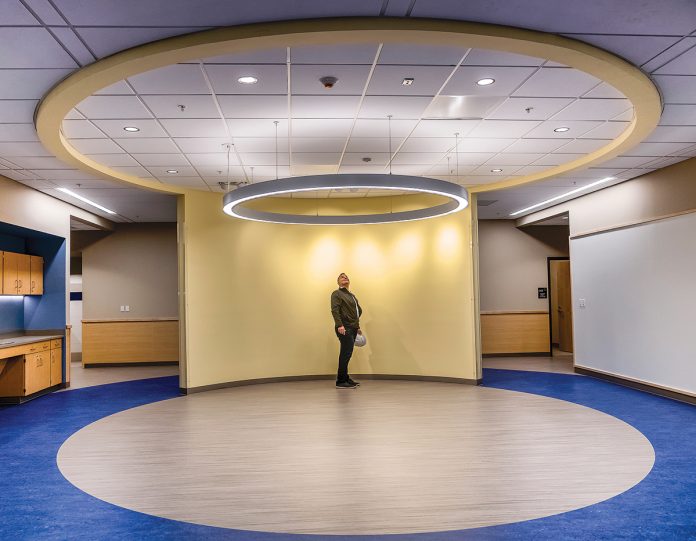 An extraordinary middle school rising in the center of suburban Barrington is a sign of things to come in Rhode Island.
The massive building project is among the first new public schools in the state since the Great Recession put a stop to such major works. At $68 million, it is one of the most expensive schools under construction in the state.
It will replace the existing middle school with the physical space and educational technology designed to meet current needs. So instead of relying on traditional approaches – structured classrooms and a media center – the building will have a maker space, presentation rooms and other spaces designed to encourage collaboration among students and teachers.
The New Britain, Conn.-based architect, Kaestle Boos Associates Inc., opened an office in 2018 at 20 Newman Ave. in East Providence, in part to have a bigger state presence as school construction ramps up in Rhode Island. The firm, which also has offices in Massachusetts, is well-known for educational design.
"We did work in Rhode Island previously, but with the initiative that the governor came out with, for education, we felt it would be best if we had a presence and an address in Rhode Island," explained Brian Solywoda, a Kaestle Boos principal.
The Barrington project will involve new construction of the 142,500-square-foot building, followed by demolition of the existing middle school. The new school is taking shape on the old athletic fields of the middle school. Once the building is opened, and the original school razed, the athletic fields will be relocated to the cleared land.
The original middle school, built in 1958, is considered obsolete.
"When you look at 21st-century learning, for a middle schooler, the building just did not support the future of education," Solywoda said. "By the time we did all the studies, the best solution was to build a new facility that would support learning through collaborative education, project-based learning. The kids just learn differently. Education changed and the facility did not keep up with the times."
'[Barrington Middle School] just did not support the future of education.'
BRIAN SOLYWODA, Kaestle Boos Associates principal
Barrington's status as the largest project post-recession won't last long.
After a yearslong drought of large school projects, the pipeline is filling up quickly with new school buildings and substantial renovations. And many more are in the predevelopment phases.
In addition to Barrington, whose middle school is expected to open in the fall, the communities of Lincoln and North Providence also are engaged in active school construction. Lincoln is renovating its high school. And North Providence is building a new elementary school.
All will be eligible for part of the $250 million in bond proceeds authorized in 2018 by Rhode Island voters.
The largest school projects will be coming soon.
Construction began this month on the new East Providence High School. At $189.5 million, including demolition costs, it is the largest and most expensive school building project in state history, according to General Treasurer Seth Magaziner, who led a statewide board that investigated school building needs.
According to the city district's website, up to $135.6 million of the maximum project cost is eligible for state reimbursement, depending on incentives achieved by the city.
What Rhode Island is now seeing is the result of pent-up demand from communities for more-modern schools that match what students need to learn, in a way that teachers and students can engage with each other, Magaziner said.
The East Providence High School is among the most obsolete in the state. The facility has a single science lab for 1,500 students, according to a school district website. Most of its classrooms have a single electrical outlet, functional obsolescence in a time when many teachers want access to laptops, electronic teaching tools and other devices, such as interactive whiteboards.
Middle schools, as well as high schools, will be designed for modern teaching styles and technology. Space is designed into the new facilities to allow students to work in teams.
"I think we have an opportunity here to build learning environments that are tied to what we now know are the best practices for students to learn and teachers to teach effectively," Magaziner said.
The Barrington Middle School, he said, is among 29 projects that have been identified, and approved, for state funds to help accommodate the new construction.
In the future, another bond issue is expected to be presented, as the needs will remain past the original issue.
The state share varies, depending on the wealth of the community, Magaziner said. But as part of the new wave of school bond funds, the state has provided an incentive for communities to get building projects approved with local matches.
In Barrington, according to the district's website, the new middle school is approved for at least $16.2 million in state funds, and potentially as much as $18.1 million.
The modern school supports the way education is delivered today, explained Paul Dominov, principal of Kaestle Boos Associates.
The school has spaces that accommodate teams, as well as a "learning commons," rather than a traditional media center. There are quiet spaces, tech spaces and large group spaces.
"What we do upfront is hold visioning sessions," he said. "At a high level, it's all captured under 21st-century learning skills. Skills that the students need. Communications, creativity, critical thinking and collaboration."
Mary MacDonald is a PBN staff writer. Contact her at Macdonald@PBN.com.

Want to share this story? Click Here to purchase a link that allows anyone to read it on any device whether or not they are a subscriber.